A beloved principal was struck and killed when a school bus jumped the curb near an Indianapolis elementary school Tuesday, but not before she was able to push several pupils out of harm's way, authorities said.
Two 10-year-old children were also struck and were listed as serious but stable Tuesday night.
Susan Jordan, principal of Amy Beverland Elementary School in Lawrence Township for 22 years, pushed several children out of the path of the bus as it lurched forward about 2:30 p.m., according to the bus' driver, the Indianapolis Fire Department said Tuesday night.
The driver and the 25 children on the bus weren't injured, fire Capt. Rita Reith said.
Amy Beverland is a magnet school that focuses on communications. Shawn Smith, superintendent of the Lawrence Township school district, told reporters that Jordan was the pillar of the school and a "legend" in local education.
"As superintendent of schools and a representative of the entire school community, we lost a great educator today," he said, his voice choking.
The school canceled Wednesday's classes.
"Susan was an amazing educator," the school board said in a statement Tuesday night. "She had a remarkable way of making everyone she came in contact with feel valued and important. She had a passion for children that is unmatched."
Indianapolis officials said the bus had been stationary up until the moment of the accident, when it suddenly drove forward. Police Sgt. Kendale Adams told reporters that the crash appeared to be a "freak accident."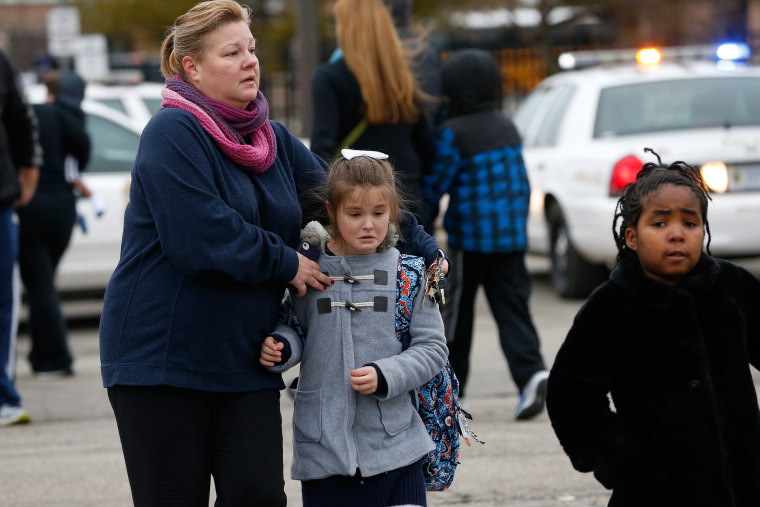 "The female bus driver told firefighters that she is not sure what caused the bus to accelerate and jump the curb but reported in the instant that the accident occurred she saw Principal Jordan push several students out of the way before she was tragically killed," Reith said.
Reith said the driver was working with police "to move forward with the investigation." Adams said preliminary information didn't indicate that drugs or alcohol were involved.
Indiana State Police inspected the bus just last Friday and found no mechanical problems, NBC station WTHR reported.
Mickah Williams, the father of 10- and 7-year-old children, said that with "all of the other things that are going on at schools across the United States, as you may know, this is a parent's worst nightmare."
"We're holding on optimistically with prayer, and hopefully all the kids are OK," Williams told WTHR.