A federal judge has decided he will allow a new mystery man — identified only as Individual D — to testify against former House Speaker Dennis Hastert at the sentencing in his hush-money case in Chicago.
"If Individual D wants to come in and talk about being a victim of sexual abuse, he's entitled to do so because that informs my decision about the history and characteristics of the defendant," U.S. District Judge Thomas Durkin said, according to a transcript of a hearing held Tuesday.
"It's that simple."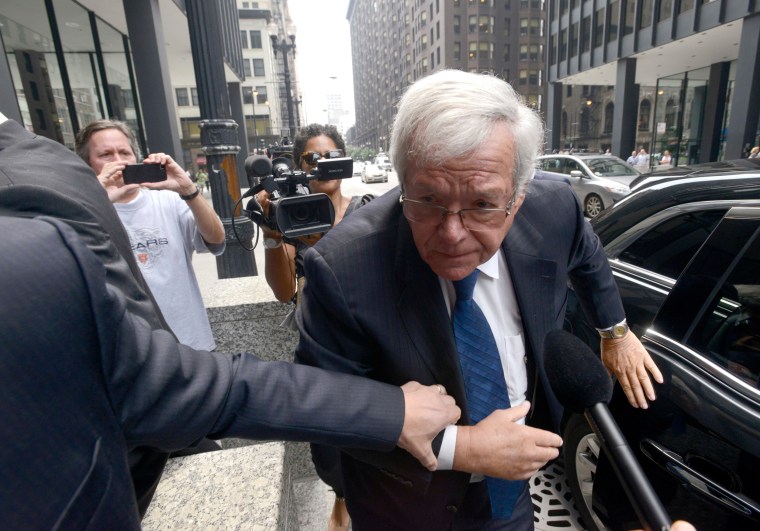 The existence of Individual D was revealed as prosecutors asked the judge to change the date of Hastert's sentencing, which had been scheduled for April 8, because the witness will be out of town on business on the scheduled date.
Hastert was indicted last year on charges he made illegal bank withdrawals for payoffs to a man identified only as Individual A. Sources say the money was used to quash allegations of sexual misconduct with a student when Hastert was a high-school teacher and coach decades ago.
The Republican politician has pleaded guilty to the bank charges. His sentencing has been delayed twice because of health problems.
During Tuesday's hearing, prosecutors said they learned about Individual D "relatively recently" and disclosed information about the witness a couple of weeks ago.
"As you might imagine, without getting into a lot of details, his decision to talk to us has been quite a process and a difficult one at that," Assistant U.S. Attorney Steven Block said, according to the transcript, which was obtained by NBC Chicago.
"He is deciding whether he would like to ask the Court to appear as a witness at the sentencing. He's not a hundred percent certain he wants to do that, but he has been moving in that direction."
Hastert's lawyers objected to changing the sentencing date to accommodate the new witness, saying he is not a "classic" victim under the federal Victim Protection Act and was not entitled by statute to appear. However, they also said they had no plans to contest his allegations.
The defense objected to another witness: a woman who says her brother had sexual encounters with Hastert years ago. Though she was not named during the hearing, the description matches Jolene Burdge, who went public with claims that Hastert molested her brother, Steven Reinboldt, who died of AIDS in 1995.
The judge said she, too, could be called to the stand.
"If the sister of a victim of sexual abuse wants to come in and talk about her interactions with her brother and talk about that, that is something that would inform my decisions about the history and characteristics of the defendant," Durkin said.
He added that defense lawyers could cross-examine the witnesses.
Both sides have now agreed to delay the sentencing to April 27. Prosecutors are recommending a sentence of up to six months behind bars, but the judge will make the final decision.