A social media influencer pleaded guilty Monday to using identities she stole to obtain more than $1 million in pandemic relief to help fund a lavish lifestyle, prosecutors said.
Danielle Miller, 32, assumed identities through the online Massachusetts driver's license portal and other methods and displayed some of the cache from her scheme on social media, according to the U.S. attorney's office for Massachusetts. Victims also came from Wisconsin and Arizona, a criminal complaint filed in the case noted.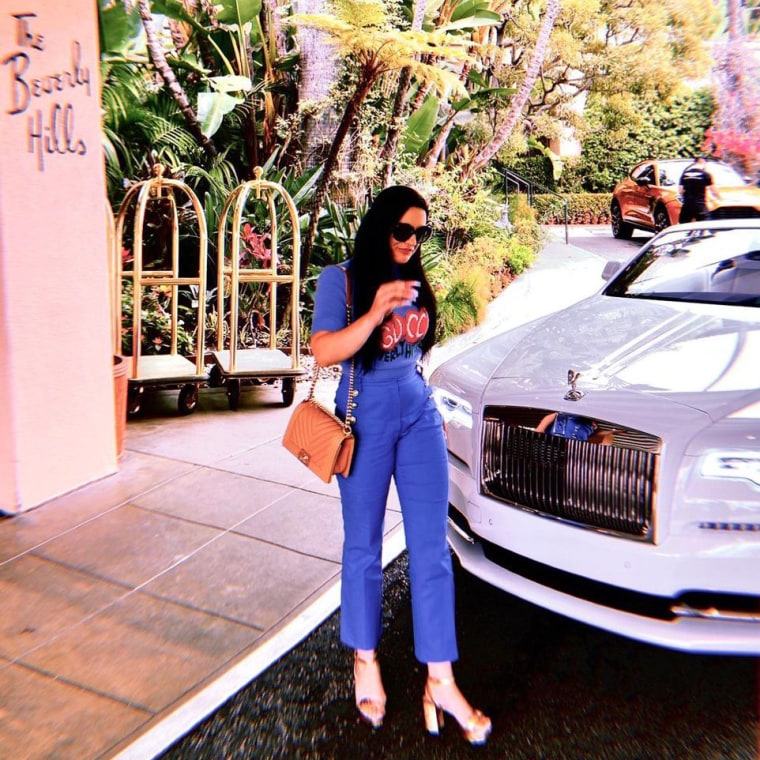 Federal officials say hers is one of the more egregious cases of fraud that emerged from government efforts to recharge the economy in the wake of the coronavirus pandemic, which locked down communities and businesses starting in 2020.
In all, Miller obtained $1.5 million through fraud, most of it related to pandemic relief efforts, according to the U.S. attorney's office.
Authorities said in the complaint that, in September 2020, she used counterfeit ID to buy $2,390 worth of private jet airfare from Fort Lauderdale, Florida, to the Los Angeles area. 
There, she spent $5,500 at Petit Ermitage, a luxury hotel in West Hollywood, and posed for a photo in front of a Rolls-Royce at the Beverly Hills Hotel, according to the complaint. She posted an image of her with the car on Instagram with the words "She's back." 
The next month, she used a pilfered identity to rent a Honda Civic, which was "abandoned" in Miami, it said. Inside was a document from the Florida unemployment department in her real name, the charging document said.
Miller pleaded guilty Monday to three counts of wire fraud and two counts of aggravated identity theft, according to the U.S. attorney's office. She is free on $100,000 bond and living in the New York City area, according to court documents.
A still-active Instagram account belonging to Miller shows her in photos posted last year wearing an ankle monitor.
Her attorney, Mitchell C. Elman, said Miller has accepted responsibility for her role in the offenses as charged.
Federal investigators started looking into Miller in early 2021, after an Abington, Massachusetts, woman discovered her identity was stolen; someone applied for a lease in her name, according to the criminal complaint.
Authorities then discovered $102,400 in Small Business Administration loan funds had been deposited in a bank account in the victim's name, unbeknownst to her, the complaint said.
Authorities zeroed in on Miller by linking the network used to access the victim's information on the Massachusetts Registry of Motor Vehicles site to a Miami high-rise, according to court documents. 
Soon, investigators said, they were looking at photos of Miller not on social media but on fraudulent ID cards. 
There, they found that the original Massachusetts victim's identity and the identities of multiple other victims were used to buy money orders worth thousands in cash, according to the complaint. Investigators said the stolen identities were also used to open bank accounts, obtain credit cards and apply for rental cars.
Miller also opened a bank account in the name of another victim and collected $6,204 in Arizona unemployment benefits, the criminal complaint said. 
She accessed the identities of 27 people through the Massachusetts driver's license portal alone, 10 of which were used to apply for more than $900,000 in federal SBA Economic Injury Disaster Loans, offered under the pandemic national emergency, the complaint said.
Prosecutors allege Miller ran her scheme from July 2020 through May 2021, when she was arrested. 
Miller faces up to 20 years in prison on each of the three counts of wire fraud, a mandatory two-year sentence on the identity theft charges and a fine of up to $250,000 for each of the charges when she is sentenced June 27. 
Some experts say pandemic relief fraud could amount to a quarter of a trillion dollars in taxpayer money stolen, lost or otherwise wasted. Much of the federal relief money related to the pandemic went to small-business owners as loans and was forgiven. But some who obtained loans lied about owning viable businesses or about how many workers they employed.
The White House last week proposed a $1.6 billion plan to combat pandemic relief fraud.
Nearly a year ago, President Joe Biden announced that his administration was cracking down on pandemic relief fraud. "Far too many working families bore the brunt of this unchecked fraud," he said.