An inmate was attacked Thursday with a padlock, the same weapon used to kill Boston mob boss James "Whitey" Bulger, at the same West Virginia prison complex, prison staffers told NBC News.
The unidentified inmate was assaulted inside the Federal Correctional Institution Hazelton, a medium-security penitentiary, about 7:50 a.m., authorities said.
The prison is located less than a mile from the maximum-security Hazelton penitentiary, where Bulger was fatally beaten with a lock stuffed inside a sock on Oct. 31.
The victim assaulted Thursday was struck with a lock attached to a rope or cord, one of the prison staffers said. His injuries are not considered life-threatening, the prison staffers said.
"He got beat up pretty bad but not to the point where there was any question if he would live," one of the staffers said. "He just got f——- up."
The staffers did not know what led to the attack.
The federal Bureau of Prisons confirmed that Hazelton staffers responded to an assault of an inmate who was hospitalized with non-life threatening injuries.
"The incident was immediately contained and the institution has returned to normal operations," the statement said. "No staff were injured and at no time was the public in danger."
Padlocks are often used as weapons in Hazelton facilities in part because of the ease with which inmates can obtain them.
The locks are sold inside the prisons to enable inmates to secure items inside their cells.
Questions have been raised over the decision to transfer Bulger, a notorious gangster and FBI informant, to Hazelton from a Florida prison that caters to high-profile inmates, snitches and gang dropouts.
Two inmates were killed in separate incidents at Hazelton in the six months prior to Bulger's arrival, prompting several politicians to urge the federal government to take action over the facility's staffing shortage.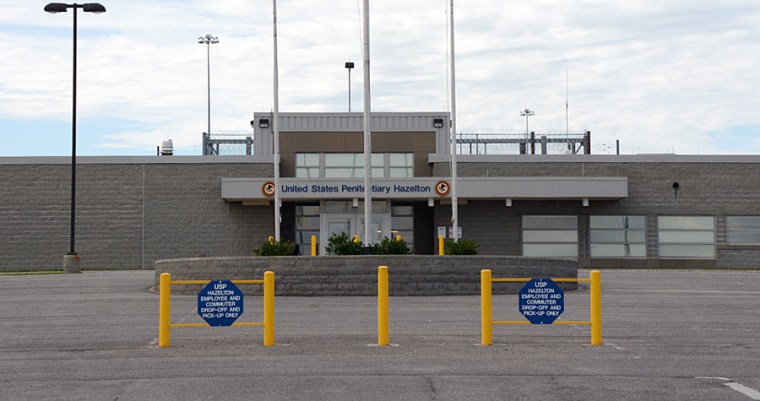 Law enforcement officials have told NBC News that Bulger was struck repeatedly with such a weapon shortly after his general population unit's cell block was unlocked.
Bulger was assaulted less than 12 hours after he arrived at the West Virginia prison.
No arrests have been made but one of the inmates under suspicion is a mafia hitman from the Boston area who is said to hate snitches, according to law enforcement officials and the man's lawyer.
A private funeral service for Bulger was held Thursday in the same South Boston neighborhood that he terrorized from the 1970s to 1990s.
The attack inside the medium-security prison at Hazelton marked the third major incident of violence since Bulger's murder, the prison staffers said.
In that same week, a correctional officer was punched by an inmate and at least two prisoners got into a brawl, according to prison staffers.
The union representing prison workers at Hazelton is planning to hold a rally at the facility next Friday in a bid to draw attention to conditions they say are dangerous to inmates and staffers.
"We're going to keep speaking about it until it's fixed — the understaffing and the violence it's causing," said Rick Heldreth, president of AFGE Local 420.