MASON CITY, IOWA — In the days after President Obama granted her early release from prison, Mandy Martinson drifted from joy and gratitude to guilt.
She felt blessed that her 15-year sentence for playing a small role in a methamphetamine ring had been cut short. But she also puzzled over why she received such a gift while thousands of other federal drug offenders were seeking the president's mercy.
Some were on her housing unit at Waseca Federal Correctional Institution in Minnesota. They included lifers who saw Obama's ambitious clemency program, focused on low-level, nonviolent drug offenders, as their only hope at avoiding death behind bars.
She urged them not to despair. She'd spent half of her 12 years in prison trying to get her wish.
"Don't give up hope," Martinson recalled telling them. "There is always hope."
But there is less of it.
As Obama's second term draws to a close, so does his two-year-old clemency initiative, which gives relief to drug offenders serving terms that would have been shorter if they'd been prosecuted under current sentencing laws.
He has given out more than 1,000 commutations, more than the last 11 presidents combined. But the total is just a tiny fraction of the 31,800 petitions he received, with 13,000 applicants still waiting for a decision.
And time is running out. The initiative is expected to halt under Donald Trump, who has disparaged Obama's early releases.
"I feel like I got in right under the wire," Martinson said after returning to her childhood home in northern Iowa Dec. 2. "I think that wherever my petition was on the humongous stack of petitions that are still pending, mine was, thank God, in the right place at the right time."
Now, at 39, she is a symbol of the human potential clemency aims to unlock — and is shouldering the hopes of drug-war prisoners still waiting for the president's golden-stamped letter.
'A second chance at life'
News travels fast in prison. When the White House releases a new batch of commutations, inmates with pending petitions scrutinize it, comparing the recipients to their own cases and looking for reasons they'll make the next list.
"It gives you something to look forward to," said Trenton Copeland, who is serving a life sentence for cocaine distribution at the federal prison in Terra Haute, Indiana. "When a judge says life, it gives you a feeling like you're buried alive and basically waiting to die. But when I heard about the clemency initiative, it gave me a new perspective: that it wasn't over yet."

"It's a second chance at life," Copeland, 33, said. "That's everything."
Trump's election has increased the sense of urgency. Many on the waiting list see Inauguration Day on Jan. 20 as the moment their wishes will expire.
"We just don't see no daylight after Obama is gone," said Bernard Gary Smith, serving a 22-year sentence for his part in a crack and marijuana conspiracy. "I think this is my last shot."
Related: With Trump in White House, Criminal Justice Reformers Will Look Elsewhere
Smith, 44, recalled hearing news in August that Obama had ended the life sentence of a fellow inmate at the federal prison in Glenville, West Virginia. The inmate had been convicted of dealing cocaine while in possession of a gun, a crime that seemed to Smith as more serious than his own.
But it is difficult to discern trends, because the Justice Department's Office of the Pardon Attorney does not provide any explanations.
"Sometimes you wish any decision would come down just so you know how you'll live the next few months — and next few years," Smith said.
A step toward reform
The power of clemency is enshrined in the Constitution, although presidents typically use it sparingly. Obama was no different, until 2014, when he put out a call for nonviolent offenders who were sentenced to prison before the easing of notoriously harsh mandatory minimum laws in 2010.
Related: As Drug Sentencing Debate Rages, 'Ridiculous' Sentences Persist
The Justice Department enlisted the nation's bar and civil rights groups to identify the most promising candidates. But bureaucratic tangles contributed to a growing backlog. Advocates and clemency recipients are now pressing Obama to take more drastic action, such as blanket commutations for prisoners who've already been deemed low-risk.
But clemency does not change the system. Mandatory minimum laws are still used to put thousands of nonviolent drug offenders into the federal prison system every year. There is a bill that seeks to give judges more discretion, but Congress has balked at it.

Some believe Obama's clemency initiative could help the cause by raising public awareness of unfairly stiff sentences.
"It sets the stage for real reform," said James Felman, a Florida defense lawyer who has filed petitions for dozens of inmates. "That is the most important legacy."
From addiction to prison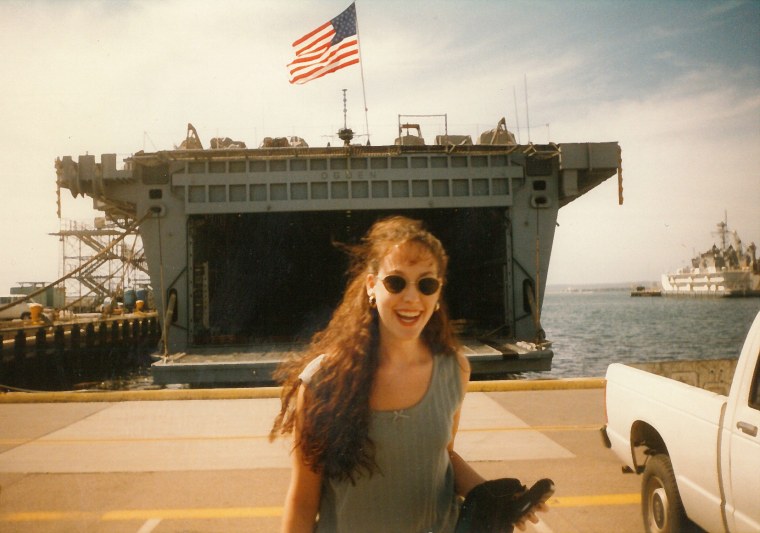 Martinson's brief history with drugs, and her lengthy incarceration, shows how mandatory minimum sentences have been twisted to punish low-level offenders, which was not Congress' intent when it created them 30 years ago at the height of a drug panic.
Her clemency can be seen as a correction to that, and a rebuke to critics who warn that Obama is giving second chances to people who don't deserve it.
"Mandy is a good reminder that these are our friends and neighbors and children and sisters that we're talking about. These are real people," said Molly Gill, director of federal legislative affairs at Families Against Mandatory Minimums, which helped Martinson file for commutation. "They're not people who are saying they're innocent. They're not people who said they shouldn't be punished. They're people who just want what we'd want for our friends and neighbors and daughters and sisters, which is a fair shake."
Senior U.S. District Court Judge James Gritzner, who sits in Des Moines, Iowa, found that to be the case with Martinson, who he was obligated to send to prison for 15 years.
"We all did our duty," Gritzner said. "But there are times when your duty, while well performed, doesn't make you feel very good."
Martinson's addiction spanned several months in 2003 and 2004, upending a life that seemed charted for success. She went to college, earned her dental hygiene license, and bought a home in the small farming community where she grew up.
She was a people-pleaser, motivated by the approval of her parents and neighbors. But that masked a low self-esteem that drew her to needy men, including one who sold meth and marijuana.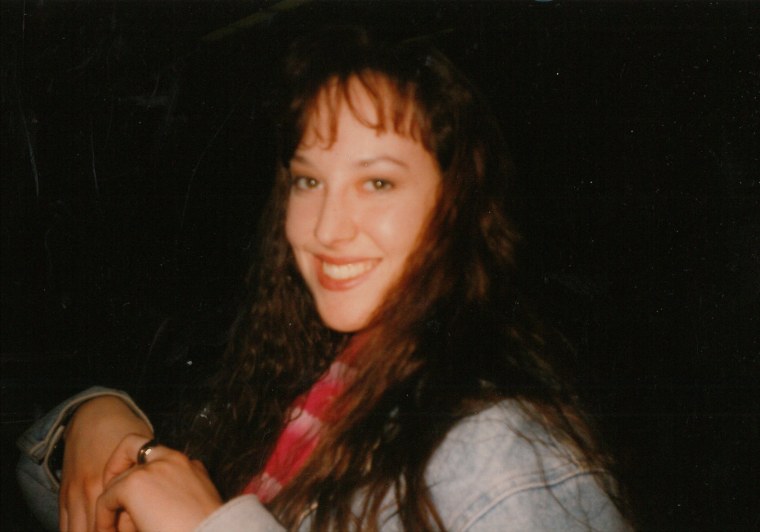 He moved in with her, and she joined him on drug runs, helping him count money and keep track of his product. She also let him store everything in her house, which was raided in January 2004, five weeks after they met. Among the items seized were several pounds of meth and the boyfriend's handgun.
The boyfriend faced a mandatory minimum of 20 years in federal prison, which he got shortened by sharing the details of his operation with authorities. He also testified against Martinson, who as a bit player had little valuable information to bargain for her own benefit. She went to trial in September 2004.
She knew she was guilty of the drugs, but didn't think she'd get convicted for possessing her boyfriend's gun. On that, she was wrong.
By the time she was sentenced the following January, Martinson had kicked her meth habit. But Gritzner said he had no choice but to impose the mandatory minimum of 15 years. From the bench, he pointed out that Martinson's boyfriend had been sentenced to less than 13 years, even though she had been "largely subject to his direction and control."
Martinson went to prison at 27, unable to comprehend the term in front of her.
A surprise gift
Her case weighed on Gritzner, who in 2010 agreed to support Martinson's petition for commutation. He wrote a letter to Obama, asking the president "to provide the justice in this case that I could not."
That petition was denied. So was a second, in 2014, after Obama had launched his clemency initiative — and not long after Martinson's mother, Cindy, died of bone cancer.
"After that, I really thought there wasn't any hope," Martinson said.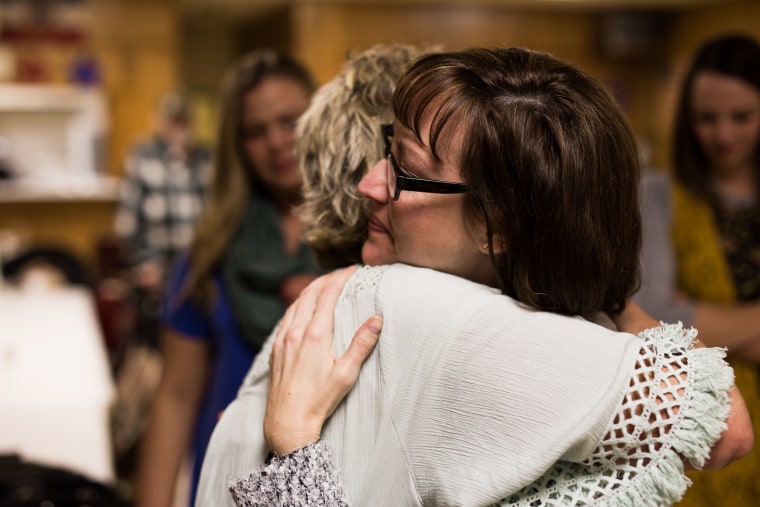 But with encouragement from Families Against Mandatory Minimums and the Clemency Project 2014, a coalition of lawyers helping the Obama administration identify the strongest cases, Martinson submitted a third petition in March 2016. She didn't give herself good odds, because she was approaching her projected release date of October 2017, which factored in good-time credit.
"I was really not expecting it because I figured I'm almost done," she recalled. "Why would they waste it on me when there are so many other people with so much time left?"
The surprise news came in a call from her lawyer on Nov. 4. Not long after, she received Obama's letter.
"Remember that you have the capacity to make good choices," he wrote. "By doing so, you will affect not only your own life, but those close to you. You will also influence, through your example, the possibility that others in your circumstances get their own second chance in the future."
Related: Read Obama's clemency letter to Martinson
After celebrating, Martinson thought of the others she knew who were still waiting. They were good people. What made them any less deserving?
She owed it to them to put her clemency to good use.
Home, free
Before dawn on Dec. 2, Martinson stood at the exit of a Mason City halfway house with a new bob haircut and bags slung over her narrow shoulders. It was her last day in U.S. Bureau of Prisons custody, and through a window she could see her father, Bill, who'd visited her every weekend, first with her mom, and then alone.
The door opened, and Martinson stepped through, dropping her bags and throwing her arms around him. They'd always been affectionate, but in prison visits, the hugs had been strictly limited.
She felt lighter, as if coming up for air after a long underwater swim.
"I love you," she said.
"Let's go," he replied.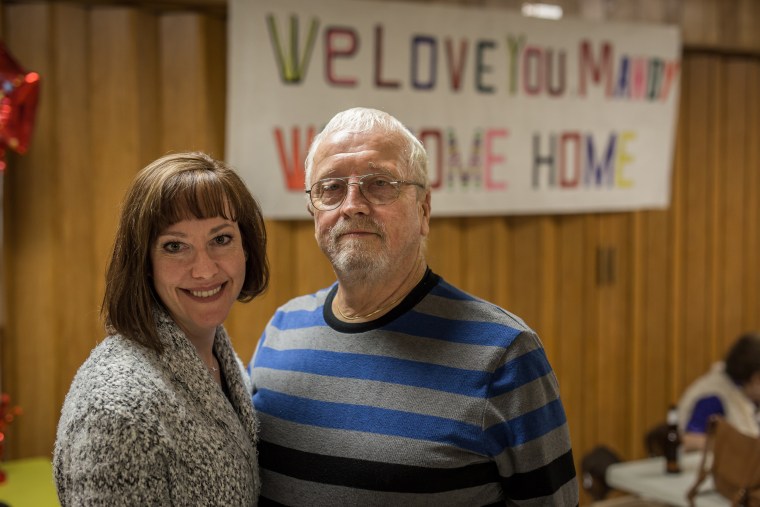 On the drive home, she told him she'd dreamed her mother was still alive. She asked about her cat, who had survived her entire incarceration. Moving through the dark streets of her hometown felt unreal.
That changed at her father's house, where, as the sun rose, a gaggle of aunts and friends stopped by with coffee and donuts. Over the fireplace was an urn containing her mother's ashes.
Someone asked what she was going to do on her first day out.
"I'm free all day," she responded, stroking her cat's back. "Oh, that sounds nice: I'm free."
In the hours and days ahead, there would be more to savor: private showers, sleeping without layers of clothes to keep warm, meals and exercise any time she liked. There would be two jobs, one at a local Hardee's, another at a grocery store. She'd soon go back to class for her dental hygiene license; her old boss had told her he'd take her back.
She knew the stigma of prison would not fade easily.
"But when I can say the president believes in me, maybe you could take a chance on me too, it helps put a little bit of strength in my back pocket," Martinson said. "When somebody believes in you that much, you don't want to let them down."