AUSTIN, Texas — Package anxiety ramped up here on Tuesday, when an overnight explosion at a FedEx facility about an hour away — and then another later in the evening — elevated concerns that packages delivered through trusted outlets could also be risky.
The FedEx explosion was the fifth explosion in 19 days and the first linked to a package at a delivery service, was the latest development in a string of bombings that have killed two people and injured four others since March 2. The uncertainty about what's safe and what's not is causing some in the city to react in unusual ways when a package arrives at their door.
On Tuesday, Laura Hoke, a mother of two, shared her experience on Facebook: "I came home yesterday to a package on our front porch. I left my daughter in the car, and then I grabbed a soccer ball from our yard, stood behind a tree and threw the soccer ball at the package to see if it would explode. Insanity."
Hoke said she opted to share her experience after seeing posts from others explaining their own angst.
"This FedEx thing changes everything. It's a new level of panic," she told NBC News. "Crazy things run through your mind. I knew from keeping up with local news a couple of people have died and others have been injured. Your mind has these crazy thoughts."
A reported package explosion at a Goodwill Tuesday night was not a package bomb but was an incendiary device and at this time it does not appear related to the package bombings, police and federal authorities said. An employee suffered minor injuries to his hand, the president of Goodwill Central Texas said.
The situation is unusual, but the anxiety isn't, said Austin psychologist Melba Vasquez.
Related: FedEx explosion in Schertz, Texas, is linked to Austin blasts
"One of the biggest sources of fear and anxiety is death. The fact that people are dying in our community stirs up that anxiety," she said.
"People are trying to take precautions and ensure that these horrific events happening to people in the community don't happen to them. They do not want to be foolish, even though what they're doing may feel foolish," Vasquez said. "People are just trying to reassure themselves that they're not about to be blown up. It's sort of a healthy thing. If you're anxious, take a response."
The overnight explosion in the town of Schertz, about an hour south of Austin, increased anxiety because prior blasts involved packages not delivered through a delivery service. The connection with FedEx adds another layer of angst to an already-anxious city.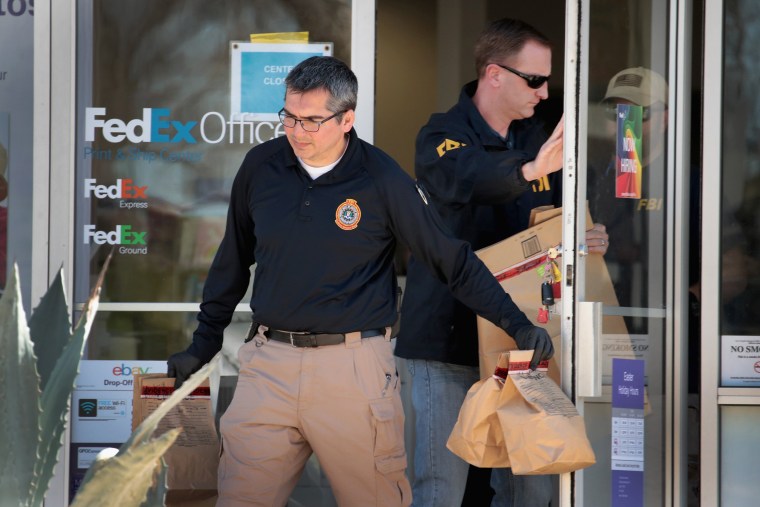 News of the FedEx explosion prompted Kim Sue Lia Perkes on Tuesday to cancel regular deliveries from Amazon's Subscribe & Save program.
"I order everything from Amazon online — my regular household items every month," she said. "I refuse to live afraid of this bomber, but I do think it's wise to be prudent and cautious."
Perkes heard the explosion Sunday in her Southwest Austin neighborhood and said she's also holding off from online shopping.
Another online shopper, Kelly Peacock, said she's gotten texts from out-of-town family members warning her about packages. She's still getting deliveries.
"When they stop in front of the house, it's a little nerve-racking," Peacock said. "They put the package at the door yesterday and I know I ordered something. I knew it came from Amazon. I just tried to remind myself that it's OK. It's from Amazon."