Three words separate the thousands of Pennsylvanians who say they were molested as children by Roman Catholic priests from receiving justice and compensation for their suffering: statutes of limitations.
They are the reason why just two of the 301 priests named last week in state Attorney General Josh Shapiro's bombshell report on sex abuse of children by priests in six Pennsylvania dioceses have been charged with crimes.
That is also why most of the victims are unlikely, at this point, to get a dime in recompense.
And while the findings in Shapiro's report were greeted with universal revulsion and profuse apologies from the Catholic Church, expert say there's no guarantee that anything is going to change for the aging victims of unspeakable acts that were inflicted on them when they were kids.
Currently, the statute of limitations law in Pennsylvania allows victims of child sex abuse to come forward with criminal allegations until they are 50 years old. The age cutoff for filing civil claims is 30.
Consider the political battle brewing in Harrisburg:
In the wake of the Shapiro report, which recommended reforming statute of limitations laws, Pennsylvania state Rep. Mark Rozzi — a Democrat who says he was 12 when he was raped in a shower by a priest — renewed his call for doing away with them for filing new criminal charges and civil suits against child sex abusers.
As part of what he has dubbed a "Real Deal" bill, Rozzi is also proposing a two-year window for victims of past abuse — like the thousand in the AG's report — during which they can file claims retroactively.
"People are finally outraged to the point that they can't tolerate it anymore," Rozzi said. "Victims are finally believed. My fellow legislators get it that it's their turn to do the right thing now and pass a window. We've all had enough."
The powerful Pennsylvania Catholic Conference, the public relations arm of the state's bishops and dioceses, has already made it clear, however, that it will oppose any attempt to get rid of statutes of limitations. Bishop Ronald Gainer of Harrisburg, whose diocese was one of the six cited in the Shapiro report, argued that it would "force the people who make up an organization like the Catholic Church today defend themselves against a crime that was committed in their parish, school or charitable program years ago."
Also, Rozzi is likely to face stiff opposition from the lawmaker who scuttled his earlier attempts — Senate President Pro Tempore Joe Scarnati, a Republican. The wife of Scarnati's chief of staff, Drew Crompton, works for the Pennsylvania Catholic Conference. So do several of his former staffers, as The New York Times first reported.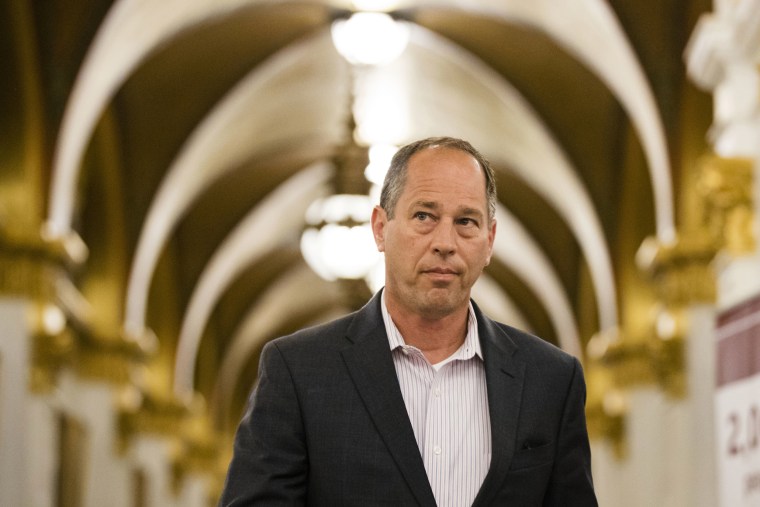 "Many of these crimes were committed numerous years ago and the Church has since instituted desperately needed reforms, however the acts are no less reprehensible," Scarnati said in a statement after Shapiro's report was released.
Scarnati also touted his own stalled legislation, Senate Bill 261, which would end the statute of limitation on filing future charges against child sex abusers and raise the age threshold for filing civil suits to 50 — but would not allow victims to sue the pedophile priests named in Shapiro's nearly 900-page report.
Asked whether Scarnati's reluctance to back the two-year window had anything to do with his close ties to the Catholic conference, Crompton said absolutely not.
"Senator Scarnati makes his own independent decisions on legislation," Crompton wrote in an email to NBC News. "He has taken many positions adverse to clients of that lobbying firm over the years. I could give you plenty of examples. He believes the window violates the remedies clause in the (Pennsylvania) constitution and plenty of reputable legal experts agree with him."
When NBC News reached out to the Pennsylvania Catholic Conference seeking an explanation for why it opposes the Rozzi bill, spokeswoman Amy Hill issued the following statement:
"We are devastated and outraged by the revelations of terrible sexual abuse crimes committed in the Catholic Church," she said. "The time to discuss legislation will come later. Our focus now is on improving ways that survivors and their families can recover as they continue through a difficult healing process."
In New York, Cardinal Timothy Dolan went on the radio to register his disgust with what happened in Pennsylvania.
"This is not the time for another round of mea culpas," Dolan said on Sirius XM's The Catholic Channel. "This is the time, sure, for apologies and contrition, but it's mostly the time for verifiable, concrete, hard-hitting, no-holds-barred practical attempts to get to the bottom of it and to take steps to see that it does not happen again."
But Dolan did not utter the words "statute of limitations," which also exists in New York state and which survivors of priest sex abuse like Shaun Dougherty are fighting to abolish through the passage of the Child Victims Act, which would give victims a one-year window to retroactively file claims against their abusers or the Church.
Right now, victims of childhood sexual abuse in New York can only seek justice from their alleged predators before they turn 23. Under the proposed act, victims could file civil suits until age 50 and seek criminal charges until 28. The bill would also create a one-year window for victims who are barred by the existing statute of limitations to file civil suits.
Dennis Poust, director of communications for the New York State Catholic Conference, called the Pennsylvania report "a gut punch" but said the conference has concerns about the Child Victims Act, known as the CVA.
"It's important to note we do support the complete elimination of the criminal statute of limitations for child sexual abuse, something the Pennsylvania grand jury recommended as well," he said in an email. "The CVA doesn't do that. We also agree that the civil statute of limitations is not long enough and we support an extension of the civil statute to give victims significantly more time to sue going forward."
The problem with the one-year window, Poust said, is it that it "opens up old claims going back forever, literally."
"There are no caps on jury awards or how far back it goes, and it is very difficult to defend against something that may have happened in the 1940s or '50s," he said. "And the bad actors in those cases, whether abusers themselves or bishops who reassigned them, are long gone."
Poust also said any legislation should "include public schools and municipalities in the window."
The CVA, he said, "protects the teachers unions and public school system from the same retroactive civil lawsuits it wants for the Church."
"We've made our share of mistakes, but there is no question that there are many more children abused in public schools than in the Church," he wrote. "It is fair to argue that the Church should be held to a higher moral standard, but it must not be held to a higher legal standard than the public schools."
Marci Hamilton, a law professor and head of Child USA, a think tank dedicated to preventing child abuse, dismissed Poust's concerns as the "standard operating woe-is-me response."
"The bad actors are decidedly not in the past," Hamilton wrote. "No Archdiocese sits on more secrets in the U.S. than NYC where they have traded in the short civil SOLs for decades," she added, using an acronym for statutes of limitations.
Also, Hamilton added, "it isn't a proven fact that the public schools have a higher rate of abuse than the church. Indeed, in NY private schools don't have to report child sex abuse. Only public schools do."
The Catholic Church, insurance companies and other religious organizations that have been hit with abuse allegations, like Agudath Israel, have lobbied hard against the Child Victims Act, Hamilton wrote.
But Hamilton said she believes the tide is turning. Most states have either abolished or extended statutes of limitations for the criminal prosecution of child sex abuse. And states like Delaware, Hawaii, Massachusetts and Minnesota have already restored victims' expired rights to file civil suits.
Hamilton said it's only a matter of time before change comes to major Catholic stronghold states like New York and Pennsylvania.
"The bishops thought, for a long time, they were Teflon and none of this would stick to them," she said. "But it's increasingly untenable."