The crime fighting innovation that helped make New York into America's safest big city requires police officers to question not just suspects, but each other.
On a recent weekday morning, Inspector Carlos Valdez stood nervously behind a podium as more than 200 top NYPD cops grilled him about a surge in robberies and burglaries in the 40th Precinct in the Bronx.
"Alright, Carlos, you know why you're up there," Chief James O'Neill said. "A lot of things going on in the Four-o. Crime is definitely not headed in the right direction."
Valdez defended his work, and that of the detectives from the 40th Precinct, who're standing behind him.
"We're up in robberies, assaults, burglaries and grand larcenies, but we're also up in arrests for those index crimes," said Valdez, his voice cracking.
The brass didn't let up, on Valdez or a troop of other precinct commanders who appear at the podium to parry questions about crime on their turf.
"We need it fixed yesterday," snapped Deputy Commissioner Dermot Shea.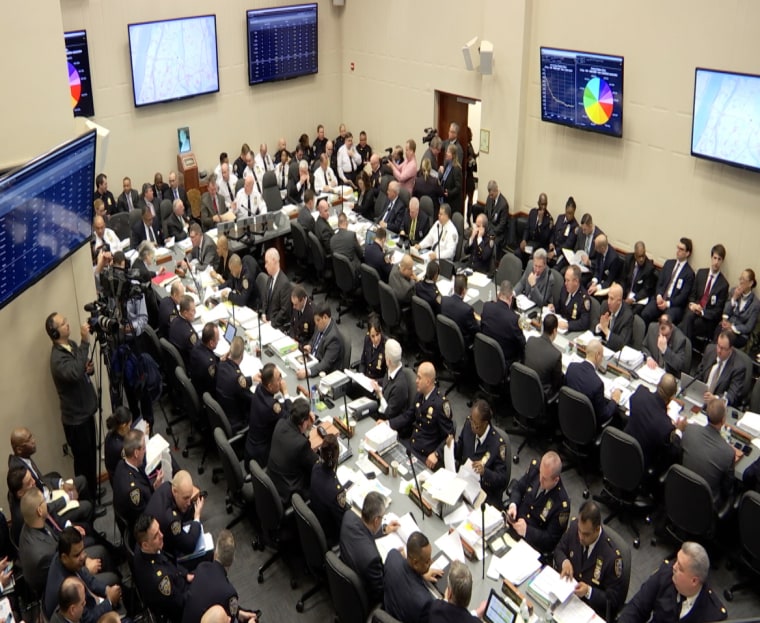 Compstat, a statistical system for tracking crime, was introduced by Police Commissioner Bill Bratton and his deputy, Jack Maple, in 1994, during Bratton's first stint as head of the NYPD. Twenty-two years later, Bratton is once again the top cop in Gotham, Compstat is still in use, and crime has fallen 75 percent — a fact Bratton calls a "New York miracle." The city had 1,946 murders in 1993, or more than a five a day. It had 352 in 2015.
The system is based on tracking and stopping smaller crimes to stop bigger crimes, and to pinpoint hotspots where crimes are clustered. It has since been exported to other cities, like Philadelphia and Los Angeles, where Bratton also served as chief of police.
The NYPD recently allowed NBC News unprecedented access to one of its weekly Compstat meetings at One Police Plaza in downtown Manhattan. Television monitors displaying stats, graphs and maps lined the walls, above long tables filled with about 200 high-ranking officers.
At one end of the room were the bosses, lobbing the questions, and at the other end was a podium, where precinct commanders like Valdez took turns trying to answer them.
Valdez was assigned to the 40th Precinct several months ago to address a spike in crime. Valdez deployed extra officers to streets with jumps in robberies. He also met with detectives about unsolved cases big and small — from murders to burglary patterns.
"Analyzing data, deploying resources and vigorous follow-up, that is Compstat," Valdez said. "In the end, crime prevention is really the goal."
While NBC News was visiting and recording his team at work in the Bronx, someone shot a young man to death nearby — right next to a playground, in the middle of the afternoon.
"We're not looking to throw curveballs at people … [we] just want to make sure their whole operation is efficient."
In a separate incident several weeks ago, two police officers were fired on. And burglaries have soared 400 percent in just a month. Valdez opened his case book to reveal more than 100 crimes that needed solving.
At the Compstat meeting, the interrogators pressed Valdez for minute details of the precinct's crime pattern, all the way down to how many smartphones have been reported stolen.
"I want to say it's nine," said Valdez.
"How many have we obtained and put an alarm on those phones?" Shea asked.
"I'll have to get back to you on that," answered a member of the Four-o squad.
O'Neill told Valdez and his team they could do better. "If you have a robbery problem, everybody up at that podium needs to be tuned in. I'm not sure I'm hearing that."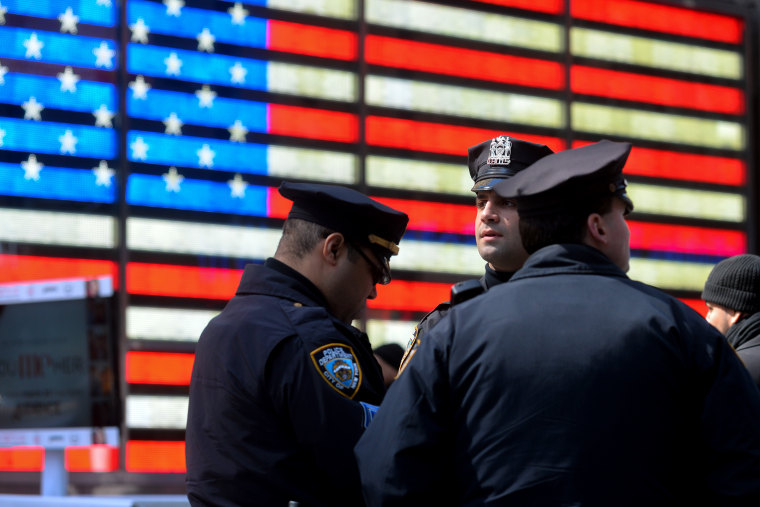 Valdez wasn't the only precinct commander to get grilled. Next up was Fausto Pichardo of the 43rd Precinct, also in the Bronx. Pichardo's precinct had no homicides to report — but O'Neill was quick to point out the area had the highest volume of robberies in the city.
"We took six robberies in sector Eddie," Pichardo responded. "We immediately deployed a dedicated uniformed robbery order on each single platoon."
After the meeting, O'Neill told NBC News the point is not to embarrass anyone, but to ensure success.
"We're not looking to throw curveballs at people … [we] just want to make sure their whole operation is efficient," he said.
"I know Carlos will turn the Four-o around," he added.
Bratton, meanwhile, said commanders need to be held accountable — but he also praised the ones in the Bronx for the overall reduction in violence.
"We have never had a two-month period beginning of a year with so few shootings," he said.
O'Neill said he thinks the rigorous public interrogation that precinct commanders endure helps make a difference in crime in the city.
"There is direct accountability," he said. "I think that's the genius of Compstat."