ASPEN, Colorado — Daniel Coats, the director of national intelligence, said Friday there is no dissent inside U.S. intelligence agencies about the conclusion that Russia used hacking and fake news to interfere in the 2016 presidential election — despite comments by his boss, President Donald Trump, that have seemed to cast some doubt about the unanimity.
In an interview with NBC Nightly News anchor Lester Holt at the Aspen Security Forum, Coats said that the reason only four of 17 intelligence agencies signed onto the January assessment describing the Russian effort is that the other agencies were not involved in gathering and analyzing the intelligence.
On July 5, Trump suggested that there had been a misunderstanding of the extent to which the assessment was endorsed by the entire American spy apparatus.
"Let me just start off by saying I heard it was 17 agencies," Trump said when asked about the intelligence assessment. "I said, 'Boy, that's a lot.' Do we even have that many intelligence agencies, right? Let's check it. And we did some very heavy research. It turned out to be three or four — it wasn't 17 — and many of your compatriots had to change their reporting, and they had to apologize, and they had to correct."
The "three or four" agencies referred to by Trump are the CIA, the FBI, the National Security Agency and the Office of the Director of National Intelligence, all of which were named in a January public report assessing with "high confidence" that Russia interfered in the election.
Other intelligence agencies, such as the U.S. Coast Guard's, were not involved, Coats said. But, he added, there was no disagreement inside the intelligence community.
Coats said he had no doubt that the Russians "are trying to undermine Western democracy."
"I think they caught us a little bit behind the curve," he said. "They caught us a little bit asleep in terms of the capabilities that they could do."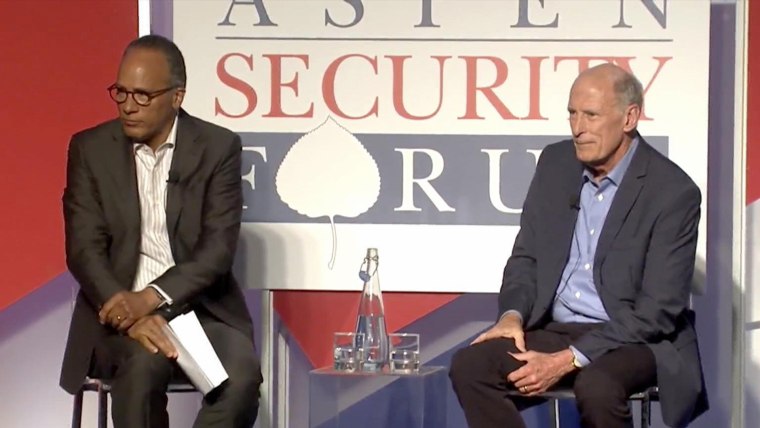 Coats was the fourth Trump administration national security official this week to affirm the American intelligence assessment that Russia was behind the 2016 election interference. All spoke at the Aspen forum, a gathering of government officials, security professionals and journalists.
"I am confident that the Russians meddled in this election, as is the entire intelligence community," CIA Director Mike Pompeo said Thursday, with a note of agitation in his voice in the face of skeptical questioning. "This threat is real. The U.S. government, including the Central Intelligence Agency, has to figure out a way to fight back against it and defeat it. And we're intent upon doing that."
Asked if Russia meddled in the election, Thomas Bossert, Trump's counterterrorism and cyber adviser, responded, "There is a pretty clear and easy answer to that and that is yes."
Homeland Security Secretary John Kelly, also at the Aspen gathering, said Wednesday that he, too, saw it that way.
Trump has not embraced that conclusion wholeheartedly. On July 6, he said, "I think it could very well have been Russia, but I think it could well have been other countries, and I won't be specific, but I think a lot of people interfere."