A high school wrestler in Iowa died Saturday after collapsing on the mat during a tournament, according to the school.
Spencer High School senior Austin Roberts collapsed during the school's invitational wrestling tournament and later died at Spencer Hospital, the school district said in a statement.
His father told NBC News that the athlete had never collapsed before. "That's the hard part. He has never had any warning signs. We don't understand what happened," Roberts said. "One minute he was competing for the championship and was doing fine. The third period started and he just went down and never got back up."
"Anyone that knew him loved him. He was headed for greatness," Roberts added.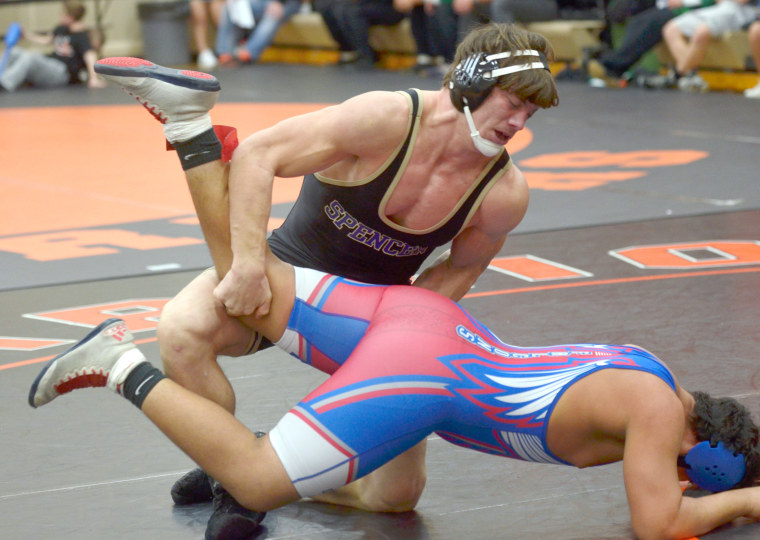 The high school will be open Sunday for grief counseling, according to the statement from the school.
"This is a time for grieving and providing support for Austin's family, the wrestling team family, our school system, and the entire community of Spencer," said district superintendent Terry Hemann.
Spencer High School was named a Varsity Safe Sports School by the National Athletic Trainers' Association, according to the district's Facebook page Friday. A youth wrestling tournament scheduled for Sunday in Spencer, a city of about 11,000 people in the northwest corner of Iowa, has been canceled, according to a post on the Spencer wrestling team's Facebook page.
Roberts, a 6'4", 220-pound wrestler for Spencer, placed eighth at the Class 2A state tournament last year, according to NBC affiliate KTIV.
Roberts said in an interview with the Sioux City Journal earlier this month that placing in states was "amazing" and he would like to qualify again because "I want to do better, I can do better, I want to be the best."
The paper reported that Roberts was an offensive and defensive lineman for the school's football team and planned on wrestling and playing football at Iowa Central Community College.