The Iowa lawmaker who became a laughingstock after his "business degree" turned out to be a certificate from "Sizzler U" just got burned by his hometown newspaper.
Declaring that State Sen. Mark Chelgren "should resign," the Ottumwa Courier said "his integrity is gone" and he has turned their town into a "national punchline."
"Chelgren sells himself as a true believer, a crusader for conservative values who will stand up to his own party," the paper wrote in an editorial that ran on Saturday. "But's he's not. He's a sham, an attention-seeking braggart. Chelgren's reputation lies in tatters."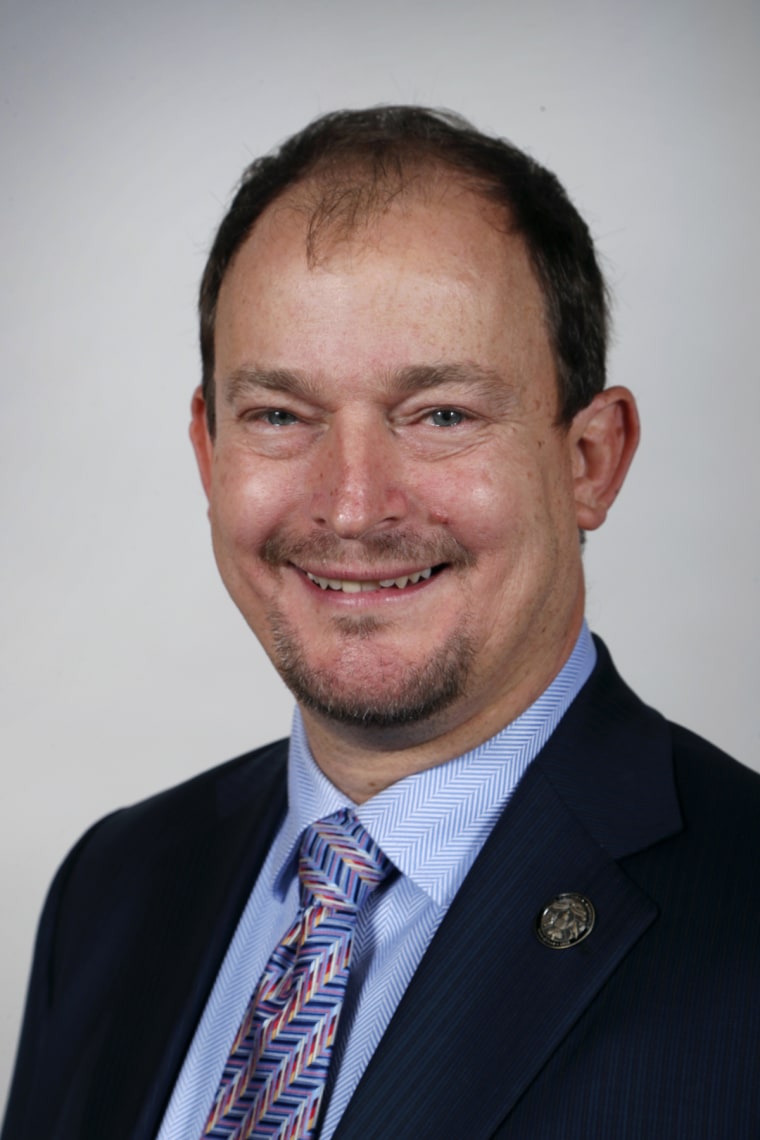 The Republican lawmaker, who supporters have dubbed "the Donald Trump of Iowa," got into hot water last week after NBC News reported that the "Forbco Management school" he claimed to have gotten his "business degree" from was actually a company that operated a Sizzler steak house franchise in southern California.
Ottumwa Courier publisher Wanda Moeller told NBC News this was the last straw for many in the rural town of 25,000 that Chelgren has represented since 2010.
"A lot of the public officials we spoke to over the weekend are just really upset by him," she said. "He's given the town a black eye. The first time he got elected it was just by 10 votes. The second time he won by 400. It's going to be an uphill battle for him if he tries to run again."
Chelgren, who did not immediately return a call for comment Monday, has denied inflating his resume and told NBC News he was not aware of the error on the GOP web site until a reporter asked him about it.
NBC began looking into Chelgren's education background after he proposed controversial Senate File 288, which caps the number of Democrats that state universities can hire as professors — and which critics call an unconstitutional political litmus test.
Chelgren claimed his own experiences with "liberal professors" prompted him to put forward a plan to impose a hiring freeze until the number of registered Republicans and Democrats on university faculties were within 10 percent of each other.
Confronted with the discrepancy, the GOP removed the Forbco reference from Chelgren's biography on the Iowa State Republicans web site.
At a rally on Saturday attended by about 60 people where he was introduced as "our own version of Donald Trump," Chelgren reportedly attacked NBC News saying "I have an associate's degree. They say I don't have a degree. Anybody with an associate's degree should be offended."
Chelgren makes no mention of any associates degree on the amended GOP web site, which now just states he attended the University of California at Riverside "majoring in astro-physics, geo-physics and mathematics."
But Chelgren, who runs a wheelchair parts manufacturing firm called Frog Legs Inc., continues to claim on his company web site that he "completed his education in Astro- and Geo-Physics at the University of California in Riverside."
A UCR spokesman has confirmed that Chelgren did attend the university, but just for one year and that he majored in physics and did not earned a degree.
"He did not complete his studies here," spokesman John Warren told NBC News last week, adding that he was enrolled for just one year from 1992 to 1993.
On the Frog Legs site, Chelgren also claimed to have worked as manager and auditor for Forbco Management in Anaheim, an apparent reference to the Sizzler operation.
Sizzler spokeswoman Janet Ritter told NBC she can confirm Chelgren was employed by Sizzler back in the early 90s.
"Sizzler does do internal training and development," she said. "The certificate the Iowa senator claims to have would have qualified him to manage a Sizzler."
Chelgren also declares on his company website that he worked as a "Geo-Physist for GeoSoils in Temecula," which is a city in Riverside County, California.
The Iowa pol did not state on his company site when he worked for GeoSoils and the word "geophysicist" is misspelled.
Responding to a request from NBC News, Debbie Beach of GEO Soils Inc. said she would try to confirm that Chelgren had indeed employed by them. She also said they don't have an office in Temecula.
"It's in Murrieta, which is the town next door," said Beach.