An Iowa lawmaker who is pushing a controversial bill that caps the number of Democrats that state universities can hire as professors claimed on a government website that he got a "business degree" from the "Forbco Management school."
But State Sen. Mark Chelgren's alleged alma mater is actually a company that operated a Sizzler steak house franchise in southern California and he doesn't have a "degree," Ed Failor, a spokesman for the Iowa State Republicans, told NBC News.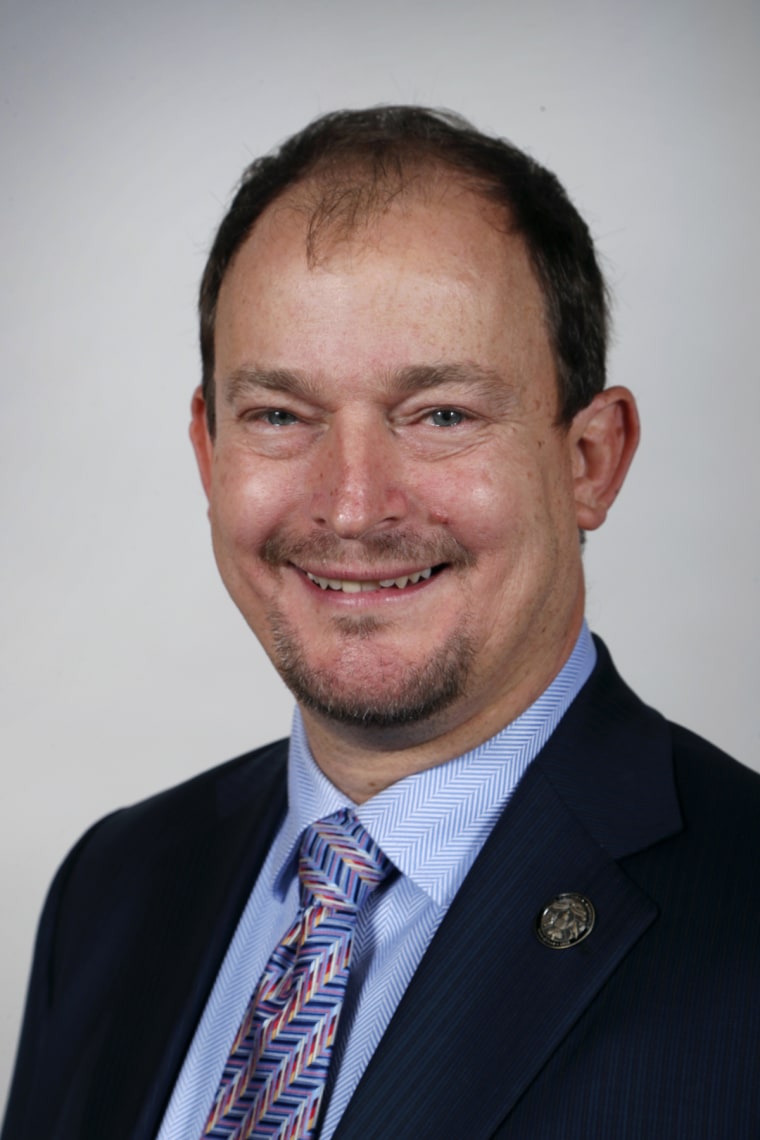 "This was a management course he took when he worked for Sizzler, kind of like Hamburger University at McDonald's," Failor said. "He got a certificate."
Asked if Chelgren has a college degree, Failor said, "That's not accurate."
Shortly after speaking with a reporter, the reference to Forbco Management "business degree" was removed from Chelgren's biography on the Iowa State Republicans web site.
Chelgren told NBC News on Wednesday he was not trying to inflate his education credentials.
"This was not an attempt to inflate anything," he said, adding he was not aware of the error on the web site until a reporter asked about it. "I didn't concern myself about this, honestly."
In a telephone interview last week, Chelgren was vague about Forbco. He said it was located outside of Los Angeles and that he got his business degree "around '88 or '89. It's going back a ways so I don't remember."
The school is not listed on the federal National Center for Education Statistics' list of accredited colleges or universities. And the only Forbco Management in California, records show, is a company that used to operate a Sizzler steakhouse in Torrance, California.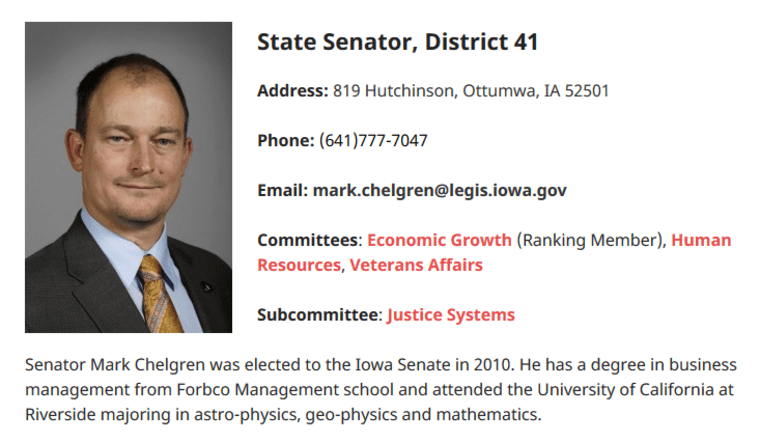 "I don't know if they are still in business or not," Chelgren said. "The school was created by Forbco Management, and I got a degree in hotel restaurant management."
When Chelgren did not respond to several requests to provide a copy of a diploma or some other proof that he attended Forbco Management school, NBC News reached out to the Iowa State Senate Majority Leader's office.
Chelgren continues to be described on the Senate web page as having "attended the University of California at Riverside majoring in astro-physics, geo-physics and mathematics." He told NBC he took classes for three years but did not graduate.
University spokesman John Warren confirmed that Chelgren attended the school in 1992 and 1993 "with a major in physics."
When asked to explain why when he only went to college for one year, Chelgren said he also earned an associates degree in science from "Riverside Community College" in California.
In pushing for passage of Senate File 228, Chelgren claimed his own experiences with "liberal professors" prompted him to put forward a plan to impose a hiring freeze until the number of registered Republicans and Democrats on university faculties are within 10 percent of each other.
Critics have accused Chelgren of trying to impose a political litmus test on new hires for the state's university system. They said that by pushing a bill that has little chance of passage Chelgren, who has a history of courting controversy, is trying to burnish his bona fides with conservative voters.