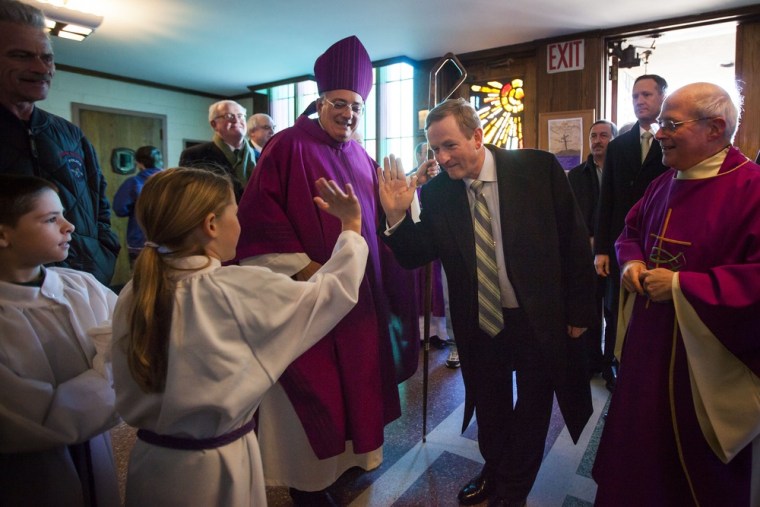 BREEZY POINT, N.Y. — Irish Prime Minister Enda Kenny on Sunday encouraged people in this coastal enclave hard hit by Hurricane Sandy and with strong ties to Ireland to "keep your courage up, keep your spirit up" as they rebuild and said his compatriots were behind them as they soldiered on.
Breezy Point's Catholic Club Pipes & Drums welcomed Kenny, as did hundreds of community members, many who wore kelly green or shamrocks for St. Patrick's Day. Kenny joined Mass at St. Thomas More Catholic Church, where the altar was decorated with Irish and American flags flanking an iconic statue of the Virgin Mary saved from the storm rubble, and orange, white and green ribbons were pinned to the pews.
"I'd like to think that in the times ahead ... this community will be restored to a stronger position than it's ever been. It may not be the same physically, but the heart of that community, the strength of that community, will be retained for the future," he said after Mass in a local gym-community center that was restored by Irish athletes and paid for with Irish government funds.
"Keep your courage up, keep your spirit up. You will never be beaten if you do that," he added, at times mentioning the challenges Ireland had overcome, such as the mid-1800s famine, and the Irish concept of meitheal, or the community coming together to rebuild, to encourage the residents to push on.
Hurricane Sandy rampaged through Breezy Point on Oct. 29, unleashing floodwaters that devastated some 75 percent of the community's 2,800 homes and helping to trigger a fire that claimed 126 houses in one of the oldest parts of the neighborhood.
Some 20,000 residential buildings in New York City were damaged by the storm or their utilities were disrupted by it.
Nearly five months later, people are struggling to return to Breezy Point, which was founded by Irish immigrants more than a century ago and is nicknamed the "Irish Riviera." The community is one of the most Irish neighborhoods in America, with more than half of the residents claiming Gaelic heritage, according to the U.S. Census Bureau.
Ireland gave $320,000 to community projects in the areas most affected by Hurricane Sandy, including $50,000 to rebuild the gym-community center in Breezy Point.
Volunteer groups, some from Ireland and others Irish-American, have pitched in to help, such as those who rebuilt the gym and the Catholic Club across the street. The entrance to the gym reads, in Gaelic, "A thousand welcomes."
"In Ireland, everybody knows about Breezy. ... Breezy has just become iconic," said the Consul General of Ireland, Noel Kilkenny. "It just captured the imagination ... Breezy became a piece of Ireland in New York."
Homes here are in various stages of recovery: some have been reoccupied, while others are being rebuilt. Yet many others have been completely demolished, leaving behind only sand or some bits of foundation. Many of these homeowners have to await official approval of their rebuilding plans before they can begin construction.
The toll of the rebuilding process — especially the length and the cost -- is adding up for folks, some who are awaiting insurance payments or other financing options to get back home.
So Kenny's visit -- part of a week-long trip to the United States -- was a welcome boost for the residents, many who can trace their roots to Ireland. 
"I think it really helped the morale of the entire community," said Marty Ingram, fire chief of the Point Breeze Volunteer Fire Department. "The timing was perfect because, you know, I think it's protracted and we're feeling the long-term effect of ... the impact."
As tears rolled down her face, Denise Sturm, 66, said: "I think it's very touching and it's good to know that people in Ireland have come to help us and we need help, we need that."
She should be able to return home within two months, but others won't: "The sad thing is so many of the people (whose) houses were totally destroyed, the disappointment has come now where whatever the red tape is they're not able to get permits to rebuild."
Sturm's friend, Evelyn Finn, said the visit "strengthens us." Her home, which once belonged to her grandmother, was flooded and may need to be raised several feet according to preliminary federal flood guidelines released in late January. She gets no federal aid since it was a second residence.
"It makes it's real," Finn, 65, who attended Mass with her daughter and four grandchildren, said of Kenny's visit. "It makes it like it's doable. My god, if the prime minister of Ireland took enough time to come and see us ... it must be coming back."