The leader of an ISIS affiliate in Afghanistan was killed in a U.S. airstrike on the groups' headquarters this week, the Pentagon said Friday.
Abu Sayed, the emir of the Islamic State of Iraq and Syria in the Khorasan Province, called ISIS-K, died in Tuesday's airstrike in Kunar Province, a region on Afghanistan's northeast border with Pakistan.
Defense Secretary Jim Mattis told reporters on Friday that when leaders of terror groups like ISIS-K are killed the groups could be set back a day, a few weeks or a month. "It's obviously a victory on our side, in terms of setting them back. It's the right direction," he said.
Gen. John Nicholson, commander of U.S. forces in Afghanistan, called the strike a victory in the campaign against the terror group.
"This operation is another success in our campaign to defeat ISIS-K in Afghanistan in 2017," he said in a statement. "Abu Sayed is the third ISIS-K emir we have killed in the last year and we will continue until they are annihilated. There is no safe haven for ISIS-K in Afghanistan."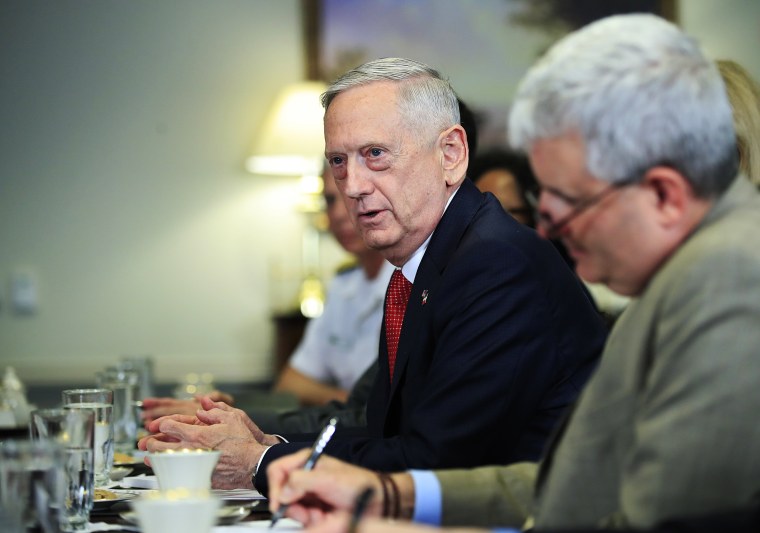 The past two ISIS-K emirs were killed in July 2016 and in April of this year.
Nicholson helped launch an Afghan and U.S. counteroffensive aimed at driving ISIS-K out of the country by the end of the year. Nicholson said in a video statement that operations over the last year have killed dozens of the group's senior leaders.
Mattis is currently conducting a review of Afghanistan strategy and troop levels and is expected to release those plans soon, though he said he did not want to put a timetable on it.
Mattis and Chairman of the Joints Chiefs of Staff Gen. Joseph Dunford previously said that the Pentagon's review includes the broader South Asia region and that it would be delivered in mid-July.
Senate Armed Committee Chairman John McCain, R-Arizona, last month said the United States has no strategy to end what he called a stalemate in Afghanistan after 16 years of war.
"Six months into the new administration, it still has not delivered a strategy," McCain said in a June 19 statement. "We cannot keep going like this. If the administration fails to develop a strategy for success, Congress will need to play a greater role."
McCain said Congress could put a committee-created Afghanistan strategy into the National Defense Authorization Act. The House passed its version of that act, which raises defense spending to $696 billion in fiscal year 2018, 344-81.