ISIS released a propaganda video that features a boy who claims he is the American son of a U.S. soldier and moved to Syria with his mother two years ago.
The child, who speaks in fluent English with what sounds like an American accent, is identified only as Yousef, age 10. NBC News has not verified his name, his nationality or his whereabouts.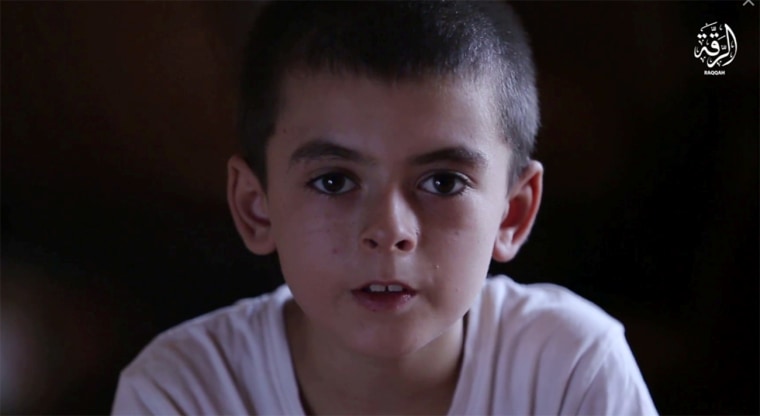 "My father's an American soldier who fought the mujahideen in Iraq," he says. "I didn't know much about Islam except the name. When me and mom came to the Islamic State, we started learning the correct Islamic creed."
The boy appears to be reading from a script at points. He said he lives in Raqqa, where the U.S. estimates 2,000 ISIS fighters are clinging to their stronghold as American-backed forces continue to make inroads.
Related: ISIS Video Shows New Weapons, 'American' Urging Attacks
The slickly produced seven-minute video, which was released Tuesday, interweaves shots of "Yousef" playing with his 7-year-old best friend in a deserted playground and loading an assault rifle with footage of ISIS fighters preparing for battle.
The youngster also mentions President Donald Trump and threatens the United States.
State Department spokeswoman Heather Nauert said she could not confirm any details about the video but blasted ISIS for putting a child in front of the camera.
"Any child used in that capacity in an ISIS video regardless of what is being done is sick. It is sick and it is depraved, we have seen that time and time again from ISIS," she said.
"We have seen ISIS as they have recruited children, as they have used them as human shields. We have seen ISIS use children the age of some of our own children here as suicide bombers, as homicide bombers. It is sick, it is depraved and it is another example of just how wrong and how evil ISIS is."
Do you have a story to share with NBC News? Send us your tips here.
A U.S. counterterrorism official told NBC News that "ISIS often features foreign fighters in its propaganda to portray its movement as having a diverse and multiethnic composition. ISIS also seeks to use its propaganda to deflect attention from its dwindling territory."
Laith Alkhouri of security firm Flashpoint said that while other children have appeared in ISIS videos, this is the first purported to be American.
"It wants to send the message that it's spoon-feeding its ideology to American children whom the U.S. has no power over," he said.
"ISIS wants the world to believe that life in Raqqa is stable and that it can protect the people it proclaims to represent. The fact is, life in Raqqa is dangerous and brutal, and ISIS's control over there is diminishing by the day."