ISIS has released a new video featuring a purportedly American fighter calling for attacks in the U.S. and footage of new weapons the terrorists have built, including drones and rovers, analysts said.
Using the handle Abu Hamza al-Amriki, the bearded man appears with his face uncovered and urges lone-wolf attacks to avenge U.S. military action in slightly accented English, according to security firm Flashpoint.
It's been nearly a year since an American was featured in official ISIS propaganda. In June, a fighter using the nickname Abu Isma'il al-Amriki praised the Orlando nightclub massacre in another video. Jihadis use al-Amriki in their noms de guerre to mean "the American."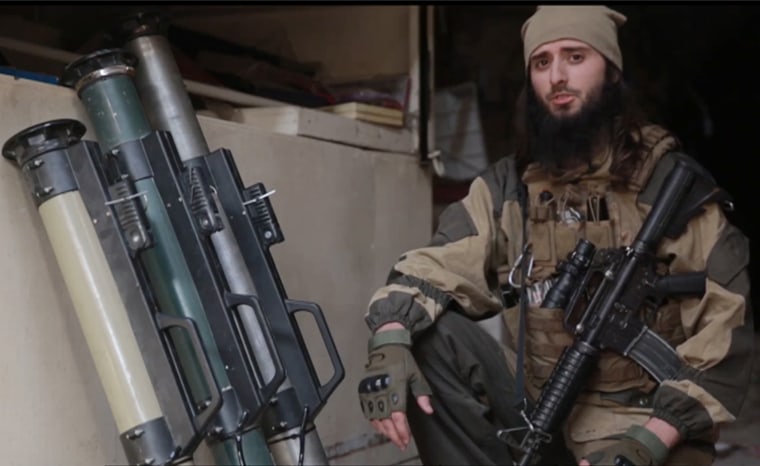 The latest video also includes photos of U.S. locations — the Las Vegas Strip, Times Square, banks in Washington — meant to represent potential targets, said Laith Alkhouri of Flashpoint.
Of particular interest was the weaponry on display in the slickly produced 44-minute clip put out by ISIS' media office in Iraq.
"It showcases a range of proprietary weapons that ISIS militant workshops have developed," Alkhouri said, pointing out rocket-propelled grenade launchers, shoulder-launched surface-to-air missiles, video-equipped guided missiles, a remote-controlled "rover" that can drop explosive devices under military vehicles, and a drone that could potentially drop a bomb on a crowd.
The message is that while ISIS has struggled on the battlefield and lost territory in recent months, "it's innovating and weaponizing whatever material is available," Alkhouri said.
ISIS used the purported American to urge terrorist sympathizers in the U.S. to use knives or vehicles to wage jihad at home. "Liberate yourself from hellfire by killing a kafir," Abu Hamza al-Amriki says at one point.
Counterterrorism analyst Michael S. Smith II said it's far more common to see Europeans delivering such messages in ISIS videos.
"While the Islamic State has very much doubled down on calls for attacks on the U.S....very few Americans have been the poster boys for that incitement," he said.