A Tennessee university has opened an investigation after signs saying "It's okay to be white" were placed around its campus, including on a display honoring the first African American students to enroll at the school.
At East Tennessee State University early Friday — the start of a weekend when historically African American fraternities and sororities were to be honored on campus — "racist flyers were placed on multiple buildings and locations," Brian Noland, president of the university in Johnson City, about 285 miles east of Nashville, said in a statement.
Noland said the flyers were identical to those posted on some other college campuses around the country by white supremacist groups "in an attempt to seed division and discord."
Such signs appeared at the University of Vermont and at Champlain College in October 2018 and in Massachusetts at Tufts University a month later.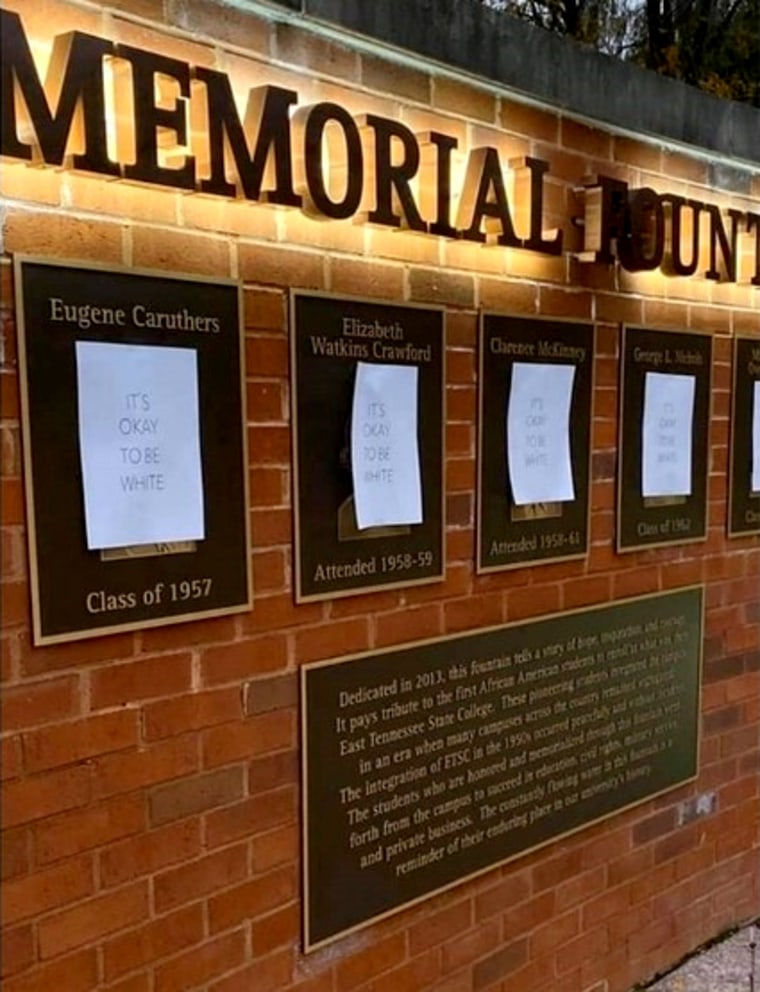 "In an act of vandalism, flyers were placed on Borchuck Plaza over the memorial plaques of those five pioneering individuals who desegregated our institution during the 1950s," Noland said. "It is clear that the posting and placement of these flyers was an attempt to create division in our community and I am disgusted by this act."
He said the university is investigating.
A photo of the signs covering plaques at the memorial was submitted to NBC affiliate WCYB. Approximately 80 percent of the student body as of the fall 2019 school year is white, a spokesman for the university president told NBC News.
The "It's okay to be white" campaign was created by users of 4chan, according to the Anti-Defamation League. The 4chan forum is popular with internet trolls and people in the so-called alt-right movement.
The Anti-Defamation League found in a report in 2018 that white supremacist groups had targeted college campuses since the 2016 presidential election.
"The practice failed to get any real traction until the fall semester of 2016," the Anti-Defamation League said in the report. "Since then, propaganda efforts have increased dramatically."
From 2016 to the report's release, the league recorded 346 incidents of white supremacist propaganda — flyers, stickers, banners or posters — appearing on college or university campuses, from Ivy League schools to community colleges.