The forecast for Louisiana is for more rain — and more pain.
With the state still swamped by historic flooding that has killed at least 13 people and displaced tens of thousands more, the National Weather Service warned Thursday that heavy rains could produce floods and flash flooding in parts of the state.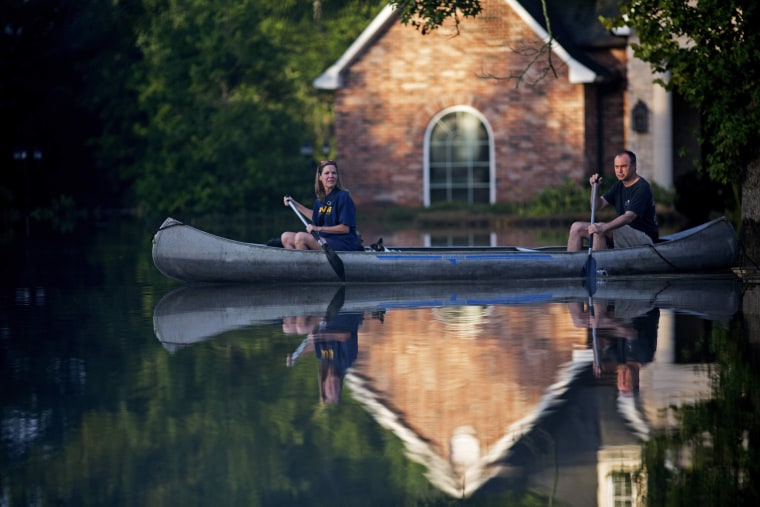 "The good news is it's not widespread, more hit and miss," said meteorologist Roger Erickson of the NWS station in Lake Charles. "The problem is there is nowhere for the water to run off. In the last couple of days, we've had to reissue flash flood warnings in areas that had been showing improvement."
The result is dashed hopes for the legions of residents who fled their flooded homes for higher ground this week and were hoping to return to their homes and lives.
"It turns your heart upside down," Erickson said. "You think it's over, and then it starts raining again."
Erickson said they're "hoping for a drying period this weekend."
"We still have rivers rising, though," he said. "It's going to take one to three weeks to get all this water out into the Gulf of Mexico."
Most of Louisiana has gotten at least a foot of rain since Friday, with some places getting as much as 30 inches, according to the NWS. And the resulting arithmetic from some of the worst flooding to hit the state has been awful — 13 dead, 8,400 people in shelters, 40,000 homes damaged, 30,000 people rescued.
In places in and around Baton Rouge where the water has started to recede, the scale of the devastation is starting to be seen.
President Barack Obama, who signed a major disaster declaration Sunday, got an update Wednesday on the flooding and the relief efforts from Craig Fugate, head of the Federal Emergency Management Agency, who is on the ground in Louisiana.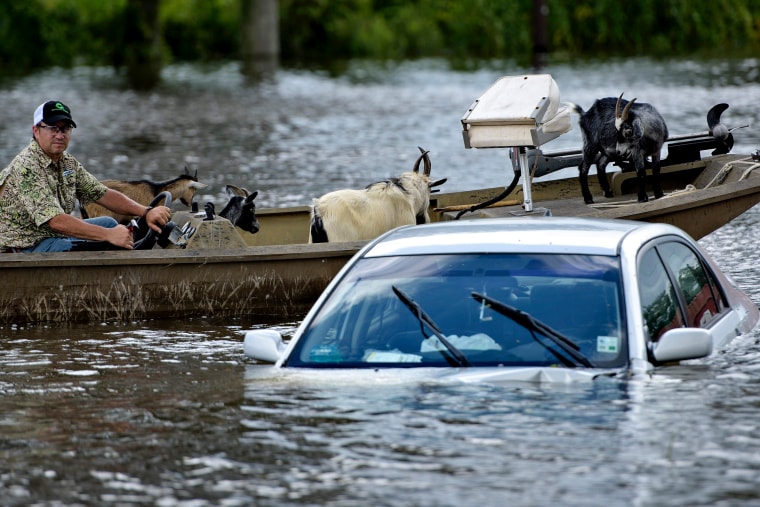 The White House said Homeland Security Secretary Jeh Johnson is heading to the hard-hit state Thursday.
"Already, more than 70,000 people have registered for individual assistance under the federal disaster declaration, and over 9,000 have filed flood insurance claims," said Jen Friedman, a spokeswoman for the White House.
Meanwhile, the American Red Cross dispatched an army of volunteers to Louisiana to deal with what the relief group is calling "the worst natural disaster to strike the United States since Superstorm Sandy."
The 1,000 recruits are from all 50 states, the District of Columbia and Puerto Rico, said Brad Kieserman, who helps run the Red Cross' logistics and disaster services operations.
"The Red Cross is mounting a massive relief operation, which we anticipate will cost at least $30 million, and that number may grow as we learn more about the scope and magnitude of the devastation," Kieserman said.
Twenty parishes were included in the federal disaster zone, and more than a dozen continue to be subject to overnight curfews. At least 14 people have been arrested on suspicion of looting over the last two days in East Baton Rouge Parish, and nine more were arrested in nearby Livingston Parish, according to the Baton Rouge Advocate.
Tens of thousands of homes were badly damaged across the state.
The water was 6 feet high in the home that Moosie Benoit has lived in for 38 years in the Acadia Parish town of Midland.
"I stayed through hurricanes. I stayed through other things," Benoit told NBC station KLAF of Lafayette on Wednesday. "This has got to be the worse."
Jade Boudreaux, Benoit's granddaughter, should be readying for her senior year in high school. Instead, Jade and her family are spending the foreseeable future helping Benoit, other relatives and neighbors bail themselves out.
"I feel bad for my grandma," Jade said. "I mean, she's been here for a long time, and it's never gotten this bad."It's devastating," she said, covering her face to hide her tears.
It's not just people who've been ripped from their homes. So many displaced pets and other animals have ended up at the Lamar Dixon Expo Center in Gonzalez, south of Baton Rouge, that the state Agriculture Department sent a strike team to help out.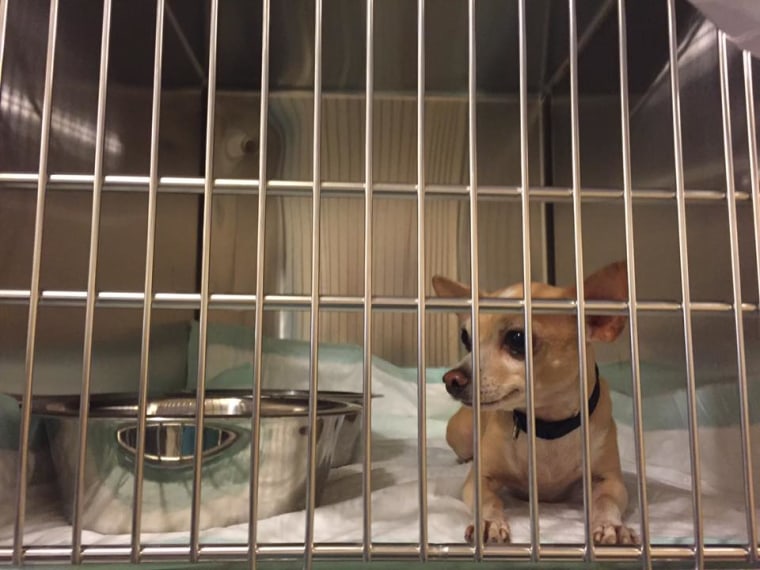 The agency said a count Wednesday showed that the event center is currently home to 450 dogs, 109 cats, 333 horses, 139 cattle, 44 pigs, 123 goats and 27 exotic animals, which it didn't describe.
The department is working to reunite pets with their owners, even if they can only be "co-located" in the same shelter.
"It's so important to co-locate displaced people with their family pets," said Mike Strain, who, besides being the state agriculture commissioner, is also a veterinarian.
"People are more inclined to evacuate if they know their pets can come with them," Strain told NBC station KPLC of Lake Charles. "This is also a lifesaving measure. We have learned from past experience that people will remain in harm's way before leaving without their pets."
The flooding didn't even spare the dead. Dozens of graves in the historic French Settlement Community Cemetery were damaged by the torrents, the Livingston Parish sheriff reported.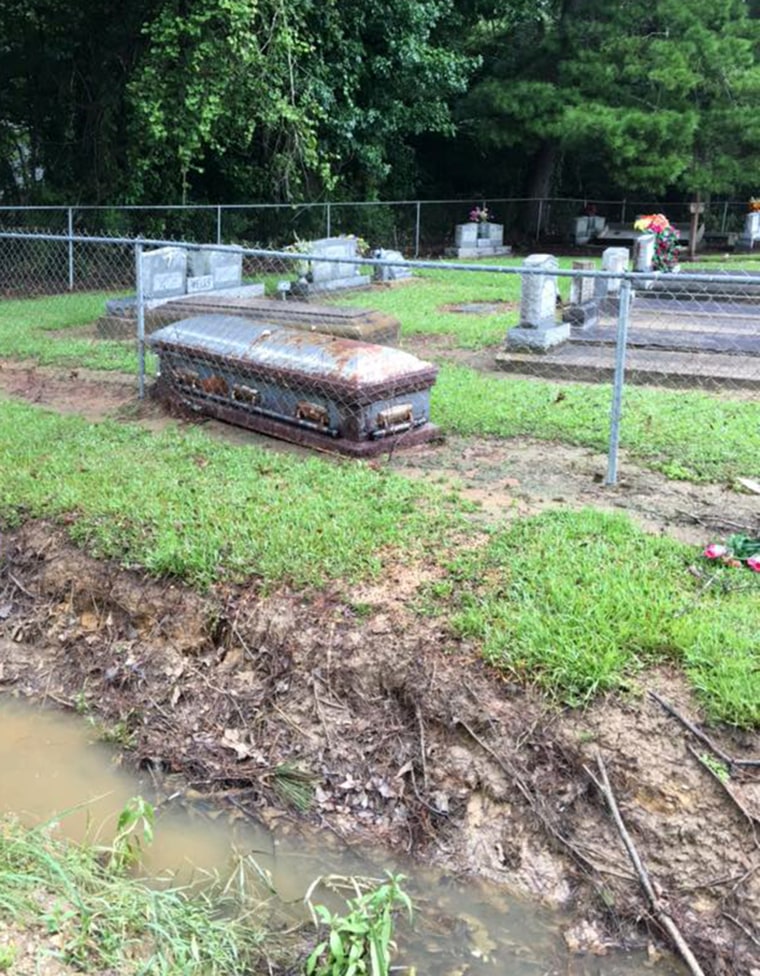 Among the latest reported dead was Bill Borne, 58, whose body was found Tuesday in a wooded area near Mallard Lakes, about 16 miles east of Baton Rouge, county Coroner William "Beau" Clark confirmed. The cause of death was listed as accidental drowning.
Borne was the founder of the national home nursing company Amedisys,the company confirmed.
"Bill Borne was a star-spangled, American hero, filled with energy, commitment, passion, initiative, courage and fun," Amedisys board Chairman Donald Washburn said in a statement.