Ivan Koloff — the "Russian Bear" whom pro wrestling fans loved to hate as the Cold War stand-in for the Soviet Union — has died at 74, his daughter and World Wrestling Entertainment confirmed.
Koloff, who lived in Winterville, North Carolina, died Saturday after a long struggle against liver cancer, NBC station WITN of Washington, North Carolina, reported. He had toured the world as a Christian minister for more than two decades in retirement.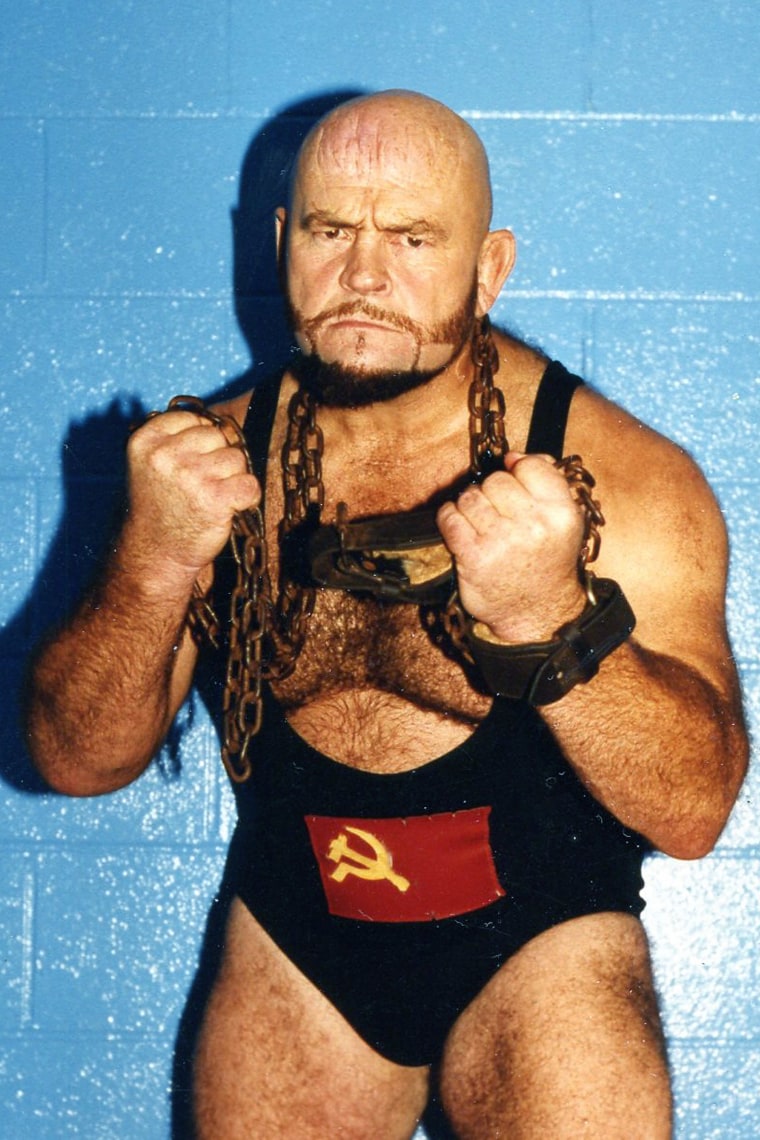 In an almost-30-year career beginning in the 1960s, Koloff — dressed in a singlet bearing the hammer-and-sickle emblem of the former U.S.S.R., his bald head gleaming — strode into the ring carrying a Soviet flag, to the strains of the Soviet national anthem.
He was usually pitted against "babyface" good guys cast as upholding the honor of the United States, often forcing them to submit with his signature finishing move — a viselike bear hug.
The highlight of his long career was pinning the legendary Bruno Sammartino in 1971 to win the World Wide Wrestling Federation world championship at Madison Square Garden in New York.
In real life, Koloff — born Oreal James Perras in 1942 in Montreal or in Glasgow, Scotland, depending on who's doing the telling — was a gentle man who retired in the early 1990s, was "born again" and became an ordained minister, longtime WWE editor Brian Solomon wrote in his 2006 history of the circuit, "WWE Legends."
"We are saddened that he is no longer here with us but we rejoice in knowing where he is: with his Lord and Savior, Jesus Christ," said Rachel Marley, Koloff's daughter. "He has received his healing."
Chris Sutton told WITN that Koloff was a familiar figure on the sidewalks and in the restaurants of Winterville, where he was beloved.
"We didn't lose Ivan to death," Sutton said. "We gained a great big Russian bear angel that now is able to watch over us all."
Another wrestler-turned-minister, Ted DiBiase, "the Million Dollar Man," called Koloff a "wrestling great, and an even greater man of God."
Koloff spent the later years of his life in charity work for organizations like the Children's Miracle Network, St. Jude's Children's Hospital, the March of Dimes and Toys for Tots, according to his website.
Koloff died one day after another inordinately vivid "heel," George "The Animal" Steele, who died Friday at age 79.
Related: George 'The Animal' Steele, WWE Star, Dies at 79
Although he turned from the ring to the pulpit, Koloff embraced his fame in retirement, using it to his advantage in preaching the Gospel. One of his ministries, in fact, was named "Bearing Witness."
As for wrestling, Koloff wrote in his 2007 book, "Is That Wrestling Fake? The Bear Facts," it's both 100 percent entertainment and 100 percent real. The storylines and outcomes are scripted — but the falls and injuries are very real.