The speculation began almost immediately after Donald Trump was elected: Who would have the ear of the famously unpredictable 45th president?
For a time it appeared that White House adviser Steve Bannon, memorably depicted as the Grim Reaper on "Saturday Night Live," was the power behind the throne. Another trusted aide, Kellyanne Conway, was also said to be an influential member of Trump's inner circle. And then there were Vice President Mike Pence, Chief of Staff Reince Priebus and Senior Policy Adviser Stephen Miller — all skilled and ambitious political animals vying for the boss' attention.
But two months into Trump's presidency, it's becoming clear that blood and family have trumped ambition on Pennsylvania Avenue with First Daughter Ivanka Trump emerging as a powerbroker in her own right, along with her husband Jared Kushner.
"Ivanka Trump is all powerful," a source familiar with the inner workings of the White House told NBC News.
Some of that influence was on display Monday as Ivanka chaired a roundtable meeting for female small business owners in the Roosevelt Room. The president's eldest daughter urged collaboration from the dozen women seated around the table, which included White House Director of Strategic Communications Hope Hicks, Small Business Administrator Linda McMahon, and newly appointed Deputy National Security Adviser for strategy Dina Powell.
Empowering women is not her father's issue, it's Ivanka's. And she's making the most of her opportunity.
"She has these issues that she's passionate about and has been for a long time, even before her dad started running for president, and she's excited about the opportunity to advocate for these issues," an administration official close to Ivanka told NBC News. "She is nothing but a positive influence on both the president, but also on the issue-set."
In some ways, Ivanka is a chip off the old block.
"She is not unlike her father in that she's a great negotiator," the official said. But she brings to the table a "certain finesse."
Consider the awkward first meeting between Trump and German Chancellor Angela Merkel. While many fixated on the non-handshake between the world leaders, Merkel quietly invited Ivanka to attend the upcoming women's empowerment meeting next month in Berlin, NBC has learned.
Both Merkel and Ivanka are "deeply interested in increasing women's participation in STEM fields," a source told NBC, using the acronym for science, technology, engineering and math.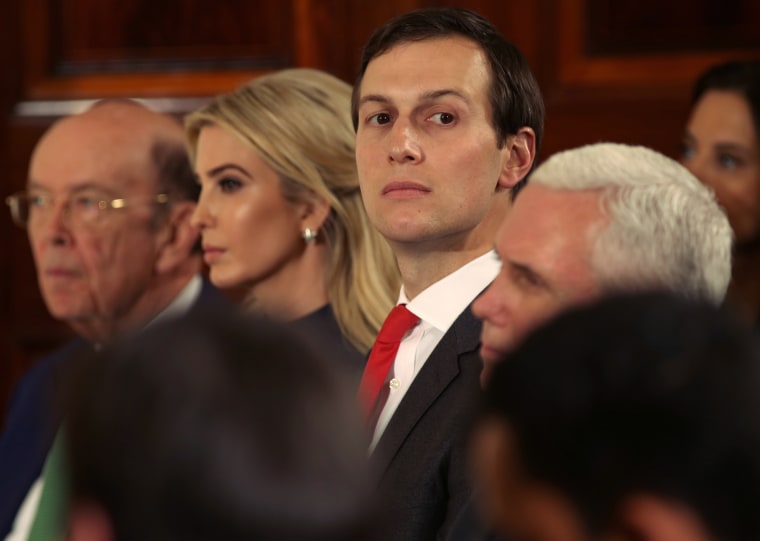 With Trump's third wife, Melania, opting to stay in Manhattan with their son Barron, Ivanka has also taken on some of the ceremonial duties typically filled by the First Lady. She often serves as Trump's "consigliere" and, in a White House filling with infighting, is "there to protect her father's interest," a source told NBC News.
Now with a West Wing office, she also has also been called on to serve as an adviser on issues not on her radar, most recently on Friday when the Trump-backed plan to replace Obamacare crashed and burned.
Meanwhile, the profile of Trump's son-in-law is also on the rise. On Monday, it was announced that Kushner was tapped to oversee a new office called the White House Office of American Administration, whose mission is to make the federal government run more like a business.
"We should have excellence in government," Kushner told The Washington Post, which broke the story on Sunday. "The government should be run like a great American company."
Not lost on White House watchers was this — Bannon has no formal role in the new, high-profile entity. Neither does Pence, or Priebus, or Miller.
But with a higher profile comes great exposure for Kushner, as it has for Ivanka, with ethics experts raising questions about how she can fully separate her business interests — she owns a jewelry and clothing line — from her service in her father's administration.
Kushner has agreed to testify before the Senate Intelligence Committee and could face some tough questions from the panel looking into possible ties between the Trump campaign and Russian spies. Among other things, Kushner will be asked about his meeting with Sergey Kislyak, the Russian ambassador to the U.S., at Trump Tower.
RELATED: Ivanka Trump to get West Wing office
Once fixtures on the Manhattan social scene, Ivanka and Jared have transformed themselves into a Washington "power couple" and they are using their clout and charm to push their own socially liberal but fiscally conservative agendas.
"They feed off one another," the source said.
How much clout do they have?
Last month, Ivanka and Jared reportedly helped kill a proposed executive order that would have rolled back Obama administration protections for the LGBTQ community — protections that cultural conservatives like Pence very much oppose.
Neither of them are Republicans. She is an independent and called Chelsea Clinton a friend. He is a Democrat whose dad, Charles, was a bigtime donor to the Democratic Party, including Hillary Clinton's 2000 Senate campaign.
By all accounts, 35-year-old Ivanka is a Daddy's Girl. Trump's daughter by first wife, Czech model Ivana Trump, little Ivanka clung to her father when her parents split. After graduating cum laude from her father's alma mater, the Wharton Business School at the University of Pennsylvania (and a brief modeling career of her own), she went into the family business — the Trump Organization.
Jared, 36, is the eldest son of a Jersey-based real estate tycoon who was prosecuted in 2004 by then-U.S. Attorney Chris Christie for making illegal campaign contributions — and for retaliating against his brother-in-law by hiring a prostitute to seduce him. Charles Kushner wound up serving 14 months in a federal prison camp.
When Charles Kushner got out, the family business decamped for Manhattan where young Jared found a foothold in the media scrum by buying the influential weekly newspaper, The New York Observer, and soon became fast friends with the likes of FOX News mogul Rupert Murdoch.
RELATED: Jared Kushner to oversee government overhaul
Jared and Ivanka met in 2005 and when the New York tabloids got wind of the romance they dubbed the handsome young couple J-Vanka. Three years later, the couple split over religion. She was Presbyterian. He's an Orthodox Jew. And his parents wanted him to marry in the faith.
But after Ivanka agreed to convert to Judaism, the couple tied the knot in 2009. They have three children whom they are raising Jewish.
During the presidential campaign, Ivanka became Trump's ambassador to a key voting block he alienated with his boorish behavior — women. She was also a calming influence on the often-volatile candidate, unflappable and unfailingly polite even as her dad waged a scorched earth campaign against Clinton.
Kushner also became a key figure in the campaign and was appointed senior adviser after the Justice Department's Office of Legal Counsel ruled that the president's "special hiring authority" allowed him to get around federal anti-nepotism rules.
After the election, the couple moved to Washington and rented a $5.5 million mansion in the tony Kalorama neighborhood where their new neighbors include former president Barack Obama and Secretary of State Rex Tillerson.
While Trump took the unprecedented step of seeking top-secret clearance for Kushner so he could attend Presidential Daily Briefings, Ivanka began testing the Washington waters.
One administration official close to her describes the First Daughter's first weeks as a sort of listening tour around the nation's capital, "meeting with people, listening, and just kind of getting a sense of what role she could play."