Ivanka Trump's clothing company has been hit with a class action lawsuit by a San Francisco rag trade rival who claims she is cashing in on her pop being president of the United States.
Modern Appealing Clothing (MAC) says the first daughter 's firm has also gained an "unfair advantage" from from her husband Jared "working for the President of the United States" and charged that President Trump, his trusted adviser Kellyanne Conway, and White House spokesman Sean Spicer have all helped boost sales of Ivanka Trump Marks LLC products.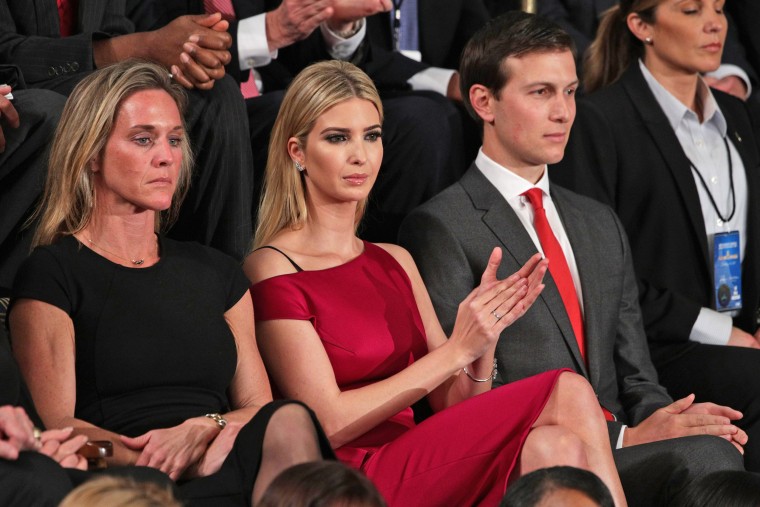 "That advantage is specifically prohibited by the Constitution and laws of the United States and the law of the State of California," MAC claimed in court documents filed last week in San Francisco Superior Court and first obtained by the International Business Times.
Ivanka Trump and her "employees and agents have" been "exploiting the power and prestige of the White House for personal gain, including, but not limited to, piggy-backing promotion of defendant Ivanka Trump products on appearances at executive branch and other governmental events."
MAC is seeking a restraining order that would bar any Ivanka Trump label clothing or accessories from being sold in California.
"As a result of their unlawful acts, defendants have reaped and continue to reap benefits and illegal profits at the expense of plaintiff MAC and the Class it seeks to represent," the papers state.
In an email to NBC News, a rep for the Ivanka Trump brand declined to comment on the lawsuit.
The suit comes as the president's daughter stakes out an even closer position to her dad: Ivanka plans to join his team at the White House — although she won't be an official "staffer," a source familiar with the move told NBC News.
She won't have an official title or take a salary, but she will occupy an office on the second floor of the West Wing.
Her goal is to "create positive value," the source said, adding that the move is being planned in consultation with the Office of Government Ethics and White House attorneys.
Politico, which first reported the new role, said that Ivanka will serve as her father's "eyes and ears" and would subject herself to the same ethics rules as government employees.
"Having an adult child of the president who is actively engaged in the work of the administration is new ground," Ivanka Trump's lawyer, Jamie Gorelick, told Politico. "Our view is that the conservative approach is for Ivanka to voluntarily comply with the rules that would apply if she were a government employee, even though she is not."
Still, ethics questions have persisted for the Trump Administration. The president was accused of boosting his daughter's business by lashing out against Nordstrom when the retailer announced it was dropping Ivanka Trump's line because of dwindling sales.
And Conway ran afoul of the White House ethics office when she told Americans on a Fox News show last month "to go buy Ivanka's stuff."