The attorney for the Yale University basketball player who was expelled last month for alleged sexual misconduct said he plans to sue the Ivy League school for excessive and unfair punishment.
Jack Montague, the team's captain, was thrown out of Yale on Feb. 10 after its University-Wide Committee on Sexual Misconduct found that he had non-consensual sex with a younger student, his lawyer, Max Stern, said. The 22-year-old senior's departure, which Yale has refused to confirm or explain, came as the basketball team closed in on its first berth in the NCAA Tournament in 54 years.
The expulsion roiled the campus, drawing criticism to the team, whose players showed up for a nationally televised game against Harvard wearing T-shirts printed with Montague's number and nickname. That gesture triggered a backlash from student activists who accused the team of "supporting a rapist." The team apologized.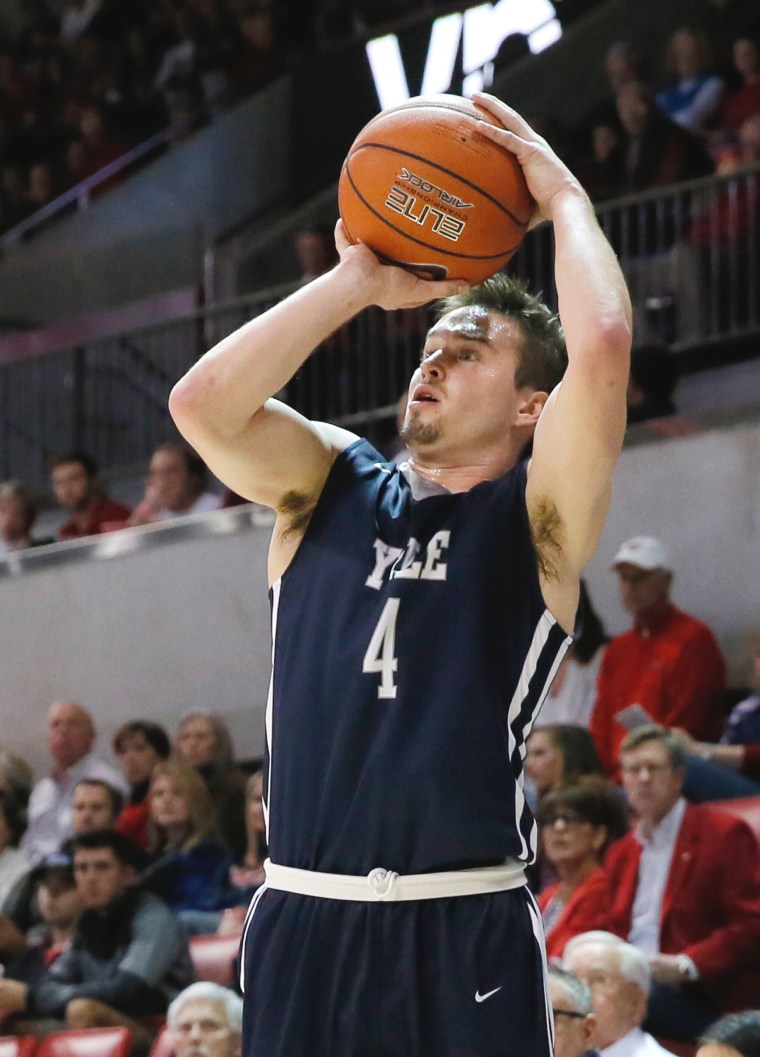 Stern said the protesters had slandered Montague, whom he said was never accused of rape. He criticized Yale for taking "no steps to correct these actions."
No legal cases, civil or criminal, are pending against him anywhere in Connecticut, according to NBC News' review of state and federal court records.
The lawyer framed his public statement, and the pending lawsuit, as an attempt to "correct the record."
According to Stern, the accusation against Montague stems from an October 2014 encounter at his room, where he and his accuser had sex and went their separate ways. She returned later and stayed the night, Stern said. It was the fourth time they'd slept together, all consensual, Stern said.
A year later, the student told a Title IX coordinator that the sex that night had not been consensual, Stern said. Montague said that it was, Stern said.
A Title IX official filed a complained with the University-Wide Committee on Sexual Misconduct, Stern said. Yale's dean accepted the committee's findings in support of the woman, and ordered Montague expelled, Stern said. The university provost signed off on the decision, he said.
"We strongly believe that the decision to expel Jack Montague was wrong, unfairly determined, arbitrary, and excessive by any rational measure," Stern said Monday. "Yale has been oblivious to the catastrophic and irreparable damage resulting from these allegations and determinations."
Yale spokesman Thomas Conroy said the school does not comment on specific cases of student discipline "out of respect for the privacy and confidentiality of all students involved in a disciplinary process."
Only one out of five formal sexual misconduct hearings ends without a finding against the accused, Conroy said in a statement, "and the decision to expel a student is made only after the most careful consideration, based on the facts and, when appropriate, disciplinary history."
Montague's father told the New Haven Register in a March 3 interview that he had been advised not to comment.
"We have strict orders from our lawyers," Jim Montague told the Register. "Soon enough, I'd love to tell the other side of the story. It's ridiculous, why he's expelled. It's probably going to set some sort of precedent. We're trying to do things the gentleman's way, so we're keeping things close-knit."