A collection of secret letters sent by former first lady Jackie Kennedy to an elderly Irish priest have been withdrawn from auction where they were expected to fetch up to $5 million.
The trove contains extremely personal messages Kennedy sent between 1950 and 1964 to Father Joseph Leonard, a Vincentian priest at All Hallows College in the Irish capital Dublin.
The college said it could not afford to curate the letters, discovered in April, and last week set up an auction set for June 10. This was met with vehement protests by some who felt they amounted to a Catholic confession and should remain private.
But on Wednesday, the college announced it had asked the auctioneers to cancel. Speaking to NBC News, college spokesperson Carolanne Henry declined to state explicitly why the auction had been canceled, but said the Kennedy family were now in discussions with the college on the letters' future.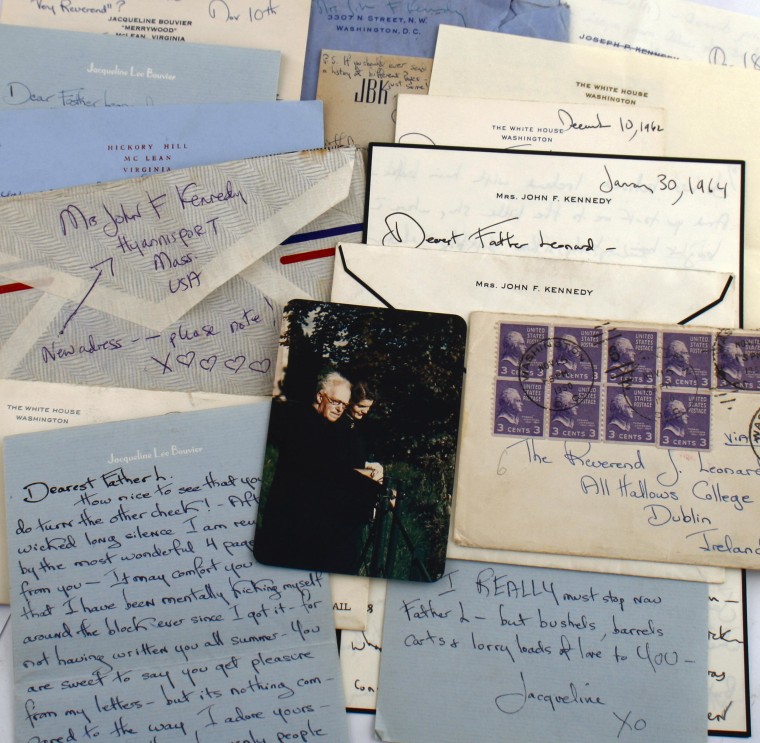 "Our previous statement gave the reasons why the college decided to auction the letters, and the new development since then is that the Kennedy family is now involved," she said.
She said the college was "exploring with members of Mrs. Kennedy's family how best to preserve and curate this archive."
The letters were described by Sheppard's Auction House, the venue in Ireland's Durrow County that was set to sell them, as "in effect the unpublished autobiography" of the former first lady.
A notoriously shy woman, Kennedy wrote to Father Leonard about her distress at her husband's murder in Dallas in 1963 as well as her concerns that he would become a philanderer, according to a BBC report.
The auction house declined to comment on the cancellation when contacted by NBC News other than to point to a short statement on its website confirming the development.