A gunman killed three people, including himself, at a video game tournament as it was being livestreamed on Sunday in Jacksonville, Florida.
David Katz, 24, of Baltimore wounded 11 others during a shooting rampage at the event, authorities said.
One of the victims was identified by friends and former teachers as Elijah Clayton, a 22-year-old video game champion from California who was widely known in those circles as "Trueboy."
His former high school principal, Tom Fahy, said Clayton was "a sweet, mild-mannered young man" and "a dedicated student."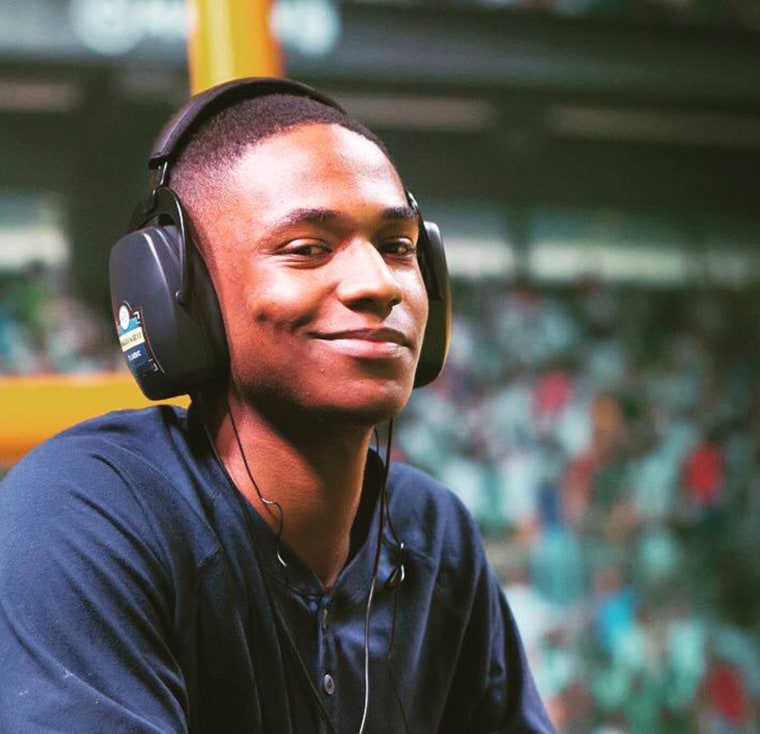 Both the shooter and the victims were in town for the Madden 19 Southeastern Qualifier Tournament, but Jacksonville County Sheriff Mike Williams declined to discuss a possible motive.
The contest comes with a $5,000 prize. Katz is listed online as a 2017 championship winner.
Madden 19 is the latest NFL football video game put out by sports game publisher, EA Sports.
Nine of the injured victims were struck by gunfire, while two more sustained other wounds, Williams said, adding that all of them were in stable condition. He said there could be other injured victims that they haven't learned about yet.
Williams said at a 4:30 p.m. news conference that authorities had secured the scene and had several witnesses.
The shooting occurred at Jacksonville Landing, a collection of restaurants and shops along the St. Johns River, inside a gaming bar that shares an entrance with a pizza restaurant
On a video of a live stream shared online, individuals playing in the Madden NFL video game tournament are interrupted by a series of popping blasts and screaming.
"What's he shooting with?" one person can be heard asking in the live-stream audio.
NBC News has not confirmed the authenticity of the video.
Nick Withrow, who lives near Detroit, said: "I was watching my buddy play … and I turn around just for a second to see what's happening during the stream and then all of a sudden a loud pop happened. And then, the second and third shot happened, and that's when everybody scattered."
He said the suspect was known in the video game community for having "bad vibes."
"I knew just from the looks of the guy that something was wrong, just something was up with him, he just looked angry," Withrow said. "I've been out of the game for a couple of years but everyone says that in the past few years people were creeped out by this guy."
Stephen Javaruski told MSNBC that his son, who has the same name, had just made it into the final four of the tournament. But then this afternoon Javaruski and his wife received a text from their son that said there had been a shooting and he had locked himself inside a bathroom stall.
Javaruski said his son told them, "If anything happens, I love you." That left the father feeling helpless.
"It's happened before to other people," said Javaruski, who said his son made it out alive. "You feel really bad and [are] glad it doesn't happen to you, but it seems like the law of averages today: Sooner or later you're gonna be affected."
Professional esports club compLexity Gaming said they were "shocked and saddened" by the shooting. Their player Drini Gjoka, an 18-year-old professional video game player, was hit by one of the shots.
"Our player, Drini, was hit in the thumb but is going to be fine," a club spokesman said. "He managed to escape and run down the street to a nearby gym. He's currently cooperating with the authorities and we will be flying him out of Jacksonville as soon as we are given the green light from the officials on the ground."
An EA Sports spokesman said the shooting was "a horrible situation, and our deepest sympathies go out to all involved."
Florida Gov. Rick Scott, a Republican, said he had spoken to Jacksonville Sheriff Williams and offered any state resources he might need via the Florida Department of Law Enforcement. He said he had also spoken to the mayor.
White House Press Secretary Sarah Sanders said the president had been briefed and was monitoring the situation.