Former Director of National Intelligence James Clapper says the United States' political institutions are currently "under assault" both externally and internally, in the wake of President Donald Trump's firing of ex-FBI Director James Comey.
"The developments of the past week are very bothersome, very disturbing to me," Clapper said on CNN's "State of the Union" on Sunday.
"I think in many ways our institutions are under assault, both externally — and that's the big news here, the Russian interference in our election system — and I think as well, our institutions are under assault internally,"
When asked if he meant if those institutions were "under assault" internally by the president himself, Clapper said "exactly" and added that he believed Trump was undermining the checks and balances inherent to the U.S. political system.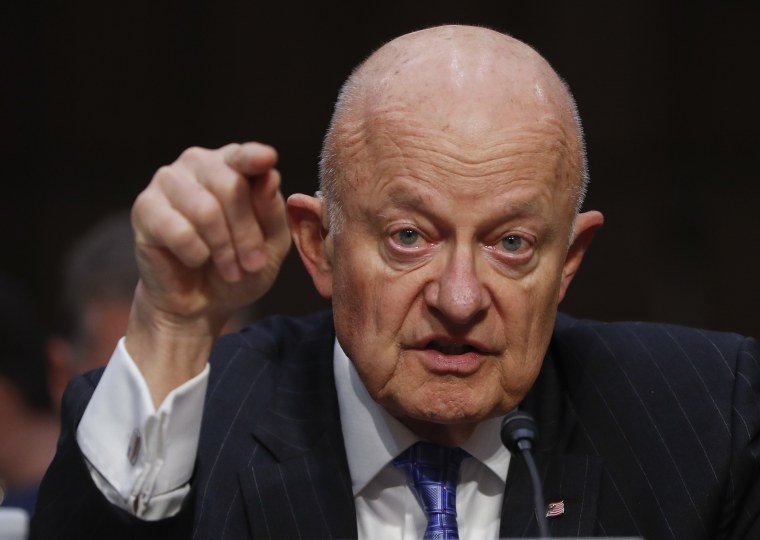 "I think the founding fathers, in their genius, created a system of three co-equal branches of government and built in a system of checks and balances, and I feel as though that's under assault and that's eroding," he added.
Clapper's comments follow Trump's firing of Comey on Tuesday, with the White House initially saying it was because Justice Department officials concluded he had mishandled the investigation of Hillary Clinton's use of a private email server while she was secretary of state.
But Trump later said in an exclusive interview with NBC News' on Thursday that he had planned to fire "showboat" Comey "regardless" of the Justice Department's recommendation.
Related: McCabe, Sen. Cornyn Among 8 Interviewed in FBI Search: Sources
The president also said that when he decided to fire Comey, "I said to myself, you know, this Russia thing with Trump and Russia is a made up story, it's an excuse by the Democrats for having lost an election that they should have won."
In the Thursday interview, Trump said he supported an investigation into Russia's meddling of the election, saying, "If Russia or anyone else is trying to interfere with our elections, I think it's a horrible thing and I want to get to the bottom of it, and I want to make sure it will never, ever happen."
Some Republicans and Democrats alike raised alarm bells over Comey's firing, over its timing and the potential reasons behind it. Many Democrats called for the appointment of an independent counsel to take over the Russia investigation.
Deputy FBI Director Andy McCabe will take over the agency temporarily as acting director, Attorney General Jeff Sessions told FBI employees Tuesday in a message obtained by NBC News.
Clapper said on Sunday that it was up to the other branches of government, and lawmakers, to step up.
"I can't say, I think each senator or congressman has got to, I hope, will think in terms of their own conscience," he said, adding, "I hope they'll speak up."
Also on Sunday, Sen. Lindsey Graham said on NBC's "Meet the Press" that Trump should stop talking or tweeting about the ongoing investigations into Russian interference in the election.
"The president needs to back off here and let the investigation go forward," Graham, R-S.C., a member of the Senate Judiciary Committee, said
The president tweeted about the Russia investigation several times this week, including on Thursday when he said "Russia must be laughing up their sleeves watching as the U.S. tears itself apart over a Democrat EXCUSE for losing the election."
And on Friday, Trump tweeted "Again, the story that there was collusion between the Russians & Trump campaign was fabricated by Dems as an excuse for losing the election."