In two successive revelations delivered on Monday, FBI director James Comey confirmed during a testimony before the House Intelligence Committee that his federal agency is investigating the 2016 Trump campaign's possible ties to Russia and that there is no proof Obama wiretapped Trump Tower before or after the election.
Comey, who 11 days before the November election called for a re-examination of Hillary Clinton's email server, was blamed by some Democrats for their nominee's largely surprise loss to President Donald Trump.
But before being thrust into the spotlight, the 56-year-old and father of five had a long career as a federal prosecutor. Here are some facts about the FBI director.
Who is James Comey?
Growing up in Allendale, N.J., Comey moved to Virginia to study religion and chemistry at the College of William and Mary. As a freshman, he wrote news articles for the school's newspaper, The Flat Hat, and later was given a satirical column.
Comey told the school paper in 2014 that he met his wife Patrice at the college after she nominated him to run for president of the dorm council, saying "That's probably my last experience with elected politics and will be for my entire life." Comey credited his undergraduate education with inspiring him to work in public service.
Related: Comey Disclosures Leave Trump Alone on Island of Conspiracy Theories
"What the College taught me was to think well and try to understand other points of view. It really lit a fire in me to do something to help other people," he told The Flat Hat.
After graduating from the University of Chicago in 1985, Comey began working two years later as an assistant U.S. attorney in a Manhattan office headed by Rudy Giuliani. Six years later, he moved to Richmond to work as a federal prosecutor, where he is most known for leading the prosecution for a case against a man suspected of bombing the Khobar Towers at a U.S. military base in Saudi Arabia.
He was the victim of a home break-in as a teen
One lesson Comey learned about criminal justice came decades before he stepped foot in a prosecutor's office.
As a 15-year-old, Comey was a victim of crime himself. While home alone with his brother in 1977, a man known as "the Ramsey rapist" — who had sexually assaulted two neighborhood babysitters — broke into their Allendale home and searched the house as they locked themselves in their bathroom.
The two brothers escaped through a window, but ran into the rapist again on their lawn and called the cops, according to a local paper.
In an interview with "60 Minutes," Comey said the incident taught him how to have compassion for the victims of crime.
"I think it most affects me in giving me a sense of what victims feel. And that even the notion no one was physically harmed, doesn't mean no one was harmed. Because I thought about that guy every night for five years. So I think it's made me a better prosecutor and investigator for being able to feel better what victims of crime experience," he said."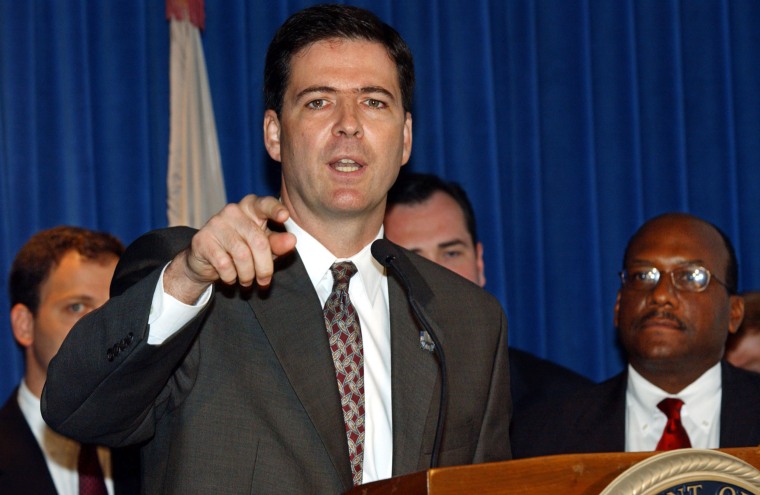 He's previously investigated the Clintons
The probe into Hillary Clinton's email server isn't the first time Comey has played a role in examining alleged Clinton family missteps.
In the 1990s, Comey served as deputy special counsel on the Senate Whitewater Committee, which investigated Bill and Hillary Clinton's alleged role in a failed Arkansas real estate venture.
Years later, in 2002, he replaced Mary Jo White as U.S. attorney for the Southern District of New York and took over an investigation into President Bill Clinton's controversial pardoning of financiers Marc Rich and Pincus Green on his final day in office. Both men fled the country after being granted clemency for a number of federal crimes, including tax evasion and buying oil from Iran when it was holding American hostages in 1979.
Concern surrounded whether Rich's wife had paid $450,000 to the Clinton Foundation in return for her husband's clemency. Before being sworn in as U.S. attorney, Comey expressed enthusiasm over potentially prosecuting the case, though Clinton denied any wrongdoing and Comey never brought charges against the former president.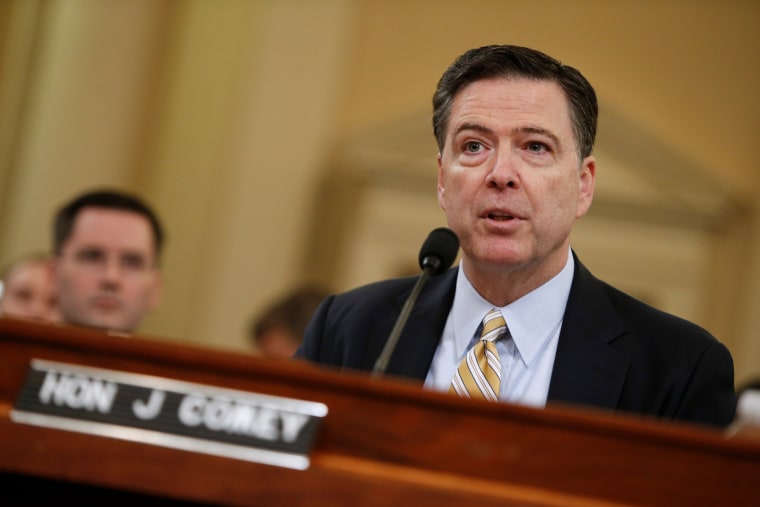 He prosecuted Martha Stewart in 2003
During his time as U.S. Attorney for the Southern District of New York, Comey brought charges against TV personality Martha Stewart, who was indicted for obstruction of justice and securities fraud after selling shares of a stock based on a non-public tip from her broker.
A report in The New York Times quoted Comey saying, "This criminal case is about lying — lying to the F.B.I., lying to the S.E.C., lying to investors ... Martha Stewart is being prosecuted not for who she is, but because of what she did."
Stewart was sentenced to five months in prison in 2004 and was released after serving her time.
In 2004, he rejected a U.S. domestic surveillance program
During a brief stint as acting attorney general in 2004, Comey prevented the White House from resuming an eavesdropping program by rushing to the hospital where then-Attorney General John D. Ashcroft was admitted.
In a 2007 Senate Judiciary Committee hearing three years after the incident, Comey recalled how two Bush White House officials drove to the hospital to convince Ashcroft to overrule Comey's decision not to reauthorize a Bush administration domestic surveillance program that the Department of Justice had determined was illegal. Comey traveled to the intensive care unit to ensure Ashcroft did not sign off on the warrantless program.
"I was angry. I thought I just witnessed an effort to take advantage of a very sick man, who did not have the powers of the attorney general because they had been transferred to me," Comey said during a testimony to the Senate Judiciary Committee.
When President Obama nominated Comey as FBI director in 2013, sources told The New York Times that the episode was "an important factor" in Obama's decision to nominate him.