The trial against admitted theater shooter James Holmes opened almost two months ago, gripping the court with gut-wrenching testimony from survivors and first responders.
The witnesses recounted the chaos when Holmes opened fire during the sold-out midnight screening of "The Dark Knight Rises" in Aurora, Colorado. They spoke of the fear of not knowing whether they would live or die. And detailed the carnage that remains seared in their memories almost three years after 12 people were killed and 70 were injured in the July 2012 rampage.
Holmes, 27, a former neuroscience grad student, has pleaded not guilty by reason of insanity, with his fate left to a jury that could recommend the death penalty if he is convicted.
The trial is expected to run through at least August, and the jury must ultimately examine what Holmes' state of mind was when he plotted and committed the gruesome massacre.
What is the prosecution's argument against Holmes?
There's no dispute that Holmes committed the horrific act, but prosecutors are trying to make the case that he was sane when he laid out the plan. During the trial's opening arguments, Arapahoe County District Attorney George Brauchler presented evidence from two psychiatric evaluations that found Holmes to be sane.
Standing before a scale model of the movie theater, Brauchler also laid out motivations for what pushed Holmes over the edge.
"Through this door are bullets, blood, brains and bodies. Through this door, one guy who thought as if he had lost his career, lost his love life, lost his purpose, came to execute a plan," Brauchler said.
The prosecution has also used portions of one of Holmes' notebooks to claim that he was cognizant of the bloodshed being planned. Prosecutors rested on Friday, June 19.
For its last witness, the prosecution called a survivor whose story was among the most heartbreaking: Ashley Moser was paralyzed and suffered a miscarriage in the shooting, and her 6-year-old daughter, Veronica, was killed.
What's the defense team's strategy?
Public defender Dan King told Judge Carlos Samour that he won't be ready to present until June 25. When he does, he's expected to focus on Holmes' mental illness, which he said runs in the gunman's family.
King told jurors during opening statements that Holmes had a normal, middle-class upbringing in San Diego that shifted when he began suffering from schizophrenia in high school.
"Mr. Holmes happens to be Bob and Arlene Holmes' son, but he really could be anyone's son," King said. "Because schizophrenia doesn't play favorites, and when it strikes it robs the individual of their reality."
The defense may also use Holmes' notebook to try to prove he slipped deeply into psychosis.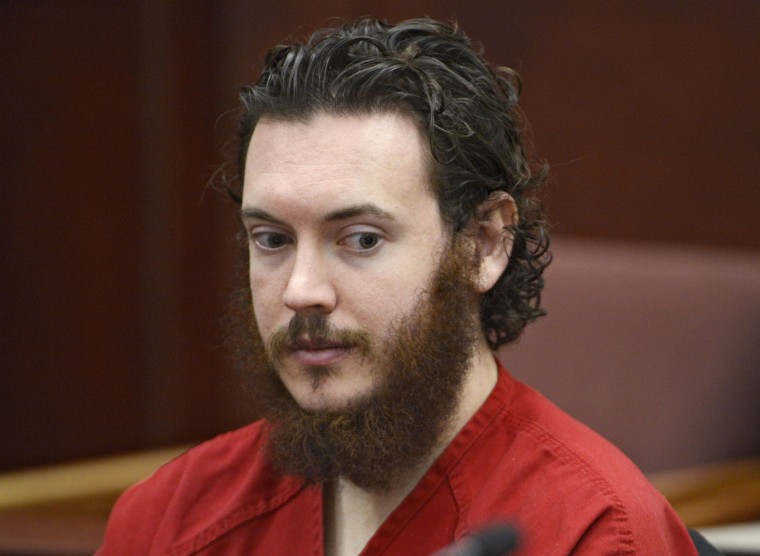 Who are the key witnesses on the stand?
The prosecution has presented a string of survivors who recounted the night of the shooting, some of whom lost loved ones and others who suffered debilitating injuries.
One of the key testimonies came Tuesday from psychiatrist Lynne Fenton, who treated Holmes for several months while he studied at the University of Colorado before he dropped out in June 2012 — a month before the theater attack. While she described him as anxious and anti-social, she didn't believe his behavior prior to the shooting should have forced him to be hospitalized.
Another psychiatrist who interviewed Holmes, Robert Feinstein, testified that although Holmes said in therapy sessions that he "wanted to kill," Holmes' symptoms did not meet the legal criteria to lock him up.
Two weeks ago, an ex-girlfriend from college, Gargi Datta, testified that she told Holmes to seek help after he sent her messages that he wanted to kill people. Prosecutors say their breakup was a catalyst for his rage.
When they broke up, Datta said, "I told him that I didn't see a future with him."
Why are so many jurors being dismissed?
The jury pool has been dwindling in the past week — initially when three jurors were let go because they were talking about the case outside of court. Then, on Monday, another juror was released after her brother-in-law was shot in an armed robbery.
A fifth juror was dismissed Wednesday after she told the judge she recognized one of the witnesses who gave testimony on Day 6.
The judge has repeatedly told jurors not to read or watch coverage of the trial or talk about the case outside of court.
The latest dismissal now leaves 19 people on the trial's panel: 12 jurors and seven alternates (made up of 14 women and five men). Only the judge and the lawyers know which of them are the actual jurors, and they will be revealed when closing statements are done and the case is given to the jury.
Will the jurors get to hear Holmes speak?
The list of witnesses hasn't been made official, but it's likely the defense will keep Holmes off the stand — in part so that the prosecution can't cross-examine him.
If he is found guilty by reason of insanity, there's always the possibility he could speak during the sentencing phase. But so far, the jury has only heard from Holmes in videos of psychiatric interviews recorded a year after the attack.
While speaking in a monotone voice, he tells a psychiatrist that he does become teary-eyed whenever he thinks about his "regrets."
"Can you tell me a little more?" the doctor presses him at one point.
"Usually," Holmes replies, "it's before I go to sleep."