James Holmes considered nuclear and biological bombs and serial killings to satisfy his "obsession to kill" before he settled on shooting up the Century 16 theater in Aurora, Colorado, according to the notebook he mailed to his psychiatrist the day he killed 12 people during a screening of "Batman: The Dark Knight Rises" almost three years ago.
The 29-page notebook — the subject of a long court battle over whether the jury in his capital murder trial should see it — details the failed neuroscience student's lifelong fascination with death and the care with which he reviewed numerous options for how to kill as many people as possible.
It was all in service to his lifelong dedication to "killing others so that I could live," according to the notebook. It was important that he not be seen as a terrorist, because he had no message he wanted to convey other than that "there is no message."
Passages from the notebook were read in court Tuesday by Aurora police officers and transcribed by NBC News and NBC station KUSA of Denver.
Other passages were read to the jury late last month during opening arguments, read by Holmes' attorney, Dan King.
"We are all one unity, as such there is no difference between life and death or space time," Holmes wrote, according to King. "Why? Why? Why? Why? Why? Why? Why? Why does the value of a person even matter?"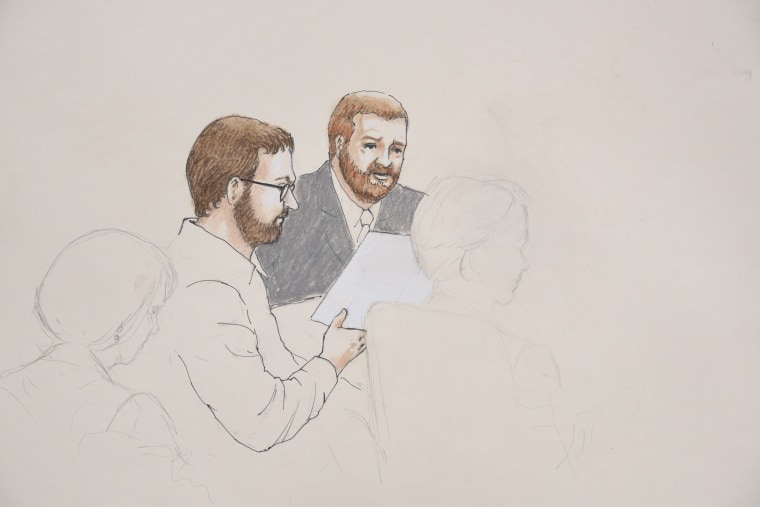 Holmes has pleaded not guilty by reason of insanity in the rampage on July 19, 2012, in which 70 other people were also injured. For months, his lawyers argued that because his psychiatrist never received the notebook, prosecutors shouldn't be able to see it, but 18th Judicial District Chief Judge Carlos Samour disagreed.
RELATED: Was James Holmes Insane?
The passages read Tuesday show the painstaking care Holmes took in planning his rampage. The time and effort were spent not on figuring out how to avoid capture, something he didn't appear to worry about. They were spent on figuring out how to kill as efficiently and quickly as possible.
According to his own notes, Holmes considered nuclear and biological bombs, but he concluded that he didn't know enough about them. And he plotted out how and whether to execute a campaign of serial killings, but that would have yielded "few kills."
Eventually, Holmes chose "mass murder," because it was easy and it would produce maximum casualties — although he regretfully noted that it was "primitive in nature."
Holmes then set about casing each of the cinema's theaters, drawing up an aerial diagram and lists of the pros and cons of attacking each of them, according to the notebook. He noted their proximity to the local National Guard post and the Aurora Police Department — complete with estimated times of arrival of responding authorities. He mapped out good parking spots and reviewed what he should use to hold open the doors, the notes show.
RELATED: Officer in Aurora Theater Saw 'Blood on the Emergency Exit'
The goal, he wrote, was randomness, because "the cruel twists of fate are unkind to the misfortunate."
One of the last passages read during the hearing was especially chilling:
"Embrace the hatred at 'Dark Knight Rises.'"
Jack Chesnutt of NBC News contributed to this report from Centennial, Colorado.