The determined daughter of murdered New Jersey radio talk show host April Kauffman never had any doubt about who killed her mother.
For nearly six years, Kimberly Pack pushed and prodded authorities to investigate her stepfather, Dr. James Kauffman, for the fatal shooting of her mom, who was found dead on May 10, 2012, in her home on the Jersey Shore.
Pack's persistence paid off Tuesday when Atlantic County Prosecutor Damon G. Tyner announced that James Kauffman had been charged with hiring a hit man and with running an illegal opioid drug ring out of his former medical practice with members of the Pagan Outlaw Motorcycle Gang.
"It was a long struggle," Pack, 35, said in a brief interview Wednesday with NBC News.
"I feel like I'm living the worst TV movie that you can't even make up these details and someone would believe," Pack said after the arrests were announced Tuesday. "As a victim, May 10, 2012, forever changed my life. I have been waiting patiently for justice, and today I was lucky enough to be granted justice."
"For the first time today, I feel like I can actually breathe," she said.
James Kauffman, 68, is expected to make his first court appearance later this week to face charges of first-degree murder and first-degree racketeering, said Donna Weaver, public information officer for the county prosecutor.
Also due in court is 61-year-old Ferdinand Augullo, who is also charged in Kauffman's death, as well as with later conspiring to kill James Kauffman, and with first-degree racketeering.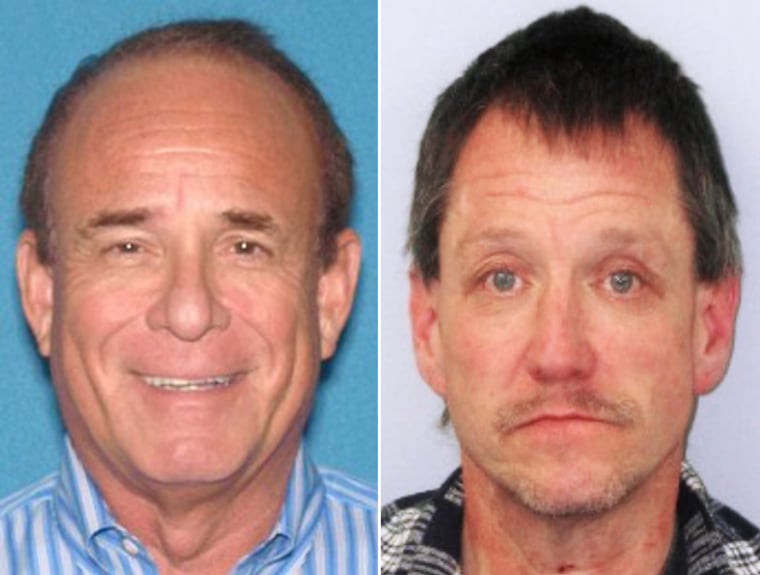 Six other suspected Pagans are charged with either first- or second-degree racketeering. They are Joseph Mulholland, 52; Beverly Augello, 47; Glenn Seeler, 37; Paul Pagano, 61; Tabitha Chapman, 35; and Cheryl Pizza, 36.
Augello allegedly paid Mulholland's cousin, Francis Mullholland, $20,000 to kill Kauffman. But the alleged gunman won't be showing up in court any time soon.
"Almost 18 months after April Kauffman's murder, Frank Mullholland died in October 2013," Tyner said. "It was determined to be an accidental drug overdose."
Kauffman, 47, was killed, Tyner said, because she threatened to blow the whistle on her husband's alleged criminal activities while they were in the midst of a bitter divorce. She was found shot to death — and face down — in a second-floor bedroom.
"As a result of April Kauffman's desire to divorce James Kauffman, he was intent to have her killed, as opposed to losing his 'financial empire,'" Tyner said.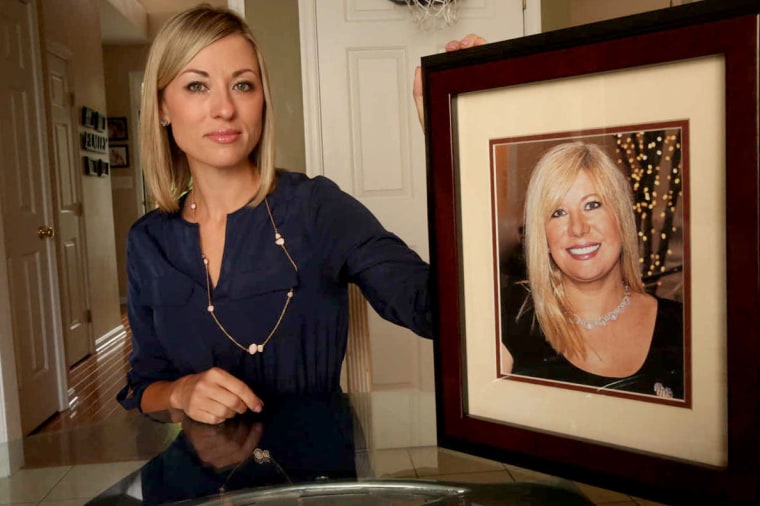 The disgraced doctor and Augullo spent a year looking for somebody to kill Kauffman, and on the day she died the doors of their home in tony Linwood "were left open and Francis Mullholland was given a gun," Tyner said.
Pack was 29 when her mother was killed. And while she suspected her stepfather and filed a formal complaint in April 2014 accusing him of murder, she said she had no idea he was allegedly in cahoots with the Pagans.
Kauffman co-hosted a beloved local radio program called "Veterans Matters," and the circumstances of her death had long been a topic of speculation.
"I had heard rumors that bikers were involved, but it seemed crazy," Michael Merlino, who co-hosted the show with Kauffman, told The Press of Atlantic City. "Now we know it's not so crazy."
James Kauffman has been in police custody since June 2017 when he was arrested after police raided his practice in Egg Harbor, New Jersey, Tyner said. He was armed with a 9-mm Ruger handgun.