Oscar-winning actor Jamie Foxx can lay claim to a new starring role — real life hero.
Foxx braved flames to pull a motorist to safety from a burning pickup truck, one of his representatives confirmed for NBC News.
The actor, who won an Academy Award for his pitch-perfect portrayal of Ray Charles, found himself thrown into an unfamiliar part on Monday when he heard a crash outside the gates of his home in Hidden Valley, a secluded enclave north and west of Los Angeles in Ventura County.
Brett Kyle, 32, of Newbury Park, California, was driving "at a high rate of speed" around 8:30 p.m. PT when he flipped his 2007 Toyota Tacoma into a drainage ditch, according to a California Highway Patrol report.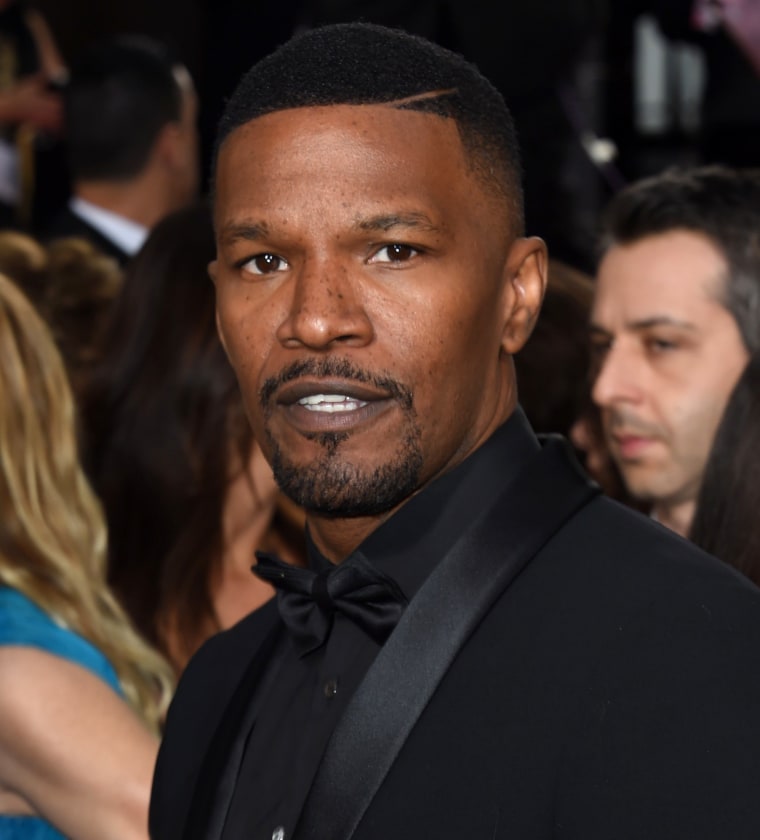 "It struck a drainage pipe and concrete casing causing the vehicle to roll over multiple times," the report read. "The vehicle came to rest on its passenger side, and became engulfed in flames with Mr. Kyle trapped inside his vehicle."
That's when two men "ran to the burning, overturned truck in an attempt to free the driver," according to the report.
"One of the witnesses retrieved a rescue tool from his vehicle allowing the two citizens to break the window, cut the seat belt, and extricate the driver," the report stated.
Kyle was later taken to Los Robles Hospital and Medical Center for his injuries and charged with driving under the influence of alcohol, police said.
Foxx was not identified by name in the report. Neither was the other hero. And the outspoken 48-year-old movie star has been uncharacteristically mum about his heroics.
But photos of the burning wreck and an account of Foxx's actions appeared on the Ventura County-based Safety for Citizens Facebook page.
"Jamie told CHP that he heard the accident and also a person screaming from the overturned vehicle," their account reads. "Jamie also made a 911 call. Jamie said he was able to reach into the vehicle, grab the person, and drag them away to safety.