Jared Fogle, the former Subway spokesman, will plead guilty to possessing child pornography and traveling to pay for sex with minors after using "wealth, status and secrecy" to prey on his victims, federal prosecutors said Wednesday.
The allegations involve 14 minors, and Fogle is accused of engaging in sexual acts with at least one of them, prosecutors said in court documents. In November 2012, he traveled from Indiana to New York City to have sex with a then-17-year-old girl at the Plaza Hotel, according to the documents. He allegedly did so again in January 2013 at another upscale hotel, the Ritz Carlton.
The same girl — identified in the documents as Minor Victim 13 — claims she was paid for sex on at least three occasions when she was 16, prosecutors say.
Related: Subway's Challenge: How to Erase Jared Fogle From Its Brand
As part of a plea deal, prosecutors in the documents asked for a sentence of up to 12 1/2 years behind bars. Fogle has agreed to serve at least five years, but a federal judge has the ultimate discretion.
Fogle appeared at a federal courthouse in Indianapolis on Wednesday morning to plead not guilty — a formality as part of the deal, which the judge must still approve. He didn't speak as he exited the building, and was released on an electronic monitoring device.
His attorney, Jeremy Margolis, said he will change his plea to guilty and face sentencing at future hearings. No date was immediately set.
"Jared Fogle expects to go to prison," Margolis said outside of the court. "He will do his time. He expects to do well. He expects to make amends to those people whose lives he has affected."
Prosecutors said Fogle's celebrity status as Subway's pitchman for the past 15 years didn't make a difference in the type of plea deal they offered.
The case started with a tip from a private citizen, officials said, paving the way for a complex investigation that included looking through more than 16 smartphones, 10 memory cards and 6 laptops.
The 14 victims — four of whom are now adults — were identified after police say they reviewed nearly 160,000 text messages, more than 27,000 emails, and tens of thousands of videos and images.
Federal prosecutor Steve DeBrota said some of the victims didn't know who he was, and that he engaged in some of the acts while traveling on business for either Subway or as part of his nonprofit foundation.
"I cannot think of anything more repugnant than sexually victimizing a child," Doug Carter, superintendent of the Indiana State Police, said at a news conference.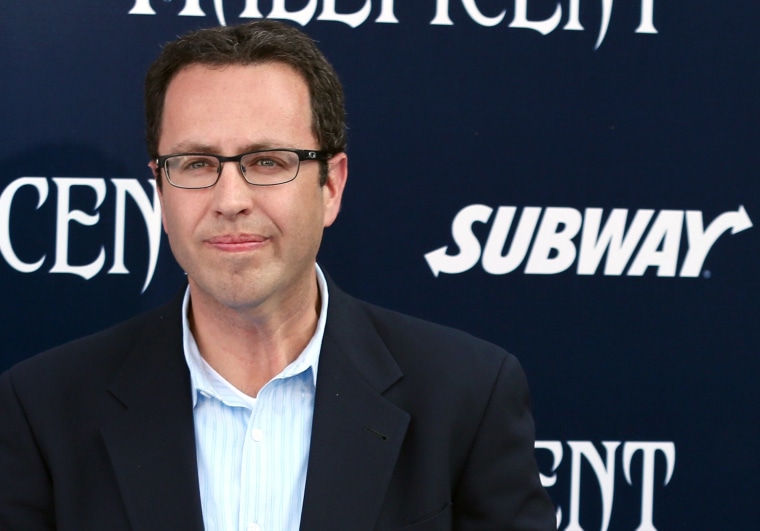 The charges come after federal agents seized computers and DVDs from Fogle's suburban Indianapolis home in July as part of a child pornography investigation involving the ex-head of his nonprofit foundation.
Charges against Fogle, a 37-year-old married father of two, had not been announced at that time.
The federal documents allege Fogle and Minor Victim 13 arranged to meet through text and online messages, and that Fogle asked her to "provide him with access to other underage minors for purposes of commercial sexual activity" and that "the younger the girl, the better."
Witnesses from Florida, Georgia and Washington state told investigators Fogle also allegedly contacted them to have sex with minors as young as 14 and 15.
Related: How Jared Fogle, Suspended Subway Spokesman, Went from Student to Celebrity
Fogle faces one count of traveling to engage in illicit sexual conduct with a minor and one count of distribution and receipt of child pornography.
In addition to a prison sentence, Fogle must also agree to pay a total of $1.4 million split evenly among the 14 victims, as well as register as a sex offender and undergo treatment for sexual disorder.
Margolis said his client has already been examined by a "world-renowned expert in sexual conditions in order to chart a course to recovery."
The 11-hour sweep of Fogle's Zionsville home followed the arrest of Russell Taylor, the executive director of the Jared Foundation, which works to prevent childhood obesity.
Taylor, 43, faces multiple counts of producing and possessing child pornography following a similar raid on his Indianapolis home in April.
Investigators said they recovered a thumb drive that included more than 400 videos of child porn and a document with Taylor's employer in the file name, according to a federal criminal complaint.
Fogle said in a previous statement that he was shocked at the charges and that his foundation was cutting ties with Taylor.
But federal prosecutors say Fogle received child porn from Taylor between 2011 and April 2015, and that Taylor was allegedly using hidden cameras in his residence to film the minors, some as young as 6.
"If Mr. Fogle had done the right thing when he learned of the victimization and reported those to authorities, (the other victims) never would have been victimized," DeBrota said.
Fogle allegedly received some of the images and videos through text messages and a thumb drive.
"The defendant chose to benefit from production of the nude videos by obtaining access to a significant amount of such material," court documents said.
Fogle gained national notoriety as a weight loss inspiration after the sandwich chain first featured him in a commercial in 2000. Once a 425-pound undergraduate at Indiana University, Fogle said he began eating at Subway to help him shed 245 pounds.
On Wednesday, the company again said it has parted ways with Fogle, calling his alleged actions "inexcusable."
Fogle's wife, Katie, said in a statement Wednesday that she is "shocked and disappointed by the recent developments," and plans to file for divorce.