A surprising face was spotted in the March for Our Lives crowd in Washington on Saturday.
Josh Kushner, the younger brother of President Donald Trump's son-in-law, Jared Kushner, was seen at the march with his girlfriend, model and entrepreneur Karlie Kloss.
He posted a photo on Instagram of Kloss amid signs protesting the National Rifle Association and urging increased gun regulation. Kloss, positioned in the middle of the photo, held up a sign that read, "Load minds not guns."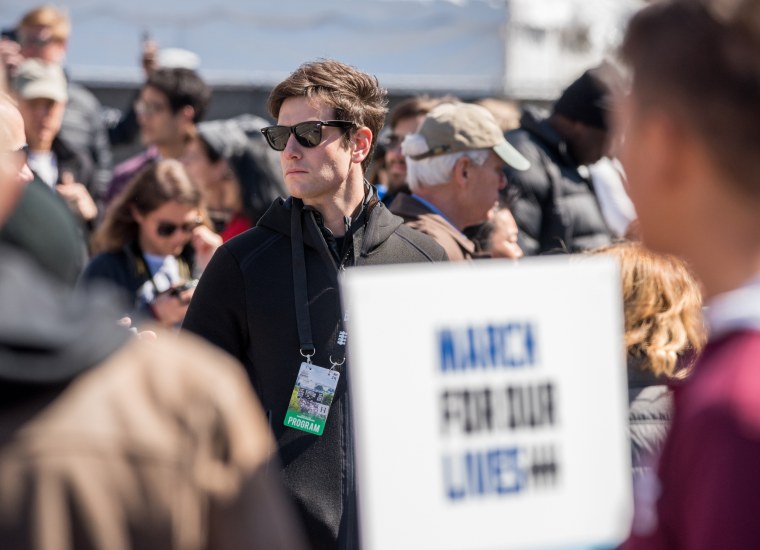 Josh Kushner, 32, a venture capitalist and founder of Thrive Capital, also posted another photo on Instagram that promised that he would take part in the march.
An estimated 800,000 protesters attended the D.C. march. Other cities, across the nation and abroad, also took part in the march, demonstrating overwhelming support for the movement.
The White House did release a statement on Saturday praising the leaders of the movement for "exercising their First Amendment rights." But the Trump administration has not broken with the NRA on gun control measures, and is pushing an agenda that includes arming some teachers in schools to prevent another massacre like the one in Parkland, Florida, last month.
This wasn't the first time the younger Kushner's actions clashed with the viewpoints of some of his White House family. Earlier in the month, Axios reported that he donated $50,000 to the March for Our Lives movement. In January 2017, he participated in the Women's March on Washington, which occurred on the same day as his brother's first full day serving as senior adviser to the president.
In an August 2016 article in Esquire magazine, the entrepreneur's spokesman described him as a "lifelong Democrat" and said he would not vote for Trump during the 2016 presidential election.
Josh Kushner did not immediately reply to a request for comment from NBC News.