Fresh off his debut Sunday as a 10-day contract player with the Brooklyn Nets, NBA journeyman Jason Collins has the league's best-selling jersey, rocketing past mainstays like LeBron James and Kobe Bryant.
Collins, 35, had been without a team after publicly coming out as gay at the end of last season, in April 2013, in the pages of Sports Illustrated.
But after signing a short-term contract with Brooklyn last weekend and making history Sunday as the first openly gay athlete to play in North America's top four major sports leagues, the veteran center has become a big-league retail draw.
The NBA started selling "Collins 98" jerseys at its New York store and its online outlet after Sunday's historic game — and soon the shirt was selling like hotcakes.
By Tuesday, it was the league's most popular jersey, Vicky Picca, NBA Senior Vice President of Legal and Business Affairs, told Reuters. The league declined to provide exact sales figures.
At the NBA Store in New York on Wednesday afternoon, Joseph Fireman, a 28-year-old lawyer who was browsing the store, told NBC News that he believes this is a watershed moment for civil rights.
"Acceptance and respect of all people is something that the NBA should stand for and that America should stand for. I think this moment is an important step towards that ideal," Fireman said.
In his first game back, Collins wore No. 46 on Sunday against the Los Angeles Lakers because his number of choice was not yet available. But he will be wearing "98" when the Nets face the Portland Trail Blazers on Wednesday evening.
Collins, who wore No. 98 for the Boston Celtics and Washington Wizards in 2012 and 2013, says he chose that number in tribute to Matthew Shepard, the gay University of Wyoming student whose torture and murder in 1998 kindled a national discussion on hate-crime legislation and LGBT rights.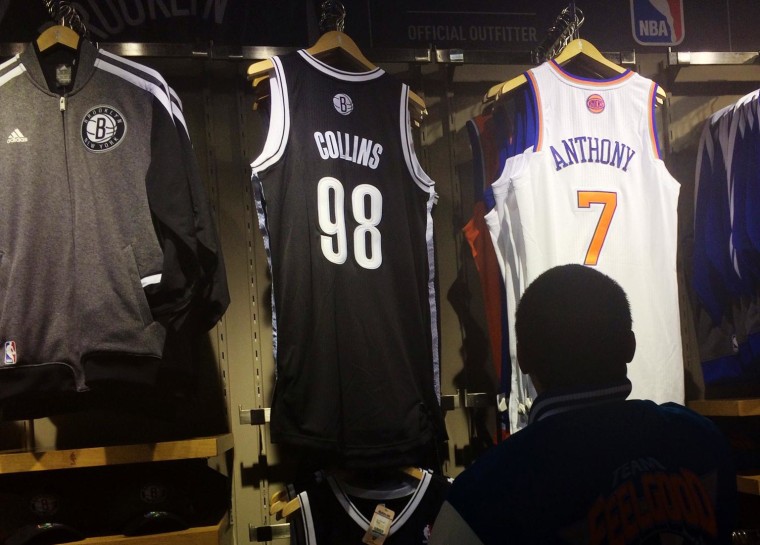 — Daniel Arkin and Nadia Sikander, with Reuters