A special grand jury in Akron, Ohio, heard evidence this month to determine whether charges should be filed against eight officers who shot a Black man nearly four dozen times last year.
Jayland Walker's death following an attempted traffic stop and chase on June 27 touched off days of protests and renewed discussions around the treatment of Black people during routine police encounters. Seven of the eight police officers who opened fire are white, officials said.
On Monday, a Summit County jury declined to bring charges against the officers.
After some demonstrations last year resulted in property damage, businesses in the city started to board up their windows ahead of the grand jury proceedings.
Security has increased around the Summit County Courthouse and steel barricades have been put up around the building. The street-level windows of City Hall are now covered by plywood, a city spokesperson said, adding officials have engaged faith leaders, business owners and community groups to "build necessary dialogue."
"While boarded windows will certainly be the most visible signs of preparation, it is the ongoing conversations and relationship building which have undeniably been the most important preparation for whatever the grand jury decides," the spokesperson said in a statement.
An alleged traffic violation
Akron police officers tried to pull over Walker, 25, after an alleged traffic violation. They chased him when he failed to stop, according to an Akron Police Department statement.
During that pursuit, officers "reported a firearm being discharged from the suspect vehicle," police said. They pursued Walker's car on an expressway for several minutes, then chased on city streets, according to the statement.
After his car slowed at one point, he got out through the passenger side door as the car rolled forward, according to authorities.
Officials said they tried to stop Walker by using stun guns and opened fire after the stun guns did not work. Body camera footage released by the department showed several officers running after Walker as they screamed commands at him to stop.
At one point, the officers appeared to stop running. A hail of police gunfire is heard in the video. Walker was pronounced dead at the scene.
During a video update, police said that a handgun, loaded magazine and what appears to be a gold wedding ring were "in plain view" on the driver's seat of Walker's car.
The body camera footage sparked protests in the city. A Fourth of July fireworks show was canceled, and the mayor set a 9 p.m. curfew for downtown Akron after he said that some of the demonstrations resulted in violence.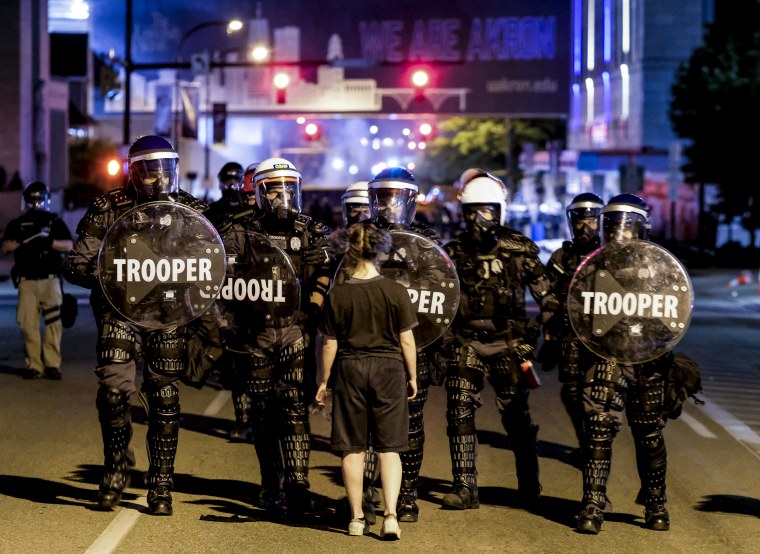 Walker was shot 46 times, ME says
Summit County Medical Examiner Lisa Kohler said in July that Walker had 46 entrance and graze wounds. He died of blood loss from internal injuries caused by gunshot wounds. Kohler ruled his death a homicide.
Kohler said he sustained 15 gunshot wounds to his torso, 17 to his pelvis and upper legs, one to his face, eight to his arms and right hand, and five to his knees, lower right leg and right foot.
"There are 46 entrance wounds. There are 15 exit wounds, and five of the wounds that would be in with the entrances are graze wounds," Kohler said at the time, calling his injuries "devastating."
Five shots entered his back, the medical examiner said, but it could not be determined if that was when he was running away or simply moving his body.
The hail of gunfire caused injuries to Walker's heart, lungs and right iliac artery. She said she could not determine if one specific bullet killed him.
A toxicology screening found no evidence of drugs or alcohol.
The Akron chapter of the Fraternal Order of Police said last year it believed that investigators would find that the officers' actions and the number of shots were justified.
"Officers reasonably believed that Mr. Walker presented an immediate threat of serious physical harm or death and lawfully ... discharged their weapons," the statement said.
Walker was 'heartbroken' over fiancée's death
In the months before he was killed, Walker had been trying to move on from the death of his fiancée, Jaymeisha Beasley. The two started dating when they were 15 and had gotten engaged about a year before Walker's death, Beasley's mother, Shalesa Beasley, said.
She said Walker and his fiancée were inseparable and "had a great relationship." The two had just started discussing wedding plans and were in the process of buying a home together when Beasley was killed in a hit-and-run on May 28 in Warren County in southwest Ohio.
Shalesa Beasley said she was traveling to Kentucky with Beasley and her other daughter when a semitruck rear-ended their van. 
Beasley, 27, who was asleep in the back and not wearing a seatbelt, was ejected from the van onto the highway. She died after an oncoming vehicle hit her, Shalesa Beasley said.
She said Walker was "heartbroken" and seemed to have been trying to move on with his life. Robin Elerick, Walker's cousin, said at his funeral that he was going through a "really, really hard time" in the weeks leading up to his death and recalled times when they would sit quietly "holding hands and crying with each other."
Who are the officers?
The names of the eight officers have not been released. They were placed on paid administrative leave following the shooting, but returned to duty in administrative roles in October.
Akron Police Chief Steve Mylett cited staffing shortages in announcing the decision.
Mylett said he understood that the move would be upsetting for some people. He said the officers will not be in the community on patrol and will instead "provide internal support in non-uniform roles until the investigation is complete."
Attorneys for Walker's family called the move callous.