Keyboard virtuoso Chick Corea, who pushed the melodic boundaries of jazz during his five-decade career, has died of a rare form of cancer, his family announced Wednesday.
Corea, who was 79 and a 23-time Grammy Award winner, had only recently been diagnosed with the disease before he died Tuesday.
"He was a beloved husband, father and grandfather, and a great mentor and friend to so many," Corea's family said in a statement posted on Facebook. "Through his body of work and the decades he spent touring the world, he touched and inspired the lives of millions."
The family's post included a farewell message from Corea to his friends, fans and fellow musicians.
"I want to thank all of those along my journey who have helped keep the music fires burning bright," he wrote. "It is my hope that those who have an inkling to play, write, perform or otherwise, do so. If not for yourself then for the rest of us. It's not only that the world needs more artists, it's also just a lot of fun."
Addressing his "amazing musician friends," Corea added: "It has been a blessing and an honor learning from and playing with all of you. My mission has always been to bring the joy of creating anywhere I could, and to have done so with all the artists that I admire so dearly — this has been the richness of my life."
Armando Anthony Corea was born June 12, 1941, in Chelsea, Massachusetts. He was introduced to the piano at age 4 by his father, who played trumpet in various Dixieland bands.
Raised on the music of jazz piano legends Horace Silver and Bud Powell, as well as Beethoven and Mozart, Corea was playing professionally by the time he was in high school.
By the mid-1960s, Corea had established himself as a top piano player on the jazz circuit, playing with greats like Stan Getz, Dizzy Gillespie, Sarah Vaughan and Herbie Mann before he joined Miles Davis' band.
Corea's keyboard work can be heard on some of Davis' most famous albums, including "Bitches Brew," "Filles de Kilimanjaro," "Big Fun" and "Water Babies."
In the 1970s, Corea formed the groundbreaking band Return to Forever with bassist Stanley Clarke, which melded jazz improvisation with rock, funk and rhythm and blues to create a whole new sound dubbed jazz fusion.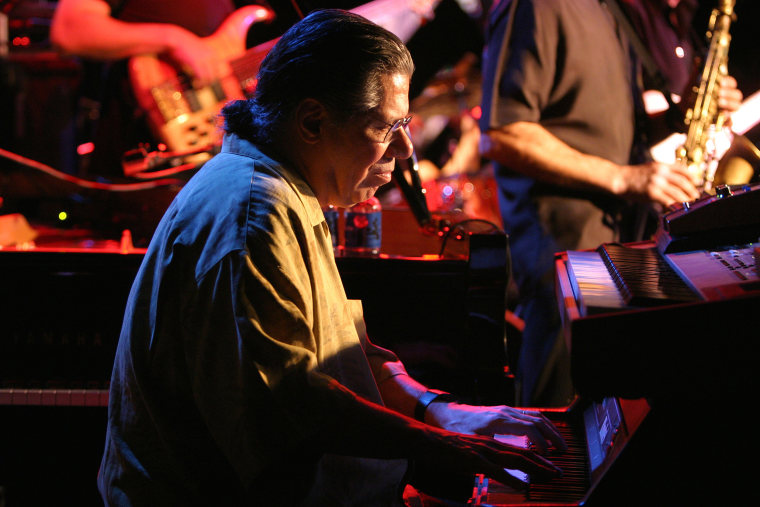 Along with Herbie Hancock, Bill Evans and Keith Jarrett, Corea was one of the top jazz pianists of his time. Corea compositions like "Spain," "500 Miles High" and "Windows" are considered jazz standards.
But Corea didn't limit himself to jazz. His repertoire went, according to his official biography, "from straight ahead to avant-garde, bebop to fusion, children's songs to chamber music, along with some far-reaching forays into symphonic works."
Corea married fellow jazz musician Gayle Moran in 1972. The family statement did not mention survivors or funeral plans. Corea was a well-known Scientologist who thanked the founder of the controversial church in the liner notes of several of his last albums, according to Billboard.