The FBI has arrested a disgraced journalist who allegedly made at least eight threats against Jewish Community Centers as part of what federal authorities are calling a "campaign of harassment" against a former lover.
Juan Thompson, 31, is accused of piggy-backing on the wave of bomb threats that have terrorized the Jewish community nationwide just to settle a score with a woman who ended their "romantic relationship" in July, according to federal criminal complaint unsealed in New York City.
Thompson, who is from St. Louis, "appears to have made some of the JCC threats as part of a sustained campaign" to harass the woman. He has been charged with cyberstalking and faces up to five years in prison if convicted.
During a court appearance in his hometown, a shackled Thompson did not enter a plea.
"I believe we can, judge," Thompson replied, when asked if he could afford a lawyer. "I have a little money but I also have a large family."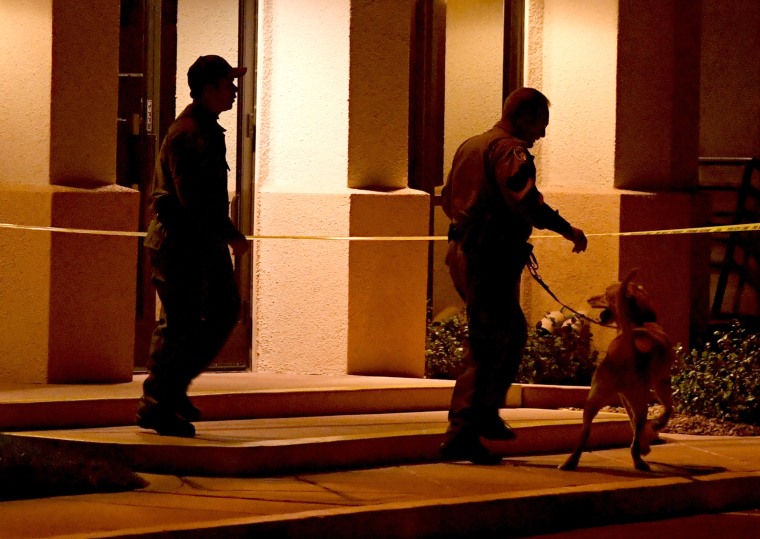 Later, a man who identified himself as Thompson's brother but declined to give his name told NBC News "he's a good man."
"He never got into trouble, he has no record, not so much as a traffic ticket," he said.
Thompson was fired in 2015 from his job at The Intercept after he was accused of fabricating an interview with a supposed cousin of racist mass murder Dylann Roof.
In a statement, The Intercept confirmed Thompson worked for them from November 2014 to January 2016. ""[H]e was fired after we discovered that he had fabricated sources and quotes in his articles." The news organization said it has no information about his alleged criminal actions "other than what is included in the criminal complaint."
"These actions are heinous and should be fully investigated and prosecuted," their statement read.
The woman Thompson was allegedly targeting works for a social service agency in New York City. Her lawyer, Carrie Goldberg, told NBC News she endured a "nightmare."
"Our main statement is just that our client is exclusively focused on supporting the serious criminal proceedings underway," Goldberg said in a text message.
Some of the threats Thompson allegedly made appear to have been made in the woman's name, including an e-mail message to the Anti-Defamation League offices in Manhattan last month saying she was behind the bomb threats, according to the complaint.
Thompson also allegedly made a second phone threat to the ADL the next day and also threatened the Council on American-Islamic Relations, a Jewish museum, and a Jewish school in New York.
The spurned lover also allegedly threatened a Jewish school in Michigan claiming he planted two bombs and was "eager for Jewish newton," which was an apparent reference to the December 2012 massacre at the Sandy Hook Elementary School in Newtown, Connecticut.
Related: Philadelphia Jewish Cemetery Vandalized in Wave of Anti-Semitic Acts
Authorities, however, told NBC News thy don't believe Thompson is behind the rest of the more than 100 bogus bomb threats against JCC centers this year. They described him as a "copycat."
Nobody has been hurt as a result of the bomb hoaxes, but they have raised fears of rising anti-Semitism in the country since the election of President Trump. The FBI is still searching for that person or persons.
The ADL said "the arrested individual" was already on their radar as a possible suspect because of his "deceptive and at times false reports for a news site about Dylann Roof."
The alleged harassment campaign against the woman began on July 27 when her boss got an email "from someone purporting to be a producer with a national news organization" claiming she had been pulled over for drunk driving and a "spreading a sexually transmitted disease," the complaint states.
After that, the victim began receiving "text messages and emails" purportedly from a close friend and relative of Thompson's claiming his computer had been hacked, that he was sorry for hurting her, that had "gone into cardiac arrest," that he had been shot multiple times and was "dying of his injuries." according to the complaint.
Thompson had not been shot, the feds said.
Then in August, the woman took out an order of protection against Thompson. But a month later Thompson himself reached out to her and said his "computer had been hacked by someone in Africa," the complaint states.
That same month, the victim's boss got an anonymous email claiming she had a sexually transmitted disease and shouldn't be working with people who suffer from STDs. Then the victim got an email that contained nude pictures of her and a threat to release them to the public.
The harassment got increasingly personal as the months went on but it wasn't until January that Thompson allegedly tried to tie the woman to the JCC bomb threats. In some cases, he allegedly blamed the woman for the "bomb threats against the jews (sic)," the complaint states.
In others, Thompson claimed the woman was trying to frame him for the threats, the feds said.