A "vast trove of lewd photographs" of young-looking women or girls was confiscated from the New York City home of Jeffrey Epstein, federal prosecutors revealed Monday after a newly unsealed indictment accused the multimillionaire financier of exploiting a "vast network" of underage victims for sex.
Epstein, 66, is accused of seeking out minors, some as young as 14, from at least 2002 through 2005 and paying them hundreds of dollars in cash for sex at either his Manhattan townhouse or his estate in Palm Beach, Florida.
He is being charged with one count of sex trafficking conspiracy and one count of sex trafficking. He faces up to 45 years in prison if found guilty.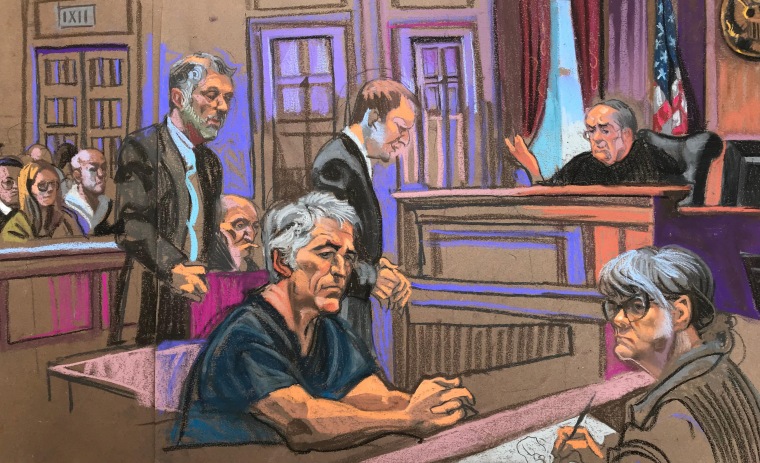 During a federal court appearance Monday afternoon in Manhattan, Epstein wore a blue jumpsuit and pleaded not guilty to the charges against him.
Federal prosecutor Alex Rossmiller, in arguing against granting him bail, told the judge that Epstein is "extraordinarily wealthy" and a flight risk because he has the means to flee. He also accused Epstein of witness intimidation, including "forcing off the road a father of one of the victims."
Reid Weingarten, an attorney for Epstein, told the judge that "the risk of flight is dramatically overstated."
Weingarten added that the new indictment is "essentially a do-over" and "this is old stuff."
"We do know we're talking about ancient conduct and about ancient facts," he added.
A decision on Epstein's bail was delayed and he must remain behind bars until at least Monday, July 15. The defense will file a proposed bail package on Thursday, July 11, and prosecutors will respond by 5 p.m. Friday. He is scheduled to appear in court at 10 a.m. on July 15 for a bail hearing.
At an earlier news conference, U.S. Attorney Geoffrey Berman of the U.S. District Court for the Southern District of New York appealed for other potential victims to come forward while appearing to take a swipe at prosecutors in South Florida, where Epstein has previously been accused of molesting young girls and where he worked out a favorable deal following an arrest in 2005 related to accusations of sex with minors. He said that although these new charges stem from older allegations, seeking justice "is still profoundly important to the many alleged victims — now young women. They deserve their day in court."
FBI Assistant Director William Sweeney Jr. added that people have been making excuses for wealthy predators and there has been a "willful blindness over who the real villains are in this type of outrageous crime."
According to the indictment, Epstein would initially ask his victims for "massages," which would be done by the girls either fully or partially nude, and then become "increasingly sexual in nature." He would then pay his victims to recruit additional girls, federal prosecutors said.
"In so doing, Epstein maintained a steady supply of new victims to exploit," according to the indictment filed in the Southern District of New York, which added that unidentified "employees and associates" would communicate with victims to arrange the sexual encounters in Manhattan. He is accused of having a similar setup in Florida.
Epstein, a hedge fund manager who has powerful political connections that include President Donald Trump and former President Bill Clinton, was arrested without incident at an airport in Teterboro, New Jersey, on Saturday after flying in from Paris. Investigators later raided his home, and he was being held in a New York jail.
Clinton's team released a statement Monday detailing four trips Clinton took with Epstein on the billionaire's plane between 2002 and 2003 in connection with the Clinton Foundation's work in Europe, Asian and Africa. The former president said he knew nothing of Epstein's "terrible crimes."
"He's not spoken to Epstein in well over a decade, and has never been to Little St. James Island, Epstein's ranch in New Mexico, or his residence in Florida," the statement said.
Epstein's arrest is part of a larger investigation by the Southern District of New York's Public Corruption Unit, multiple people briefed on the matter earlier told NBC News.
The latest case against Epstein has also returned scrutiny to his previous arrest by Palm Beach police, when investigators sought to charge him and two assistants with crimes tied to his sexual behavior with underage females at his home. Palm Beach investigators interviewed five alleged victims and 17 witnesses, according to the police files.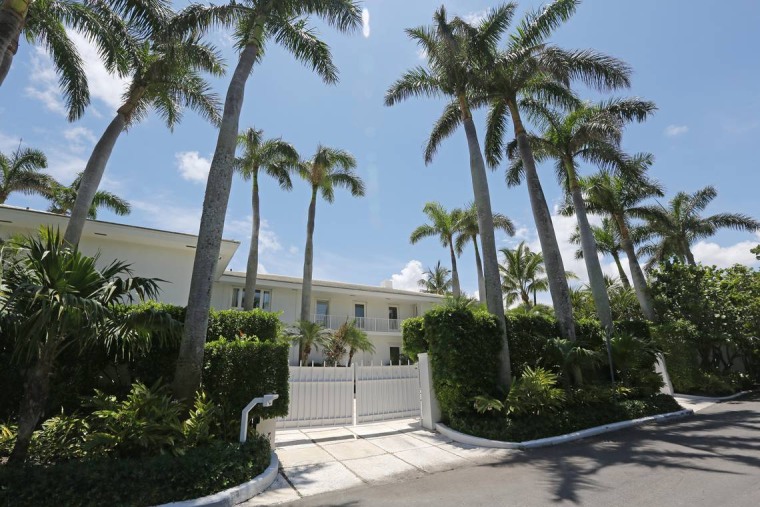 The investigative files alleged Epstein brought the girls to his house under the guise that they would give him massages, which police said would turn sexual.
Epstein, however, was able to make a non-prosecution agreement with prosecutors in 2008 that allowed him to dodge more serious charges by federal authorities and a potential life sentence.
Instead, Epstein pleaded guilty to state charges of procuring a person under 18 for prostitution and felony solicitation of prostitution, which required him to register as a sex offender and serve about a year in jail, most of it in work release.
The deal was widely criticized as too lenient, and was worked out by attorneys for Epstein and agreed to by former Miami U.S. Attorney Alexander Acosta, who is now Trump's labor secretary.
Acosta did not respond to a request for comment from NBC News, but has previously defended the deal, telling a House Appropriations subcommittee in April that Epstein had to go to jail.
Epstein's accusers, who say they were not told of the agreement in advance, are suing to have it thrown out.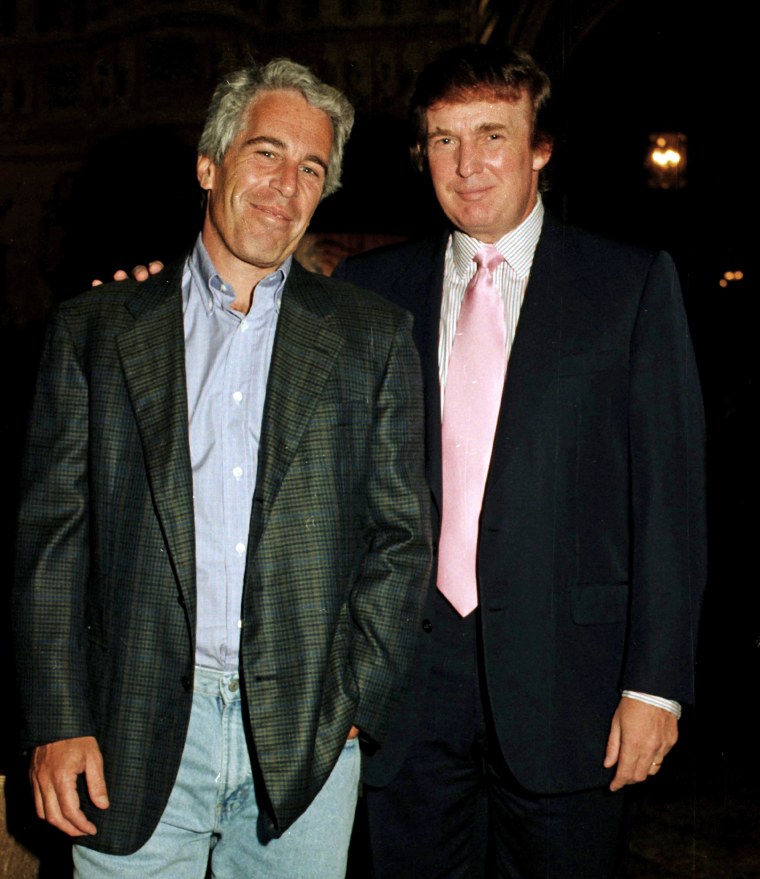 In February, a federal judge ruled that the Florida prosecutors led by Acosta had violated federal law by failing to notify the accusers of the agreement.
But the Justice Department filed court papers last month that contend Epstein's plea deal cannot be legally challenged because he has complied with its terms. The accusers have until Monday to respond to the federal filing.
Despite the agreement, Berman said his team is still able to go after Epstein on other charges because the deal is limited to only the Miami area, including Palm Beach, and New York prosecutors are "not bound" by it.
Prosecutors can also seek to charge him for alleged conduct from about 14 years ago because Congress did away with the statute of limitations for child sex trafficking more than a decade ago.
Paul Cassell, an attorney for four of Epstein's accusers, said in a statement Saturday that his latest arrest "proves that Epstein should have been charged by federal prosecutors 12 years ago in Florida."
Epstein has addresses on his own island in St. Thomas, the Upper East Side in Manhattan, Paris, New Mexico, and Palm Beach, according to his sex offender registration in the Florida Department of Law Enforcement index.
The latest charges don't mean the investigation is over either: the FBI searched his Manhattan townhouse Saturday and recovered documents, and additional accusers might also come forward.