Jeffrey Epstein, the millionaire financier and accused sex trafficker, died by apparent suicide Saturday morning while in federal custody, according to the U.S. Department of Justice.
Epstein, 66, was in his federal jail cell in downtown Manhattan but was not on suicide watch at the time of his death, multiple people familiar with the investigation told NBC News. He had apparently hanged himself, and was found unresponsive at around 6:30 a.m. ET.
Attorney General William Barr said he was "appalled to learn that Jeffrey Epstein was found dead" while in federal custody. He said he has consulted with the Justice Department's inspector general, who is opening an investigation into the circumstances.
"Mr. Epstein's death raises serious questions that must be answered," Barr added.
Epstein's death comes a little over two weeks after he was found injured and in a fetal position in his cell at the federal Metropolitan Correctional Center in Manhattan. He was semiconscious with marks on his neck at the time.
In July, two sources told NBC News that Epstein was on suicide watch.
Download the NBC News app for full coverage of the investigation into Jeffrey Epstein's death
His death came the day after a trove of court documents was unsealed, providing new details about Epstein's alleged sex trafficking.
Epstein, who was being held on federal sex trafficking charges, was transported Saturday morning from the jail to a hospital in lower Manhattan. Upon arrival, he was in cardiac arrest, people familiar with the matter said.
He was pronounced dead at the hospital, the Justice Department said.
U.S. Attorney Geoffrey Berman in Manhattan said he was deeply aware of the potential of Saturday's events "to present yet another hurdle to giving Epstein's many victims their day in Court."
But he said that even with Epstein's death, the investigation into conduct in the indictment against him, including a count of conspiracy, would continue.
The FBI, meanwhile, is opening an investigation into the circumstances surrounding Epstein's death.
The FBI does not normally look into suicides at a federal Bureau of Prisons facility, but given the nature of this case and out of an "abundance of caution," it has undertaken this probe, a senior law enforcement official said.
There is nothing at this point to suggest foul play.
Former Deputy Attorney General Rod Rosenstein, who resigned his post in May, wrote in a tweet that people who face charges similar to Epstein's are often at a high risk of suicide and that several defendants released on bail in cases in Maryland, where Rosenstein was formerly U.S. attorney, died of suicide.
"Stopping people from harming themselves is difficult," he said.
Jack Donson, a former longtime federal Bureau of Prisons case manager, told NBC News that suicide watch in federal lockup "usually only lasts a few days to a week" due to the amount of manpower the 24-hour surveillance entails.
"It requires staff to do overtime shifts" and is "not considered a good use of resources," Donson said.
Staff "make an assessment" of when they believe "imminent danger" to the inmate has passed, and then the warden and the chief psychologist make a determination about what to do with the inmate, Donson said. He added that in the special housing unit, where Epstein was held, guards are supposed to check on the inmates every half hour.
A union representative for Bureau of Prisons employees said that he was shocked Epstein was not kept on a suicide watch.
"In my opinion, based on his previous attempt and his high-profile status, he should have been on suicide watch," Joe Rojas, a regional leader in the Southeast for a union of federal prison workers, told NBC News on Saturday. "You don't have to be a psychologist. It's commonsense."
Epstein's arrest
Epstein was arrested July 6 at an airport in Teterboro, New Jersey, as he returned from Paris on a private jet. He was charged with one count of sex trafficking conspiracy and one count of sex trafficking, and faced up to 45 years in prison if found guilty.
He pleaded not guilty and was denied bail.
The indictment in his case showed that he sought out minors, some as young as 14, from at least 2002 through 2005 and paid them hundreds of dollars in cash for sex at either his Manhattan townhouse or his estate in Palm Beach, Florida, federal prosecutors revealed last month.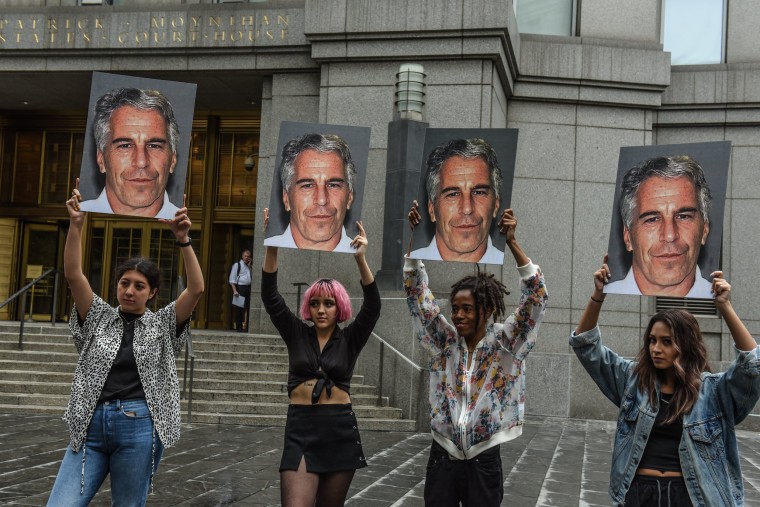 One alleged victim, Virginia Roberts Giuffre, now 36, said Epstein and his close associates had ordered her to have sex with several high-powered men when she was just 14 years old, according to a 2016 deposition released Friday.
Epstein had previously served 13 months of an 18-month sentence for two Florida prostitution charges. That came as the result of a 2007 plea agreement that many considered to be far too lenient and which hid its details from the victims. The deal was agreed to by Alex Acosta, then the U.S. attorney in Miami.
Acosta was labor secretary in President Donald Trump's administration at the time of Epstein's arrest in New Jersey. He resigned the post July 19 after coming under fire over the Epstein deal.
"I do not think it is right and fair to have this administration's Labor Department have Epstein [as] the focus," Acosta said at the time. "I told him [Trump] that I felt the right thing was to step aside."
Unsealed court documents link Epstein to high-profile men
Only a day prior to Epstein's death, a federal appeals court unsealed almost 2,000 pages of documents on Epstein and Ghislaine Maxwell, a British socialite and Epstein's former girlfriend.
Giuffre claimed in her 2016 deposition that among the high-profile men with whom Epstein and Maxwell ordered her to have sex were former New Mexico Gov. Bill Richardson, former Maine Sen. George Mitchell and money manager Glenn Dubin.
"There's a whole bunch of them — it's just hard for me to remember," Giuffre said, according to the court filing. "My whole life revolved around just pleasing these men and keeping Ghislaine and Jeffrey happy. Their whole lives revolved around sex."
Another woman, Johanna Sjoberg, testified in a different 2016 deposition that she was hired as a college student by Maxwell to work the phones for Epstein. She claimed she engaged in sex acts with Britain's Prince Andrew and Giuffre inside Epstein's Manhattan mansion.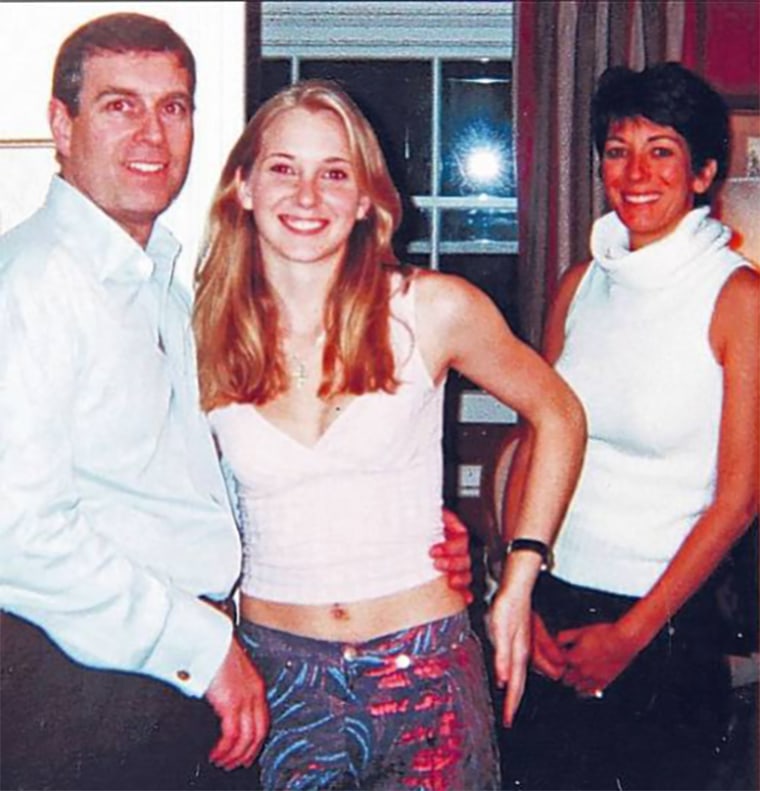 Representatives for Prince Andrew didn't return a request for comment upon release of the documents, but they have previously denied Giuffre's allegation.
None of the men identified by Guiffre or Sjoberg has been charged with a crime or named in any civil suits linked to Epstein.
Download the NBC News app for full coverage of the investigation into Jeffrey Epstein's death
Richardson, Mitchell and a spokesperson for Dubin all denied the allegations in sharply worded statements.
"I have never met, spoken with or had any contact with Ms. Giuffre," Mitchell said.
"These allegations and inferences are completely false," Richardson's office said. "To be clear, in Governor Richardson's limited interactions with Mr. Epstein, he never saw him in the presence of young or underage girls. Governor Richardson has never been to Mr. Epstein's residence in the Virgin Islands. Governor Richardson has never met Ms. Giuffre."
"Glenn and Eva Dubin are outraged by the allegations in the unsealed court records, which are demonstrably false and defamatory," a spokesperson for Glenn Dubin said. "The Dubins have flight records and other evidence that definitively disprove that any such events occurred."
The court filings, which relate to a 2015 defamation lawsuit Giuffre filed against Maxwell, offer a more detailed glimpse of the allegations that have swirled around Epstein since 2005 when he was first investigated for allegedly preying on teen girls in Florida.
The documents — which include depositions from Epstein's former masseuses, staffers and associates — paint a portrait of Maxwell as the accused sexual predator's chief enabler.
Maxwell, who has not been charged with a crime, could not be reached by NBC News upon the release of the documents Friday. Her lawyer didn't return a request for comment.
But, in a motion to dismiss Guiffre's suit, Maxwell's lawyers said Giuffre "produced no evidence substantiating any of her fantastical claims that she had been trafficked by Epstein, or by Maxwell, to any of these men or any others."
Victims still want justice
Since Epstein's death was first reported Saturday, Epstein's alleged victims have expressed anger and frustration that they won't be able to see the man stand trial.
"We have to live with the scars of his actions for the rest of our lives, while he will never face the consequences of the crimes he committed, the pain and trauma he caused so many people," said Jennifer Araoz, who accused Epstein of raping her when she was 15. "Epstein is gone, but justice must still be served."
Many of the lawyers representing various of Epstein's alleged victims also called for further investigations.
Lisa Bloom, the lawyer for some of his alleged victims, said they "would have preferred he lived to face justice," but that they will continue to proceed in suing his estate. "Victims deserve to be made whole for the lifelong damage he caused."
Brad Edwards, another attorney representing some of Epstein accusers, deemed his death "both unfortunate and predictable."
"The fact that Jeffrey Epstein was able to commit the selfish act of taking his own life as his world of abuse, exploitation, and corruption unraveled is both unfortunate and predictable," Edwards said in a statement.
"The victims deserved to see Epstein held accountable, and he owed it to everyone he hurt to accept responsibility for all of the pain he caused."
If you or someone you know is in crisis, call the National Suicide Prevention Lifeline at 800-273-8255, text HOME to 741741 or visit SpeakingOfSuicide.com/resources for additional resources.