The bizarre blue-striped building on Jeffrey Epstein's private Caribbean island was supposed to be a music pavilion with a strikingly different design, according to permit records viewed by NBC News.
The building, shaped like a giant box and initially topped with a gold dome, has fueled rampant speculation and online conspiracy theories.
Drawings supplied by Epstein's architects to the U.S. Virgin Islands agency that oversees coastal development show that it was designed to be a haven for music: an octagonal 3,500-square-foot pavilion housing a grand piano.
But questions remain over whether it was built according to the plans that were submitted to the Department of Planning and Natural Resources.
Those 2010 plans, which were part of a permit application that raised concerns inside the agency, included drawings of a building that looks almost nothing like the structure that was built.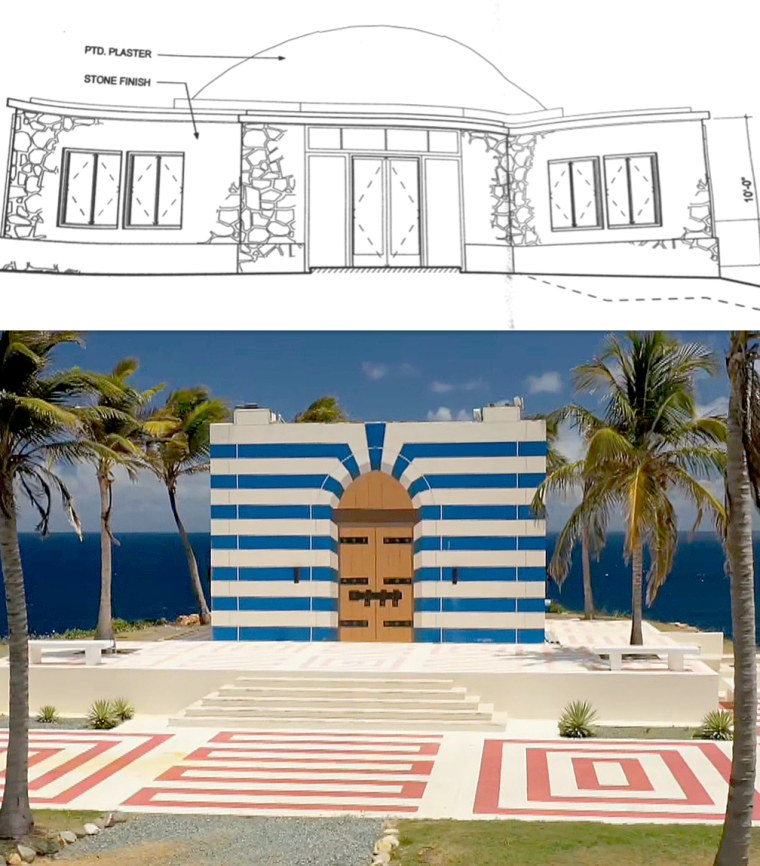 The drawings show a building with a 10-foot facade, stone exterior and multiple windows on the front. The structure that was erected has no windows or stone exterior on its front and appears to rise at least 30 feet.
One Department of Planning and Natural Resources official acknowledged that there were differences.
"The major difference seems to be in the shape of the building itself," Marlon Hibbert said in response to an email request for comment, in which NBC News had provided a link to a photo of the odd-looking structure.
"In the link you provided the building looks rectangular and in the drawings it looked octagonal," he wrote.
But neither Hibbert nor his fellow top officials responded to subsequent requests asking if the agency approved the building as it now appears.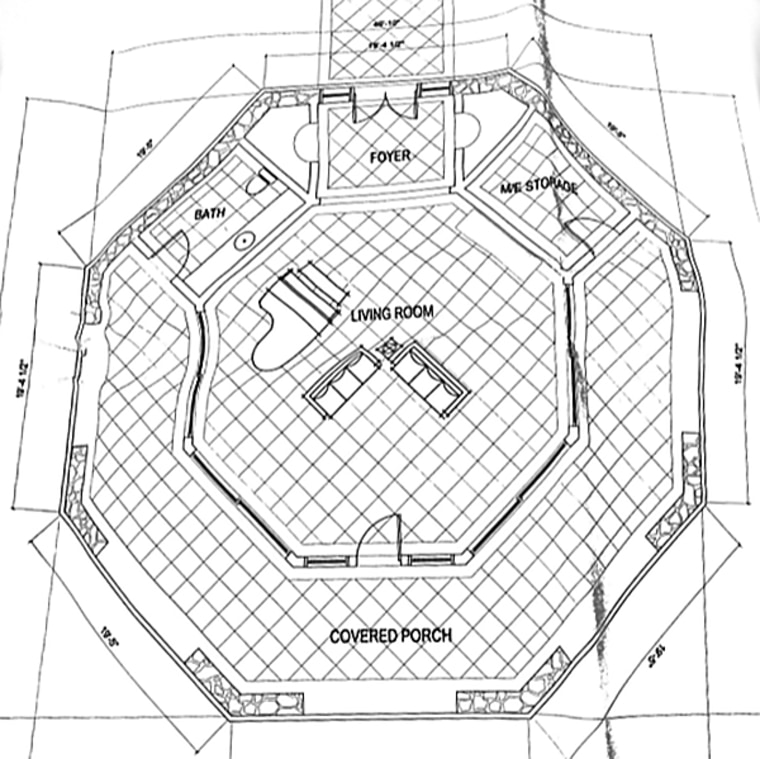 It's no surprise that Epstein would have wanted a grand music room on his private island. Friends and former co-workers have described Epstein, a wealthy financier now accused of trafficking and sexually abusing young girls, as a talented pianist.
The permit issued to Epstein's company allowed for the building of an 1,800-square-foot music room, according to records viewed by NBC News.
The blue-striped structure sits on a lookout point on the southeastern edge of Little St. James island, which Epstein purchased in 1998 for $7.95 million. The building is surrounded by an expansive terrace painted bright white with red shapes. Locals say the structure's gold dome was blown away during Hurricane Maria in 2017.
Download the NBC News app for breaking news and politics.
Records viewed by NBC News show that the building was among proposed new construction that raised alarm inside the Department of Planning and Natural Resources. In March 2011, a top official sent a letter to Epstein's attorney expressing concern over development on the island.
A few months earlier, Epstein's lawyer, Maria Tankenson Hodge, had submitted a request to add a 3,000-square-foot spa to a permit application that included the music pavilion, a pool and a 2,000-square-foot cabana with a coral stone deck, living space and rest room. That portion of the island already housed a gym, tiki hut, nature observation cabana and dive pavilion, according to the documents.
"I am very concerned that major development is occurring on Little St. James Island through the processing of a series of minor" permit applications," Jean-Pierre Oriol, the then-director of the Coastal Zone Management program, wrote in a March 2011 letter to Epstein's attorney.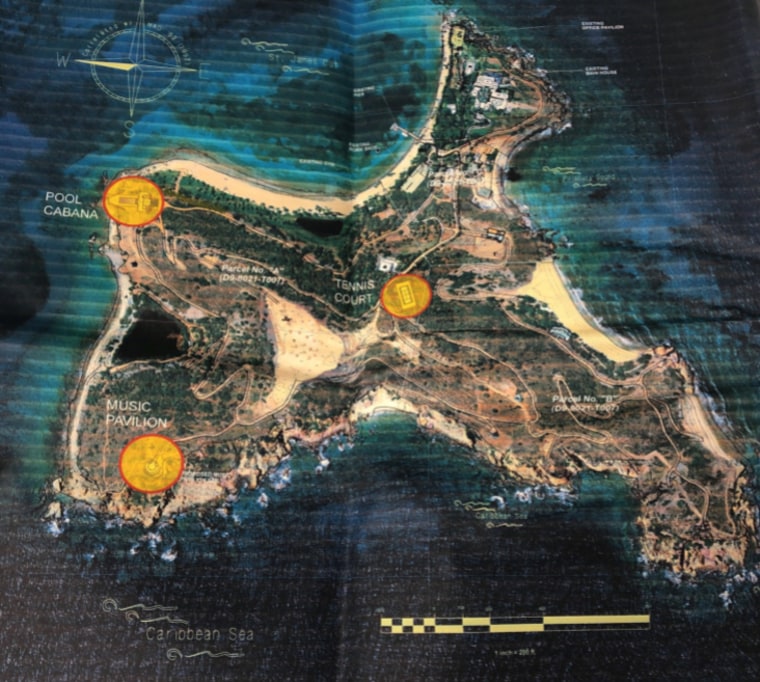 Oriol called on Hodge to provide a detailed inventory on "all existing structures on Little St. James" and a status report of all permits issued to Epstein's company "for which the scope of work is not completed."
Oriol also requested a meeting to discuss development on Little St. James.
The two sides did get together after the letter was sent, according to an agency official.
"They presented a survey of the existing site at the meeting and expressed no new buildings would be requested across the island," Hibbert said in a statement. "Our files do not reflect any other permit request since that 2011 time frame."
Hodge, Epstein's lawyer, did not return a request for comment.
Epstein, 66, is now facing up to 45 years in prison on charges of sex trafficking and conspiracy. Prosecutors say he preyed on girls as young as 14 and paid some of them to become recruiters who provided him with a steady supply of victims in the early 2000s.
NBC News reported Tuesday that Epstein was seeking to expand his island estate during the same period that his lawyers were secretly negotiating a lenient deal with federal prosecutors in Miami investigating similar allegations against him.
Epstein ultimately struck a 2008 deal that spared him the prospect of a long federal prison sentence. He pleaded guilty to two state prostitution counts and served 13 months in jail in an arrangement that allowed him to leave for 12 hours a day, six days a week, on work release.
While the two sides were still hashing out the agreement, Epstein was moving forward with plans to triple the size of his 8,124-square-foot island residence and add a new pool, spa and underground theater, according to permit records viewed by NBC News.