The family of a man crushed to death by a World War II-era tank is suing the Jelly Belly chairman and the tank driver over the accident last summer on the candy maker's California estate.
The lawsuit, filed last week in California Superior Court, claims negligence and wrongful death after Kevin Wright, a 54-year-old contractor, was run over on Aug. 22.
Wright, who was hired to help maintain the family's tank collection, was asked to hop on the vintage 1944 M5 tank owned by Jelly Belly chairman Herman Rowland Sr., the complaint says.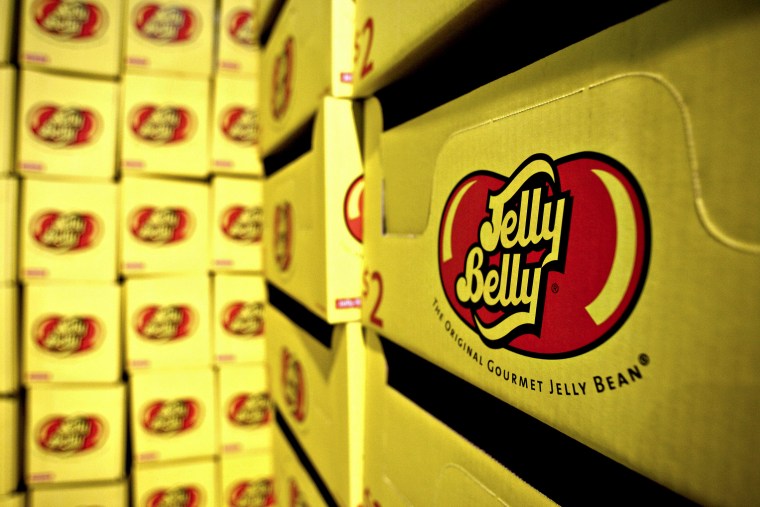 The antique tank was being operated by Dwayne Brasher, who is also named in the suit and is the husband of Jelly Belly CEO Lisa Brasher and Rowland's son-in-law. Brasher was not trained to drive such a vehicle, according to the complaint.
The accident occurred at Rowland's "Tank Barn" in Fairfield, east of Napa, where the fourth-generation jelly bean tycoon restores historic military vehicles.
The suit says Wright sat on the M5 tank backwards as Brasher drove. There was no seat belt nor hand rail, and Wright was unable to see when Brasher steered over bumpy terrain. At one point, Wright was thrown from the vehicle as it traveled downhill and he landed directly in front of a caterpillar track, reported NBC affiliate KCRA. He was fatally crushed.
Attorney Peter Alfert, who is representing the Wright family, said the vehicle shouldn't have been operated with someone placed in such a dangerous situation.
"If people had been careful, it wouldn't have happened," Alfert told NBC News on Tuesday.
Jelly Belly could not immediately be reached for comment. After the accident, Rowland said in a statement that Wright's death left the family "in a state of shock," according to the Los Angeles Times.
"The gentleman involved in this accident was a passionate person, always ready to lend a hand and we shared the same deep-rooted love of history. To have him die so tragically during our family reunion is impossible to comprehend," Rowland said.
Drugs nor alcohol were believed to have played a part, authorities said at the time.
Wright's death left a hole in his family, Alfert said. He was the caretaker for his 80-year-old father and was there for his two adult children, ages 22 and 24, when their mother died in 2009.
"They had a close relationship with their father," Alfert said, "and at that point, he was their only surviving parent."
The defendants have 30 days to respond to the suit.