"Jeopardy!" guest host Aaron Rodgers appeared to be caught off guard Monday after a contestant took the opportunity to dredge up a painful memory from the Green Bay Packers quarterback's past.
In the "Final Jeopardy" round, contestant Scott Shewfelt didn't answer the last clue about daytime television personalities.
Instead, he asked Rodgers about a controversial field goal during last season's NFC Championship game against the Tampa Bay Buccaneers, which ultimately ended the Packers' season — and their ticket to the Super Bowl.
"Who wanted to kick that field goal?" Shewfelt wrote.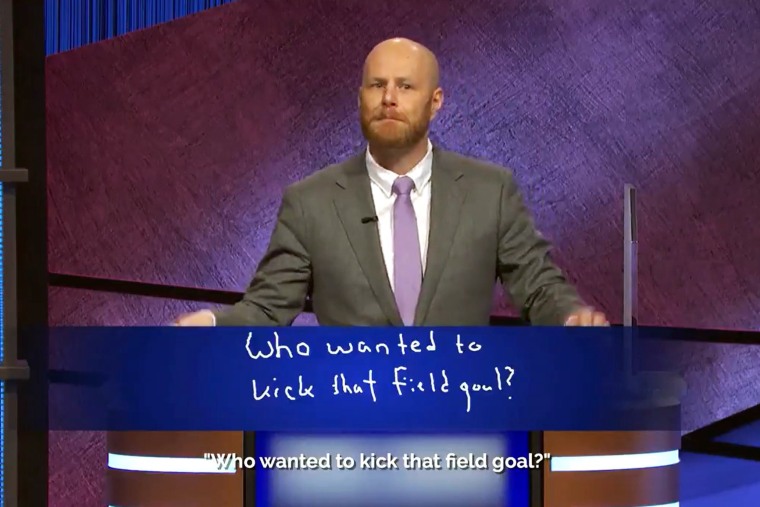 Rodgers initially appeared stunned before momentarily looking down with a smile plastered on his face.
"That is a great question," he said as he laughed. "Should be correct, but unfortunately for this game today, that's incorrect."
Shewfelt's cheeky response was a not-so-subtle jab at Green Bay coach Matt LaFleur, who has come under heavy scrutiny ever since NFC title game on Jan. 24.
With the Packers trailing 31-23 and a little more than two minutes left in the fourth quarter, Green Bay had the ball fourth-and-goal from the 8.
But instead of allowing sure-fire Hall of Fame quarterback Rodgers and his teammates to try for a potential tying touchdown, LaFleur opted for a field goal in hopes Green Bay's defense could get the ball back.
Instead, Tom Brady's Bucs picked up two first downs and ran out the clock for a 31-26 victory. Tampa Bay went on to win the Super Bowl two weeks later.
Rodgers made his debut on Monday as the show's host. He is expected to host for the next two weeks, according to the "Jeopardy!" website.
A series of guest hosts, including award-winning journalists and celebrities, were announced after longtime "Jeopardy!" host Alex Trebek died late last year from cancer.
Among the expected guest hosts are CNN anchor Anderson Cooper and NBC's "TODAY" show co-host Savannah Guthrie.