HARRISBURG, Pa. — Jerry Sandusky lost a bid Wednesday for a new trial and a chance to convince a jury he is innocent of the child sexual abuse charges that landed him a decadeslong prison sentence.
Judge John Foradora ruled that he was denying Sandusky's request for a new trial and dismissal of the charges.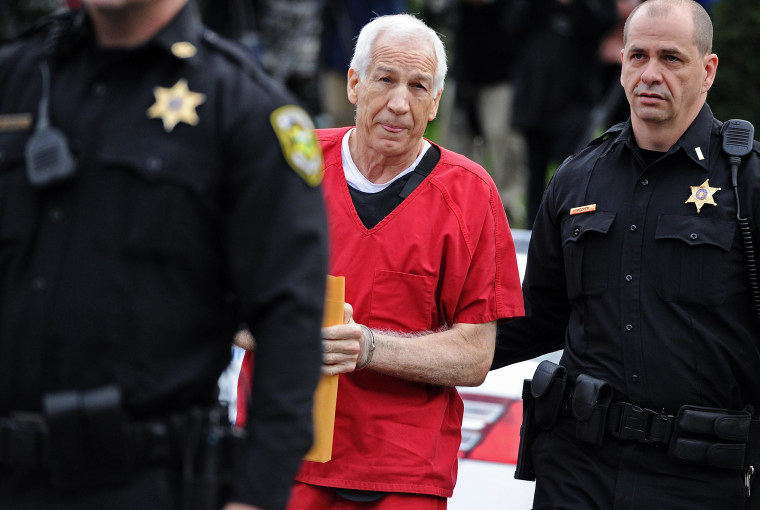 The former Penn State assistant football coach's lawyers have 30 days to appeal the judge's decision to the Superior Court.
Sandusky, 73, has consistently maintained he was wrongly convicted. He argued that he did not receive adequate representation at his 2012 trial and that prosecutors should have disclosed more details about changes to victims' stories.
Related: Sandusky's Son Pleads Guilty to Child Sex Abuse Allegations
Sandusky has been serving a 30- to 60-year sentence. Eight of his accusers testified at trial, describing abuse that ranged from grooming and fondling to violent sexual attacks.
The case, among the biggest scandals in college football history, led to major structural and procedural changes at Penn State.
Sandusky spent three decades at the university as an assistant to Hall of Fame coach Joe Paterno before retiring in 1999.
The decision follows previous rulings against Sandusky by the state's Supreme and Superior courts.
Foradora was brought in nearly a year ago after the trial judge, John Cleland, removed himself in response to sharp criticism by Sandusky's lawyers of a meeting that Cleland participated in before Sandusky waived a preliminary hearing in 2011.
Penn State's former president, Graham Spanier, and two other ex-administrators, Tim Curley and Gary Schultz, were sentenced to jail time earlier this year after Spanier was found guilty and the others pleaded guilty to child endangerment for their handling of a 2001 complaint about Sandusky showering with a boy. Spanier is free on bail while he appeals his conviction.
The scandal has cost Penn State more than $200 million in fines, settlements and other costs, and the football program was hit with significant NCAA penalties that were later dialed back.