Jerry Sandusky took the witness stand Friday in an effort to overturn his conviction on child molestation charges, and denied that he had ever engaged in sex with his victims.
The 72-year-old former Penn State assistant football coach, who is serving a 30 to 60-year prison sentence as a serial sexual predator, had never previously addressed the allegations of sexual abuse in open court. On Friday he told the courtroom in Bellefonte, Pennsylvania, that he had wanted to testify during his 2012 trial but his attorney told him not to.
Related: Sandusky Case Bombshell: Did 6 Penn State Coaches Witness Abuse?
Under direct examination by his appeals attorney, Al Lindsay, Sandusky said he had never engaged in oral or anal sex. "Absolutely not, that's disgusting, foreign to me, never!" said Sandusky, wearing an orange prison-issue jumpsuit. He said he wasn't the "monster" he was made out to be and that he had been married for 50 years.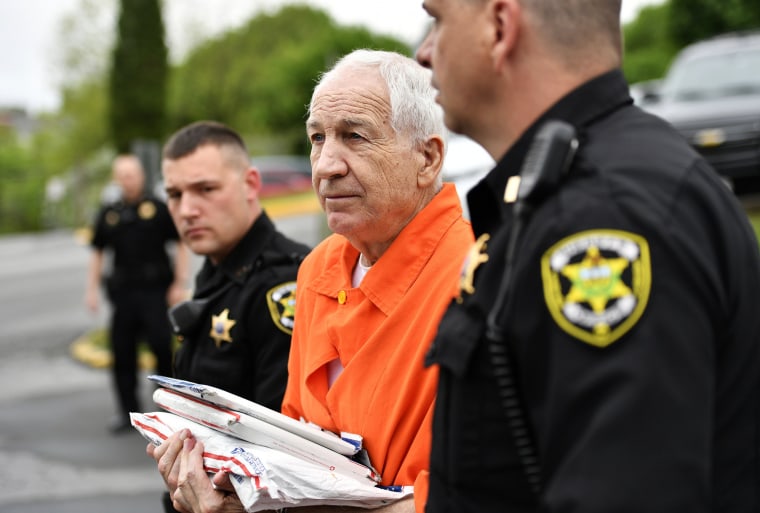 He also said that his trial attorney, Joe Amendola, never told him that a phone interview he did with Bob Costas of NBC News could be used against him in court. According to Sandusky, Amendola told him 15 minutes before the interview, "They want to interview you, all you have to do is say you are innocent."
Amendola testified Sandusky was getting numerous media requests after charges were filed against him, and he thought an interview with Bob Costas, a reputable sports reporter, would present a golden opportunity to get their side of the story out.
Sandusky, who did not take the stand during his trial, now says his attorneys did not represent him adequately and that there were numerous mistakes on the part of the prosecution. He says the defense team was in a state of chaos.
Amendola said he prepared Sandusky to testify, but he did not end up taking the standbecause the defense had concerns about various repercussions.
Related: Jerry Sandusky Presses Appeal, Wants to Question Witnesses
Friday's hearing before Judge John Cleland was the first of three days of proceedings to address whether Sandusky deserves a new trial because of his assertions that his defense team should have called him to testify in his own defense, and that prosecutors improperly leaked information about the grand jury investigation and lied about not knowing the identity of an alleged victim.
The attorney general's office has said in a statement provided to NBC News that if feels Sandusky's claims are "meritless. We will be prepared to vigorously challenge those claims in court."