At least 13 Jewish Community Centers were evacuated Tuesday, after the third wave of bomb threats this month was made against the religious centers.
This latest spate of threats, which came in between 10 a.m. and noon, targeted JCCs in at least 11 states and is being investigated by the FBI.
"The FBI and the Justice Department's Civil Rights Division are investigating possible civil rights violations in connection with threats to Jewish Community Centers across the country," the FBI said in a statement emailed to NBC News. "The FBI will collect all available facts and evidence, and will ensure this matter is investigated in a fair, thorough, and impartial manner. As this is matter is ongoing, we are not able to comment further at this time."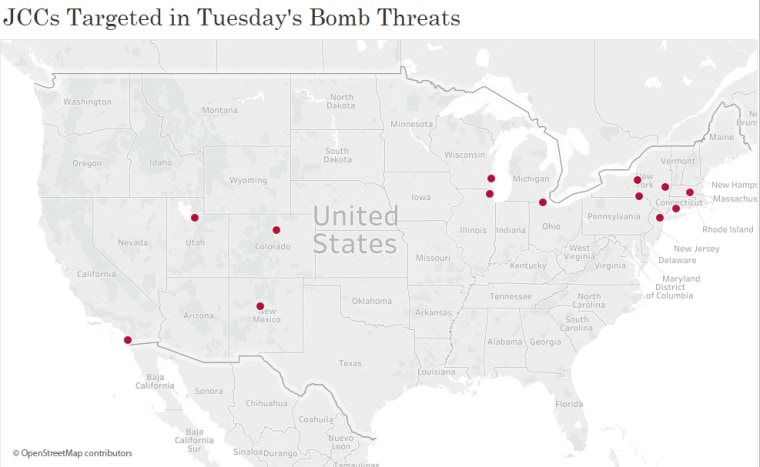 Like similar threats in recent weeks, these were later deemed not to be credible.
Elise Jarvis, associate director of law enforcement outreach and communal security at the Anti-Defamation League, told NBC News the group has been coordinating with law enforcement and members of Jewish groups nationwide to prepare for the worst.
The ADL recently held a joint security briefing with the FBI and almost 700 representatives from Jewish institutions across the country to provide resources and best practices for responding to threats, Jarvis said.
In response to the latest wave of bomb threats against JCCs, the ADL said it is expanding its security training programs, which coordinate with the FBI, local law enforcement agencies and Jewish groups.
"Unfortunately, threats like this are nothing new for the Jewish community," ADL CEO Jonathan Greenblatt said in a statement. "Still, it is vitally important to take these threats seriously and to ensure that every institution is prepared to respond to this type of security emergency. That is why we are partnering with the FBI, local institutions and law enforcement to ensure that all of our community institutions are safe and secure."
Despite the increased security, Tuesday's threats appear to be less widespread than previous scares.
On Jan. 9, 16 JCCs in nine states received threats, Marla Cohen, communications manager for the JCC Association of North America told NBC affiliate WNBC. Nine days later, 28 centers in 17 states received threats.
According to Cohen, the threats came from a mix of robocalls and real people.
Because of past threats, JCCs already have procedures in place in case of a bomb threat, said Albuquerque Police public information officer Simon Drobik, whose department investigated a threat to the JCC of Greater Albuquerque.
Similarly, some police departments have enacted emergency response procedures after past threats. The Binghamton JCC in Vestal, New York, for example, had coordinated with local police prior to receiving Tuesday's threat, Vestal police Lt. Christopher Streno said in a statement to NBC News.
"We see this as a serious concern to the Jewish community and are working with law enforcement to try to address this problem, which has now become a pattern," Elise Jarvis of the ADL said.