Former President Jimmy Carter said Monday that he put on "a false, optimistic face" for months after he was diagnosed with skin cancer, telling fellow Habitat for Humanity workers that when he got the news last year, "I just thought I had a few weeks to live."
Speaking in Memphis, Tenn., at the opening of the annual Habitat work project he sponsors with his wife, Rosalynn, Carter, 92, said that he feels "pretty certain about my cure" but that the doctors are still keeping an eye on me."
The former president announced a little more than a year ago, on Aug. 14, 2015, that he'd had a mass removed from his liver and that he'd been diagnosed with he has cancer that had spread. It later emerged that melanoma spots had reached his brain.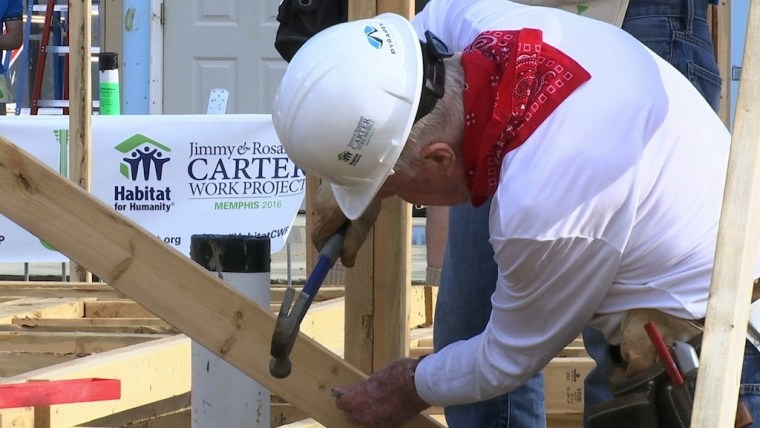 Carter underwent treatment with a new drug, Keytruda, and by last December, he dramatically announced at Maranatha Baptist Church in Plains, Georgia, where he frequently teaches Sunday school, that the cancer had disappeared. Four months later, he told the congregation that scans showed he was free of cancer and was able to end treatments.
The months between August and November, however, were difficult, said Carter, the 2002 Nobel Peace Prize winner who's spent his post-presidential years as a highly visible advocate for the poor worldwide.
"A year ago, I didn't think I was going to live for two or three weeks," Carter said Monday. But he soldiered on, and when he arrived in Memphis last November for another Habitat for Humanity project, "I was putting on a kind of a false, optimistic face," he said.
Carter talked more at length last week about the past year during his regular Sunday school lesson at Maranatha Baptist.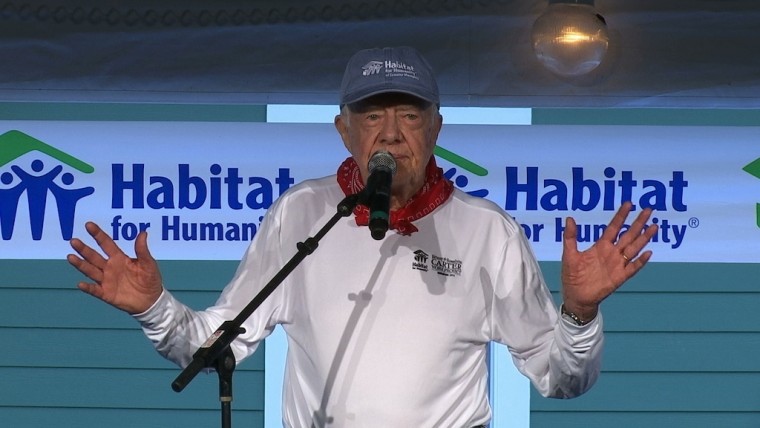 "I was faced with the end of my life, and Rose and I both thought that I just had a few — not more than two or three weeks to live," he told the congregation. "And I had a feeling, then, of despair."
At the same time, "I felt that I was thankful, because I've had a remarkably successful life," he said. "You know, I was the most powerful person in the world when I was president of the United States, and I've had a wonderful family and everything has been going well."
The Habitat project the Carters kicked off Monday is the 33rd they've undertaken just in Memphis — an indication of the whirlwind schedule that the former president and Rosalynn Carter, 89, have continued to keep. This week, they're helping to build 19 new homes for low-income families in the area.
"We've had a lot of opportunities for our kids and grandkids to go to school," Jimmy Carter said. "And we're working side by side with families who haven't had all those things.
"It's very difficult to break down that barrier across that bridge against people who've had everything and people who never had a decent home," he said.