Political dignitaries joined family members at Saturday's memorial service for Joan Mondale, the wife of a former vice president who was remembered for her passion and persistence about arts, politics and community.
Vice President Joe Biden, former President Jimmy Carter and their spouses Jill and Rosalynn were at Westminster Presbyterian Church in Minneapolis to pay tribute to Mondale, who died Monday at age 83 after an extended illness. Leading Minnesota officials, along with Japan's consul general, filled rows of pews at the two-hour service.
Carter credited Mondale for bolstering one of the key pieces of his legacy: a commitment to fostering art and artists across the country and beyond. He recalled her as dogged in pushing his administration to do more to promote the arts and humanities.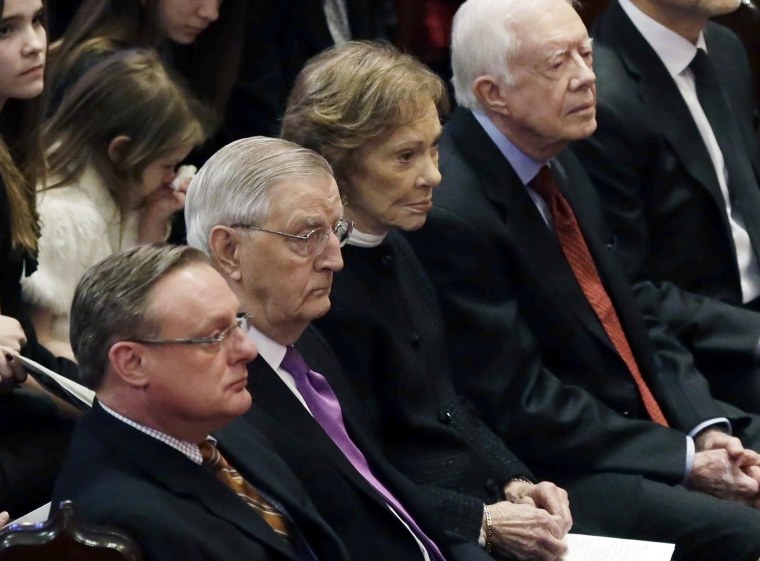 "Until I met Joan Mondale, I thought Rosalynn was the most persistent woman on earth," Carter said, noting 22 entries in his personal diary about Mondale lobbying him on the arts in one year alone.
"I tried to find a phrase to describe Joan, and I found this one: 'Live your life as though it was a work of art,'" Carter said.
Mondale leveraged the political prominence of her husband, Walter Mondale, to focus national attention on arts and culture. He was vice president in the 1970s, a Democratic nominee for president in the 1980s and an ambassador to Japan in the 1990s.
Walter Mondale mostly sat stoically as others shared stories about his wife.
There will be a second service for Mondale at a later date in Washington.
— The Associated Press