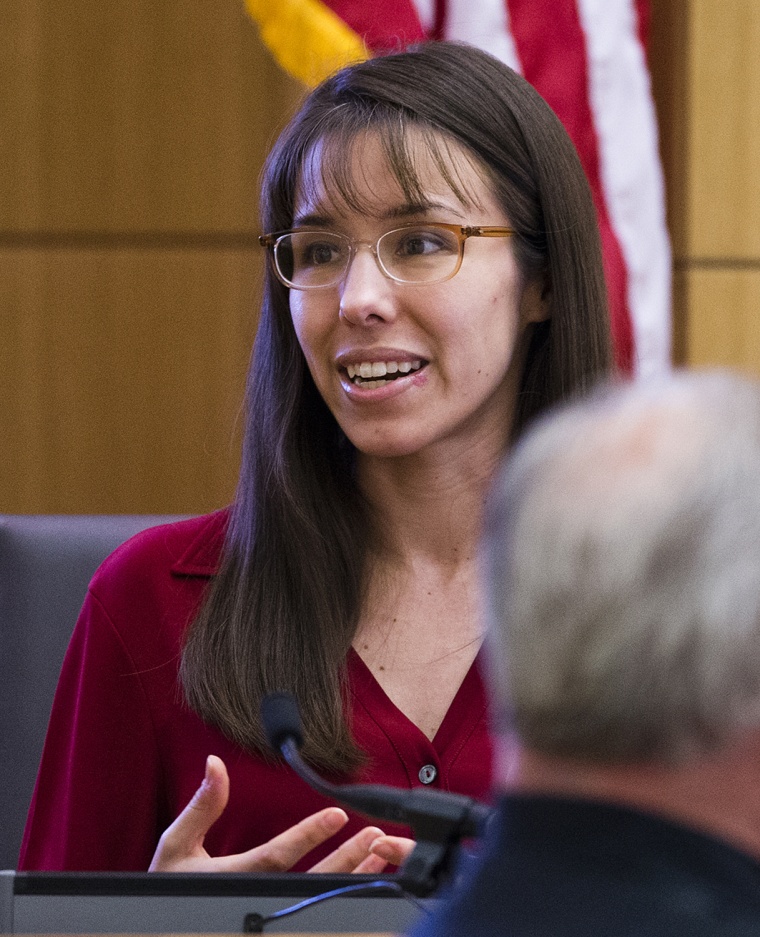 In three long and bizarre weeks on the stand, Arizona murder suspect Jodi Arias said little that would convince 12 jurors she was acting in self-defense when she shot and knifed her lover — but she may have saved her own life by testifying, legal experts said.
Many attorneys who have closely followed the sensational, sex-drenched case say they would be stunned if Arias isn't convicted of murder and the real question is whether she will escape execution.
"This is not a case about guilt and innocence. This is a case about death and life," said Mel McDonald, a former judge and federal prosecutor who is now a Phoenix defense lawyer.
"I don't think the defense had a choice," he said. "Before she took the stand, she established herself as a serial liar, as someone who murders a man and goes to bed with another guy the next day. Every part of her was so dark. They had nothing to lose."
Arias, 32, contends she killed boyfriend Travis Alexander in 2008 when he attacked her after a sex romp, but she initially told police she knew nothing about his death and later tried to pin the slaying on masked intruders. She portrayed the victim as an abusive brute with a kinky interest in young boys.
But prosecutors say it was a premeditated killing steeped in jealousy. An autopsy showed she stabbed Alexander more than two dozen times, slit his throat, shot him in the forehead and left him in the shower for five days while she tried to cover her tracks, taking time out for a passionate encounter with another man.
With no one to corroborate Arias' version of events — and nude photographs from his digital camera undercutting her timeline — her lawyers took a risk by calling her as a witness.
"The problem is, once she's up there, you as her counsel lose control," said Phoenix defense lawyer Julio Laboy.
Prosecutors were able to corner her with inconsistencies. In often-graphic testimony, Arias described Alexander, a Mormon, as the aggressor. They confronted her with X-rated text messages that suggested she was a more-than-willing participant.
Hard-nosed deputy county attorney Juan Martinez was relentless in his cross-examination of Arias, even shouting at her, but experts said she may have squandered any sympathy with her smirking responses.
"Her demeanor on the stand was demonstrative of a person who has some personality disorder," Laboy said. "The jury takes away from that, 'Oh, here's another different version of Jodi.'"
Arizona allows jurors to grill defendants, and those who will decide her fate had plenty to ask: they submitted 220 written questions, many focusing on the apparent lies she'd told and the gaps in her memory about what happened the day of the killing.
"They don't seem to like her very much," said defense lawyer Richard Gierloff, who noted one juror even asked Arias if she could define the word "skank," which Alexander allegedly called her, according to her testimony.
But Gierloff and other lawyers noted that Arias doesn't need all of the jurors to like her — she only needs one to feel enough of a connection that they will be reluctant to vote for the death penalty.
So while Gierloff thinks Arias' 18-day stand was far too long, Laboy said there may have been a method to the madness.
"She had 18 days of eye contact with the jury. Even when she was admitting she lied in the past, she did so with eye-to-eye contact," Laboy said. "She needs just one juror to think, 'I can't kill this person, she has sat here with me for 18 days.'"
Under Arizona law, all 12 jurors must agree on the death penalty. If they can't, prosecutors can empanel a second jury, or even a third, for a do-over of the penalty phase. If the third jury is hung, the judge will decide between 25 years to life or life with no possibility of parole.
Before the sentencing, the defense usually tries to show there are enough mitigating factors that Arias' life should be spared, and puts on witnesses to back up those claims.
But don't expect Arias, if she is convicted of first-degree murder, to reprise her turn as star defense witness.
"It will avail a defendant nothing to get up on the stand and testify about what a miserable, rotten life they've had," Gierloff said.