The spirit of Thanksgiving was in the air as people gathered near the vice president's residence to give thanks to their favorite "uncle," "Uncle Joe Biden" earlier this week.
But it was Biden's own "thank you," that was most surprising, delivered in person to the small group huddled across from his residence at the Naval Observatory.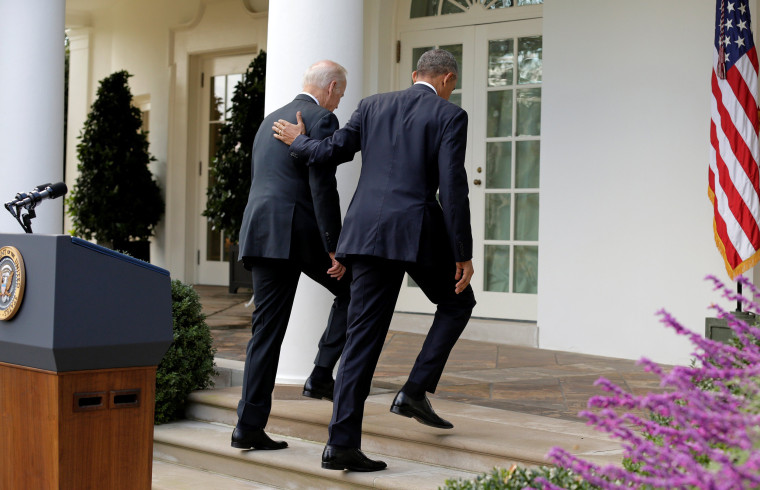 The vice president's motorcade slid to a stop just outside the gate and, donning his infamous aviators, Biden strode across the street and addressed the cheering crowd.
"Thank you very, very much. It's been the honor of my life, and I mean that. You know, look, there's still a lot more that has to be done. We gotta give this other administration a chance, too," Biden said Tuesday.
The vice president has long enjoyed a loyal following, but as Obama's presidential tenure draws to a close, the outpouring of affection for Biden on social media has been even more pronounced. Post-election memes featuring imagined relationships between Biden and Obama have gone viral on the internet.
Erick Sanchez, a public relations consultant in Washington, D.C. organized Tuesday's event to recognize Biden's accomplishments. In his free time, Sanchez has harnessed the power of social media to organize two other successful events, including getting Kenny Loggins to play in his living room and petitioning José Andrés to "dump Trump," by not opening his restaurant inside the new Trump Hotel.
Just over 6,000 people responded as "interested" to the Facebook invite to wish Biden well, and while the crowd huddled on the sidewalk Tuesday morning was closer to 30, their chants and signs were visible enough to catch the attention of the vice president himself, as he departed his residence Tuesday morning.
And for many Democrats, memes and gatherings like the one outside the Naval Observatory — and the one planned for President Obama on the eve of the Inauguration — are also a constructive way of dealing with post-election grief.
"Uncle Joe" has long been a favorite subject of memes and satire: from The Onion's Diamond Joe persona to the dramatized bromance between Biden and Obama.
Heather Beattie, a 17-year-old student from Weston, Massachusetts, whose Obama-Biden bromance meme went viral told NBC News in a phone interview that for her, the memes are a kind of "coping mechanism, especially after an election like this one."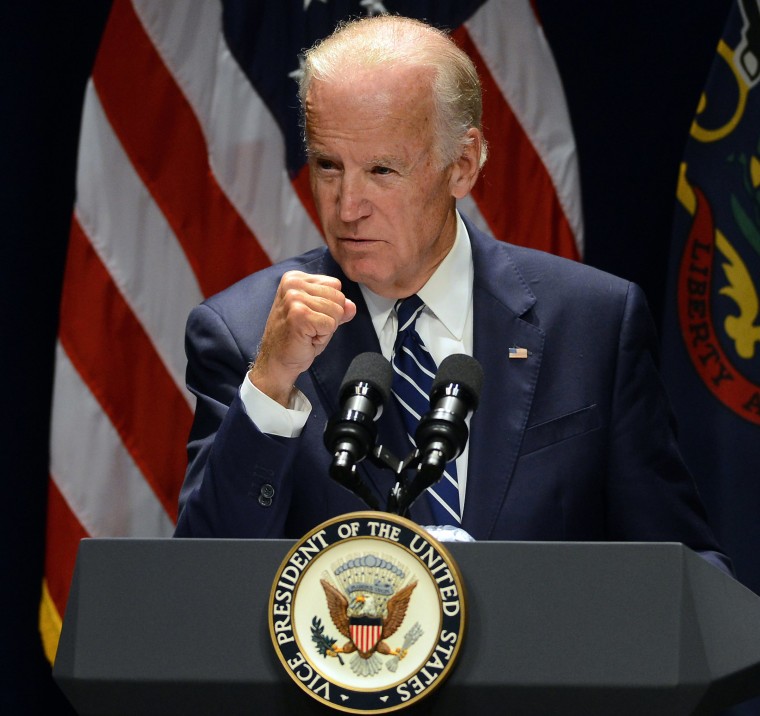 Since the election, meme-makers have found new inspiration, and perhaps some comfort, in imagining the vice president concocting schemes and pranks against President-Elect Donald Trump.
Such was the case for Josh Billinson, 22, a preschool teacher from Burke, Virginia who shared a

Obama:%20Did%20you%20replace%20all%20the%20toiletries%20with%20travel%20size%20bottles?
Biden:%20He's%20got%20tiny%20hands%20Barack,%20I%20want%20him%20to%20feel%20welcome%20here%20pic.twitter.com/e7NRIZ43Ww
—%20Josh%20Billinson%20(@jbillinson)%20November%2011,%202016%20