The late Penn State University football coach Joe Paterno knew about sexual abuse allegations against former assistant coach Jerry Sandusky as early as 1976, according to an assertion in a Philadelphia court order made public Thursday.
The claim emerged in a dispute over who should pay Penn State's share of about $60 million in settlements with 26 men who say Sandusky abused them when they were children — the university or its insurance company.
Previously, the abuse was widely thought to have occurred from 1994 through 2008, when Sandusky ran a youth charity called Second Mile.
But in the new order, dated Wednesday, Philadelphia Court of Common Pleas Judge Gary S. Glazer wrote in passing that the insurance company, Pennsylvania Manufacturers' Association Insurance, had claimed that "in 1976, a child allegedly reported to PSU's Head Coach Joseph Paterno that he (the child) was sexually molested by Sandusky."
According to the order, the insurance company further claims that in 1987 and 1988, other assistant coaches witnessed "inappropriate" or "sexual" conduct between Sandusky and children, and that in 1988, a similar allegation was referred to Penn State's athletic director.
The order was first reported by the Patriot-News of Harrisburg.
The Paterno family told NBC News that it wants "a full public review of the facts."
"Because of a single sentence in a court record of an insurance case, Joe Paterno's reputation has once again been smeared with an unsubstantiated, forty year old allegation," the family said in a written statement. "Over the past four and a half years, numerous allegations that were taken as fact when they were initially communicated have been proven false. It is in this context that the latest claim should be viewed."
A spokesperson for Penn State told NBC News that it was aware of the allegations, "but the legal case and confidentiality commitments that govern our settlement agreements preclude us from discussing these matters at all."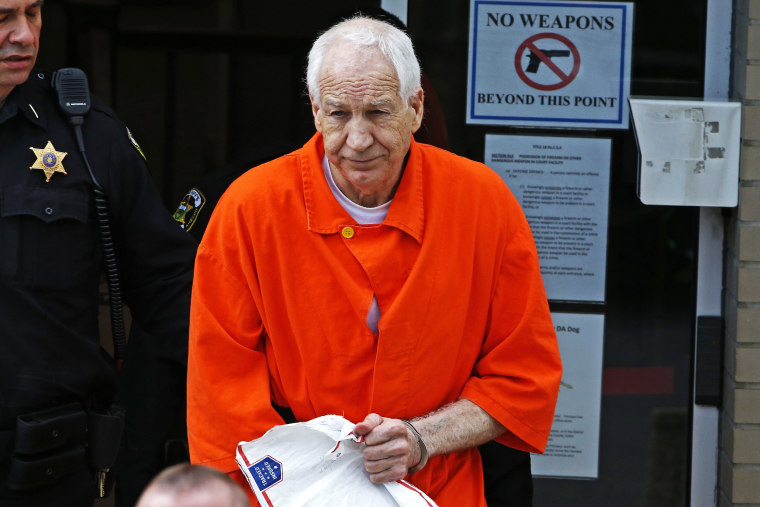 Glazer was careful to note that the claims are allegations, not proven facts, and that "since this is obviously not a criminal matter, this court is not governed by the higher standards of proof required in criminal prosecutions."
On the larger question, the judge ruled that both sides could still be on the hook for paying judgments in various cases depending on when they occurred.
NBC News has previously reported that Penn State could still face legal action by at least six other alleged victims not included in the settlement agreement. And it has also reported that some allegations against Sandusky date to the early 1990s and perhaps even the late 1980s, raising questions about what Penn State knew and when it knew it.
Sandusky was sentenced to 30 to 60 years in prison in October 2012 for abusing 10 boys he met through Second Mile. He filed a petition this week for a new trial.
Paterno, a revered figure who many proclaimed represented integrity in college football, was fired amid allegations that he didn't properly report concerns about Sandusky to authorities. He died in January 2012 at age 85 and was never charged with any crimes.
At the time the criminal charges were filed against Sandusky in 2011, Paterno told reporters, "In hindsight, I wish I had done more."
University President Graham Spanier, Athletic Director Tim Curley and Senior Vice President Gary Schultz were all forced out of their jobs. They still face charges that they failed to report one of the allegations.