LOS ANGELES — John Conyers III, a Detroit hedge fund manager named as a possible successor to his scandal-rocked father, Rep. John Conyers Jr., was arrested in Los Angeles this year on suspicion of domestic violence, but prosecutors declined to charge him, according to documents first obtained by NBC News.
The Los Angeles County District Attorney's Office cited a "lack of independent witnesses" and concluded that it "could not be proven beyond a reasonable doubt that the victim's injury was not accidentally sustained" while Conyers was disarming her, according to case paperwork.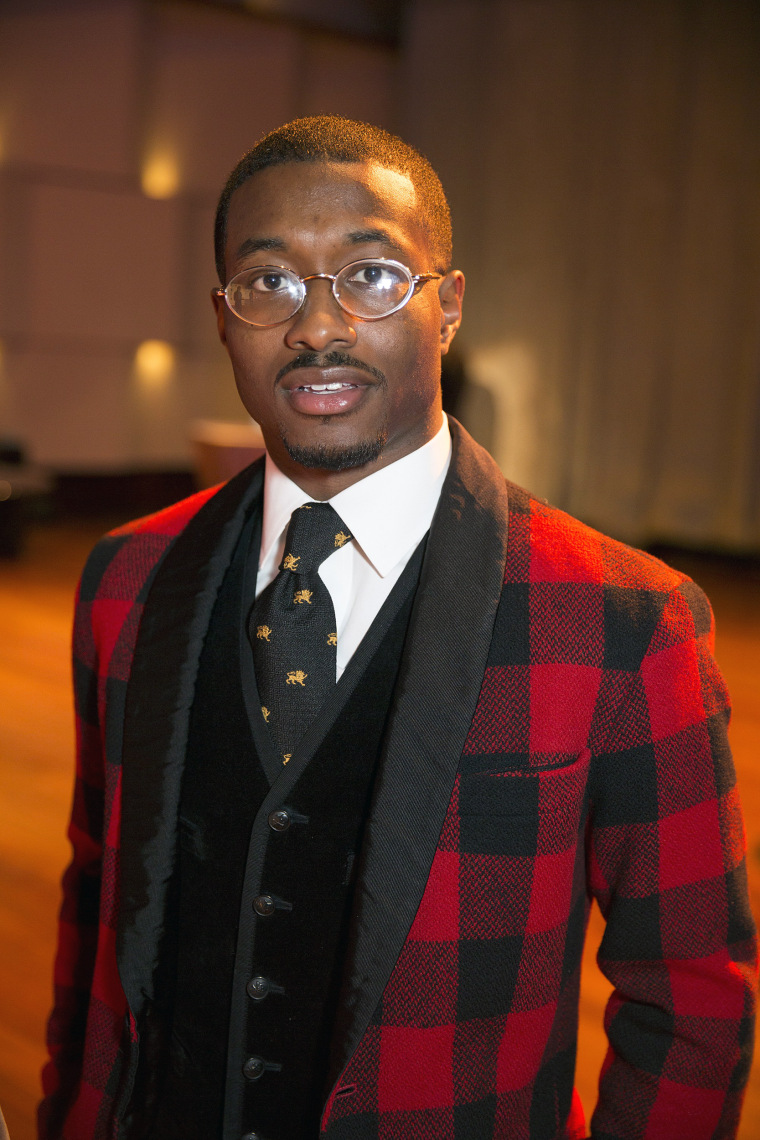 In addition, prosecutors said the victim had no visible injuries beyond a small stab wound to a lower biceps and no other independent witnesses to what she described as earlier pushing and shoving by Conyers III.
Conyers was arrested on Feb. 15 at a Los Angeles residence on suspicion of violence against his girlfriend after the woman called police. The woman isn't named in the document that recorded the decision not to file charges.
Conyers, 27, told The New York Times on Wednesday night that, during an argument, the woman pulled a knife on him and that "she cut herself" as they struggled.
"I apologize, and I am regretful for any part I played in escalating the altercation," he told the newspaper.
Related: John Conyers retires from Congress, endorses son, amid harassment scandal
The report obtained by NBC News reflects that Conyers gave police a similar account. It says he reported that the woman had been using alcohol and marijuana, had tried to throw him out of the residence and then had gotten into a pushing and shoving match with him. He said that she threatened him with the knife and that she was cut in a struggle for it, according to the report.
The woman, however, told police that it was Conyers who cut her. She said that Conyers suspected her of cheating after he went through her computer and that he "body slammed her on the bed and then on the floor where he pinned her down and spit on her," the report says.
She said that when she tried to call police, Conyers took her phone and then chased her into the kitchen, where she grabbed a knife and told him to leave. By her account, he took the knife and swung it at her, cutting her arm.
Conyers III was taken into custody and released in lieu of $50,000 bond the same day, police said.
"All criminal charges were dismissed and a restraining order was entered as a cooling-off measure," Conyers told The Times. "The authorities did not see any need to proceed further."
Conyers' father, a Democrat who represented the Detroit area in Congress for 52 years, announced his resignation on Tuesday in the face of a number of allegations of sexual misconduct. He said he hoped his son would take over for him.
"I have a great family here and especially in my oldest boy, John Conyers III, who, incidentally, I endorse to replace me in my seat in Congress," the congressman said in an interview on Detroit radio station WPZR.
Later Tuesday, John Conyers III said in a statement that he had not decided whether to run but hoped to do so by the end of the year "once I have taken the time to thoroughly listen to our community." Another family member, Michigan state Sen. Ian Conyers, the grandson of Conyers' brother, told The Times on Tuesday that he plans to run for his great-uncle's seat.
John Conyers III's Facebook page says he attended New York University and Morehouse College in Atlanta and identifies him as managing partner at EIA Alpha Partners Fund Management, based in Detroit. The agency didn't respond to a request for comment.
Speaking to reporters last week after the allegations against his father emerged, he said, "With sexual assault, women are to be believed."